Buku `100 Koperasi Besar Indonesia` Bukti Revitalisasi Kemenkop UKM Berjalan Optimal
Indonesian Govt Encourages Revitalization of Cooperatives
Reporter : Gusmiati Waris
Editor : Cahyani Harzi
Translator : Dhelia Gani

PUBLISHED: Selasa, 31 Oktober 2017 , 00:12:00 WIB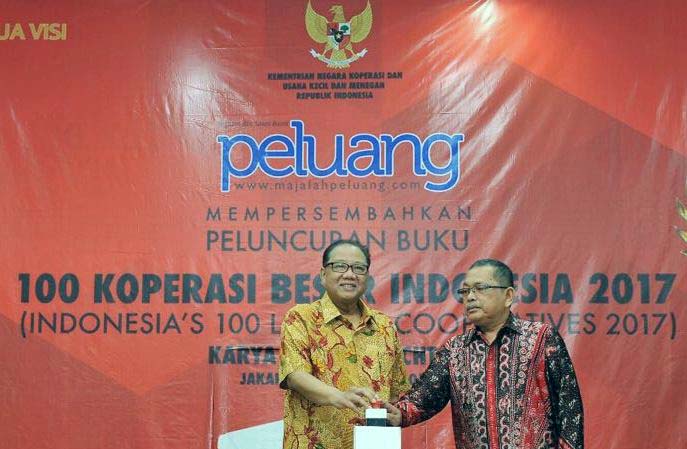 Menteri Koperasi dan UKM, AAGN Puspayoga (kiri) dan penulis buku `100 Koperasi Besar Indonesia`(Foto: B2B/Gusmiati Waris)
Jakarta (B2B) - Pemerintah RI mengapresiasi kinerja Kospin Jasa Pekalongan di Provinsi Jawa Tengah sebagai koperasi pengelola aset terbesar hingga lebih Rp7 triliun dalam satu tahun, yang termasuk salah satu dari 13 koperasi penerima penghargaan dari Menteri Koperasi dan UKM, AAGN Puspayoga, dan hal itu membuktikan program revitalisasi koperasi di seluruh Indonesia berjalan optimal.

"Bisnis koperasi kini dinilai sebagai usaha yang masuk kategori skala besar, dan mampu bersaing dengan swasta. Saat ini ada koperasi yang mampu mendulang aset lebih Rp7 triliun dengan volume usaha lebih Rp5,7 triliun," kata Menkop UKM Puspayoga di Jakarta, Senin (30/10) pada peluncuran buku ´100 Koperasi Besar Indonesia 2017´.

Selain Kospin Jasa Pekalongan, 12 koperasi penerima penghargaan dari Menkop Puspayoga antara lain Kopdit Lantang Tipo, KSPPS UGT Sidogiri, Koperasi Setia Bakti Wanita Surabaya, Kisel Jakarta, Koperasi Pusat Susu Bandung Utara - Lembang, Koperasi Syariah Benteng Mikro Indonesia, Koperasi Astra Internasional, Koppas Srinadi, Kopdit Keling Kuman Sintang Kalbar, Koperasi Agro Niaga Jabubg Malang - Jatim, Koperasi Simpan Pinjam Sejahtera Bersama Bogor - Jabar, Healthcare Mandiri Jakarta dengan kategori pengelolaan aset, volume usaha, customer social responsibility (CSR), dan teknologi informasi terbaik.

Deputi Bidang Kelembagaan Kemenkop UKM, Meliadi Sembiring menambahkan bahwa kementerian mendorong revitalisasi dan reorientasi koperasi, dengan mengedepankan kualitas koperasi dan bukan sekadar kuantitas yang pada akhirnya memaksa pemerintah membubarkan koperasi sekadar ´papan nama´ di seluruh Indonesia.

Meliadi mengapresiasi Irsyad Muchtar, Pemimpin Umum majalah Peluang yang menyusun buku ´100 Koperasi Besar Indonesia 2017´ melalui survai selama dua tahun, dan tercatat sebagai buku ketiga yang disusun oleh mantan wartawan HU Media Indonesia. dan pernah menjadi ketua Koperasi Karyawan Media Indonesia (Kokarmindo) pada periode 1995 - 2000.

"Buku tersebut membuktikan bahwa koperasi di Indonesia banyak yang berkualitas," kata Meliadi, mantan deputi pengkajian dan pengawasan di Kemenkop UKM.

Irsyad Muchtar mengatakan dari hasil survai selama dua tahun dia mendapati bahwa bisnis koperasi skala besar terus tumbuh di seluruh Indonesia, dan yang menarik, koperasi berskala besar justru berkembang di kota-kota yang terbilang relatif kecil.

"Kemampuan koperasi untuk tanggap dengan perubahan teknologi menunjukkan peningkatan, dan hampir semua koperasi besar kini familiar dengan teknologi informasi. Bahkan banyak koperasi yang membangun jaringan usahanya berbasis digital dengan transaksi online," kata Irsyad yang juga mantan ketua Koperasi Karyawan Media Indonesia (Kokarmindo) pada periode 1995 - 2000.

Ketua pelaksana peluncuran, Yuni Hegarwati berharap buku tersebut dapat menjadi referensi koperasi lain untuk mengembangkan usaha dan meningkatkan kesejahteraan anggota.
Jakarta (B2B) - The Indonesian government has appreciated the performance of Pekalongan Service Cooperative in Central Java Province as the largest asset manager of up to 7 trillion rupiah in one year, and it proved the cooperative revitalization program across the country by the government is running optimally.

"Business cooperatives are now in the category of large scale, and able to compete with the private sector. Currently there are cooperatives that manage assets of more than seven trillion rupiah with a business volume of more than 5.7 trillion rupiah," said Cooperatives and SME Minister, AAGN Puspayoga here on Monday (October 30) at the launch of the book ´100 Major Cooperatives in Indonesia 2017´.

The Deputy Minister of Institutional Meliadi Sembiring said the ministry encourages the revitalization and reorientation of cooperatives, with priority of cooperative quality and not just quantity, forcing the government to dissolve cooperatives that fail to develop their business.

Mr Sembiring Meliadi appreciated Irsyad Muchtar, editor-in-chief of Peluang magazine as the author of the book after conducting a two-year survey, and became the third book compiled by former Media Indonesia daily newspaper.

"The book proves that many cooperatives in Indonesia are qualified," Mr Sembiring said.

Mr. Mochtar said from the results of a two-year survey he found that large-scale cooperative businesses continued to grow across the country, and interestingly, it thrived in small towns.

"The ability of cooperatives to respond to technological change is increasing, and almost all major cooperatives are now familiar with information technology and even many cooperatives are developing business networks through online transactions," said Mr. Muchtar, former chairman of Media Indonesia Employee Cooperative in the period 1995-2000.

Chairman of the book launching committee, Yuni Hegarwati hopes the book can be a reference for other cooperatives to develop business, and improve the welfare of members.