Korban Gempa Lombok, Menkop UKM Beri Bantuan bagi Penyuluh Koperasi
Indonesian Cooperatives Ministry Provided Assistance to the Lombok Quake Victims
Reporter : Gusmiati Waris
Editor : Cahyani Harzi
Translator : Dhelia Gani

PUBLISHED: Kamis, 16 Agustus 2018 , 00:22:00 WIB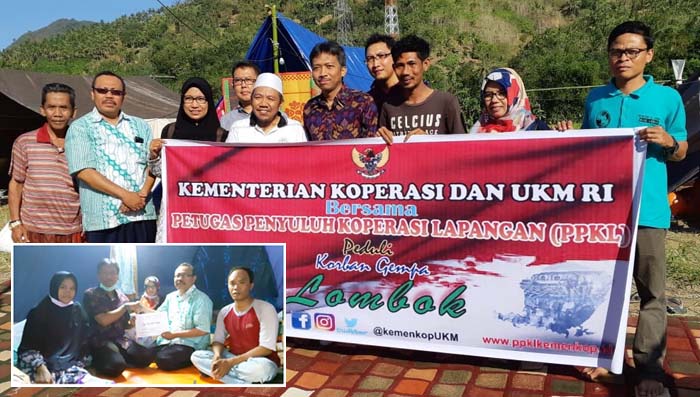 Tim dari kementerian yang dipimpin oleh Asdep Penyuluhan Bagus Rachman bersama perwakilan PPKL berangkat ke Lombok mengunjungi PPKL korban gempa (Foto2: Humas Kemenkop UKM)
Jakarta (B2B) - Tujuh penyuluh koperasi lapangan (PPKL) di Lombok, Nusa Tenggara Barat (NTB) turut menjadi korban gempa Lombok berkekuatan 7 SR, menyikapi hal itu Menteri Koperasi dan UKM AAGN Puspayoga memberi bantuan uang tunai, obat-obatan, pakaian dan makanan kepada tujuh PPKL.
Dari ketujuh korban, Baiq Nurhadayati Sarah ternyata melahirkan bersamaan dengan terjadinya gempa susulan berkekuatan 6,2 SR pada Kamis (9/8).
"Kini, Baiq Nurhadayati Sarah yang bermukim di Desa Gondang, Kecamatan Gangga, Lombok Utara tinggal bersama suami di tenda pengungsi dengan bayi yang berusia baru beberapa hari," kata Deputi Bidang Kelembagaan, Untung Tri Basuki yang mendapat instruksi dari Menkop UKM Puspayoga untuk responsif terhadap ketujuh PPKL korban Gempa Lombok.
Untung menambahkan kondisi memprihatinkan juga dialami oleh Yuli Wardani, PPKL yang sedang hamil empat bulan, dan kini mengungsi dengan keluarganya setelah gempa menghancurkan rumah mereka di Dusun Teluk Kode, Desa Malaka, Kecamatan Pemenang, Kabupaten Lombok Utara.
"Semoga seluruh PPKL di seluruh Lombok yang menjadi korban dapat melewati masa-masa sulit tersebut dan kembali dapat bertugas," kata Untung.
Menurutnya, pengumpulan donasi oleh PPKL terus berlanjut melalui rekening Tintin Rustiani sebagai salah satu Ketua Forum PPKL untuk provinsi Jawa Barat.
Sementara tim dari kementerian yang dipimpin oleh Asisten Deputi Penyuluhan Bagus Rachman bersama perwakilan PPKL berangkat ke Lombok mengunjungi PPKL yang menjadi korban gempa.
"Tim telah menyerahkan bantuan dalam bentuk uang tunai, obat-obatan dan makanan," kata Untung Tri Basuki.
Jakarta (B2B) - Seven cooperative extensionist in Lombok of West Nusa Tenggara province became the victim of Lombok quake, it was responded quickly by Indonesian Cooperative and SMEs Minister AAG Puspayoga providing money, medicine, clothing and food assistance to them.
Among them, Baiq Nurhadayati Sarah gave birth during aftershocks on Thursday, August 9.
"Now, Mrs Sarah lives in Gondang village of Gangga subdistrict, North Lombok living in refugee tents with husbands and children who are only a few days old," said Deputy for Institutional Affairs, Untung Tri Basuki who was instructed by Minister Puspayoga to be responsive to the fate of cooperative extentionist in Lombok.
Mr Basuki said similar conditions befall Yuli Wardani, who is four months pregnant, and now evacuating with families after the earthquake destroyed their homes in the hamlet of Teluk Kode, Malaka village, Pemenang district, North Lombok district.
"Hopefully those who are victims can go through difficult conditions, and can return to duty," he said.
According to him, collecting donations for cooperative extensionist in Lombok through Tintin Rustiani account as chairman of the forum for the earthquake victims.
While the team of the ministry led by Assistant Deputy Bagus Rachman with the representative team heading to Lombok to visit earthquake victims.
"The team has given money, medicines and food assistance," Mr Basuki said.