Asian Games 2018, Songket Palembang Harus Untungkan Perajin dan UKM Sumsel
2018 Asian Games in Indonesia, Business Opportunity for Songket`s Traditional Weaving
Reporter : Gusmiati Waris
Editor : Cahyani Harzi
Translator : Dhelia Gani

PUBLISHED: Senin, 07 Mei 2018 , 00:25:00 WIB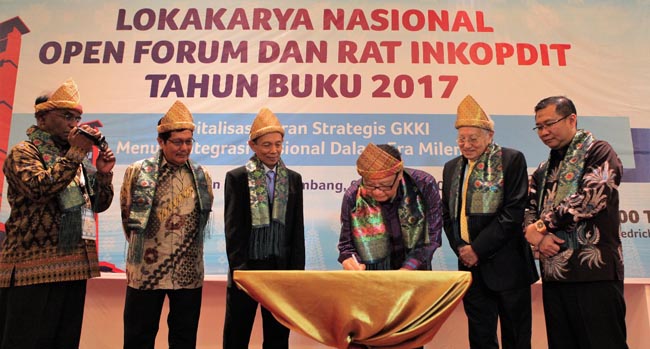 Menteri Koperasi dan UKM, AAGN Puspayoga di Palembang saat membuka lokakarya nasional, open forum, dan rapat anggota tahunan (RAT) dari induk koperasi kredit (Inkopdit) tahun buku 2017 (Foto: Humas Kemenkop UKM)
Jakarta (B2B) - Pengusaha kecil dan menengah (UKM) di Provinsi Sumatera Selatan harus memanfaatkan kehadiran 5.000 atlet dari seluruh Asia yang datang bertanding pada ajang Asian Games 2018, untuk mempromosikan dan menjual produknya, khususnya tenun tradisional Sumsel, kain songket buatan tangan dan bukan hasil mesin.
"Saya berharap disiapkan souvenir terbaik, terutama kain songket merupakan produk handmade para perajin, bukan hasil mesin. Kalau songket hasil produksi mesin, kasihan para perajin Songket karena bakal tergilas produk tiruan dari China dan India," kata Menteri Koperasi dan UKM, AAGN Puspayoga di Palembang saat membuka lokakarya nasional, open forum, dan rapat anggota tahunan (RAT) dari induk koperasi kredit (Inkopdit) tahun buku 2017, Minggu (6/5).
Dia meyakini songket Palembang akan dicari oleh para atlet, ofisial, dan wisatawan mancanegara yang berada di Palembang selama pekan olahraga terbesar Asia akan memburu suvenir untuk mereka bawa pulang ke negaranya.
Menteri Puspayoga juga mendorong koperasi kredit (Kopdit) di seluruh Indonesia melakukan ekspansi usaha untuk memperluas jaringan bisnisnya, dengan fokus pada pembiayaan sektor produktif dan bukan hanya mengembangkan unit usaha simpan pinjam seraya mencontohkan beberapa Kopdit sukses seperti Keling Kumang, Lantang Tipo, dan Obor Mas.
"Sudah ada Kopdit yang sukses di usaha perhotelan. Bahkan, salah satu anak usaha Kospin Jasa yang bergerak di sektor asuransi sudah listing di lantai bursa efek Indonesia. Itu prestasi yang bisa diikuti oleh Kopdit lainnya," katanya.
Ketua Pengurus Inkopdit Joko Susilo mengatakan bahwa pihaknya berpegang teguh pada empat pilar kekuatan yakni swadaya, pendidikan, solidaritas, dan inovasi, dan ditambah satu pilar lagi yakni persatuan dalam keberagaman pada RAT 2018 di Palembang.
Jakarta (B2B) - Small and medium enterprises (SMEs) in South Sumatra province have an opportunity for the presence of 5,000 athletes accross the continent who came to compete in the 2018 Asian Games, to promote and sell SME products, especially traditional weaving of South Sumatra, songket fabric handmade and not machine, according to Indonesian minister.
"I wish the best souvenir prepared, especially songket as handmade crafters and not machine made. If the songket is machine-made, it will not compete with counterfeit products from China and India," said Cooperatives and SMEs Minister, AAGN Puspayoga in Palembang, Sunday (May 6).
He believes Palembang songket will be purchased by athletes, officials and foreign tourists who are in Palembang during Asia´s biggest sports week.
Minister Puspayoga also encourage credit cooperatives or Kopdit throughout Indonesia to expand business, with a focus on financing the productive sector and not just developing a savings and loan business unit with a focus on financing the productive sector and not just developing a savings and loan business unit.
"There is already a successful Kopdit in hospitality business.In fact, one of the subsidiaries Kospin Services engaged in the insurance sector has been listing on the stock exchanges of Indonesia," he said.
Chairman of the Inkopdit Board Joko Susilo said that his side refers to the four pillars of strength namely self-help, education, solidarity, and innovation, and one more pillar that is unity in diversity.