Kapal Karam Danau Toba, Basarnas Identifikasi Perkiraan Lokasinya
Indonesia Identifies Likely Location of Sunken Ferry
Editor : Ismail Gani
Translator : Novita Cahyadi

PUBLISHED: Rabu, 27 Juni 2018 , 00:31:00 WIB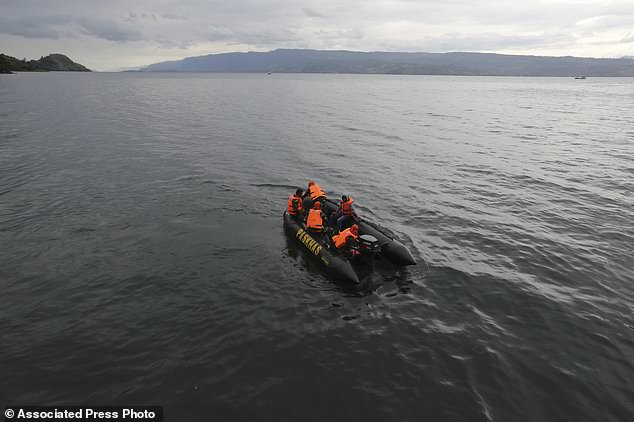 Peralatan sonar dari TNI AL dikerahkan pada Jumat. Penyelam maksimal hanya bisa mencapai kedalaman 50 meter di perairan dingin dan kegelapan danau (Foto: Associated Press/MailOnline)
BADAN SAR Nasional (Basarnas) berhasil mengidentifikasi lokasi yang diperkirakan karamnya feri yang penuh sesak yang tenggelam pekan lalu lalu di danau kawah gunung berapi, Danau Toba, namun membutuhkan dukungan internasional untuk memulihkan bangkai kapal, kata Badan SAR Nasional.
Feri naas itu mengangkut sekitar 200 orang di dalamnya - atau lima kali lipat dari kapasitas angkut - tetapi hanya 18 penumpang, termasuk kapten kapal, yang lolos dari maut setelah kapal tenggelam dalam cuaca buruk pada 17 Juni di Danau Toba. Beberapa jasad penumpang ditemukan dan pihak otoritas mengatakan sebagian besar dari mereka yang tewas diperkirakan terperangkap di dalam kapal.
Kepala Basarnas, Muhammad Syaugi, mengatakan dalam sebuah wawancara televisi bahwa objek yang terletak di kedalaman 490 meter memiliki panjang sekitar 20 meter dan lebar 5 meter, yang ternyata cocok dengan dimensi kapal yang karam.
Peralatan sonar dari TNI AL dikerahkan pada Jumat. Penyelam maksimal hanya bisa mencapai kedalaman 50 meter di perairan dingin dan kegelapan danau.
Keluarga korban yang marah telah mengritik upaya pencarian, namun Syaugi menyanggah tudingan tersebut, seraya mengatakan bahwa Basarnas telah berupaya "habis-habisan".
"Kami akan melakukan yang terbaik untuk menyelamatkan bangkai kapal ini," katanya. "Karena kami tidak memiliki robot, kami mencoba untuk meminta bantuan dari negara lain, tetapi kebanyakan dari mereka memiliki alat untuk mengangkat kapal dari kedalaman hanya 100 meter dan bangkai kapal harus dipotong terlebih dahulu."
"Bagi kami, yang paling penting adalah mendapatkan korban sebanyak mungkin," kata Syaugi.
Kapolda Sumatera Utara Irjen Paulus Waterpau mengatakan kepada TV Indonesia bahwa kapten kapal dan tiga pegawai Dinas Perhubungan setempat ditangkap karena dicurigai bertindak lalai yang menyebabkan tenggelamnya kapal.
Tragedi perkapalan umum terjadi di Indonesia, sebuah negara kepulauan dengan lebih dari 17.000 pulau, dengan penegakan peraturan keselamatan yang lemah yang sering menjadi pemicu kecelakaan transportasi air.
Danau Toba, yang terbentuk dari gunung api super kuno, adalah tujuan wisata populer di Sumatra Utara dan di antara tujuan yang dipromosikan pemerintah Indonesia sebagai magnet bagi wisatawan domestik dan asing seperti dikutip Associated Press yang dilansir MailOnline.
INDONESIA has identified the suspected location of an overcrowded ferry that sank last week in a deep volcanic crater lake but will need international help to recover the wreck, the chief of the national search and rescue agency said Monday.
The ferry had some 200 people on board - about five times its capacity - but only 18, including the boat´s captain, survived the sinking in rough weather June 17 on Lake Toba. Few bodies have been recovered and officials have said many of the dead are likely trapped inside the vessel.
The search agency chief, Muhammad Syaugi, said in a television interview that an object that was located at a depth of 490 meters (1,607 feet) was about 20 meters (66 feet) long and 5 meters (16 feet) wide, consistent with the boat´s dimensions.
Sonar equipment from Indonesia´s navy was deployed on Friday. Divers could reach depths of only 50 meters (164 feet) in the lake´s cold and dark waters.
Anguished relatives have criticized the search effort, but Syaugi defended it, saying there had been an "all out" effort.
"We will do our best to salvage this wreck," he said. "Because we do not have robots, we are trying to find from other countries, but most of them have tools to lift a vessel from just 100 meters depth and the wreck must be cut first."
"For us, the most important thing is to get as many victims as possible," Syaugi said.
North Sumatra police chief Paulus Waterpau told Indonesian TV that the boat´s captain and three regional transport officials were arrested on suspicion of negligence that led to the sinking.
Ferry tragedies are common in Indonesia, an archipelago of more than 17,000 islands, with weak enforcement of safety regulations often to blame.
Lake Toba, formed out of an ancient super volcano, is a popular sightseeing destination on the island of Sumatra and among the destinations that Indonesia´s government is promoting as a magnet for domestic and foreign tourists.