Warga Aceh Dukung AKBP Untung Sangaji, Polri Selidiki Kasus Gerebek Salon di Lhoksukon
Indonesia Police Probe Aceh Abuse of Transgender Women
Editor : Ismail Gani
Translator : Novita Cahyadi

PUBLISHED: Sabtu, 03 Februari 2018 , 00:35:00 WIB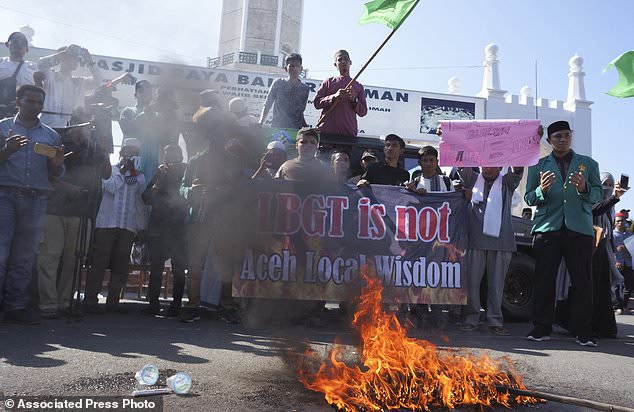 Foto: Associated Press/MailOnline
WARGA MUSLIM di Provinsi Aceh mengajukan protes pada Polri atas penyelidikan terhadap Kapolres Aceh Utara yang memimpin penggerebekan salon yang mempekerjakan kaum transgender, dan mendukung aksi polisi setempat terhadap kaum transgender.
Ratusan orang berkumpul di luar Mesjid Agung Baiturrahman di Banda Aceh, ibukota provinsi, setelah Shalat Jumat, dan mereka membawa spanduk bertuliskan ´LGBT bukanlah kearifan lokal´ dan ´Aceh bebas dari kaum transgender.´

Karo Penmas Divisi Humas Polri Brigjen Mochammad Iqbal mengatakan Divisi Profesi dan Pengamanan Polri sedang menyelidiki dugaan pelanggaran yang dilakukan polisi termasuk Kapolres Aceh Utara AKBP Untung Sangaji.

Unjuk rasa yang dihadiri Gubernur Aceh Irwandi Yusuf tersebut berlangsung damai.

"Kami tidak membenci orang LGBT, tapi yang kami benci adalah perilaku mereka," kata Gubernur Yusuf kepada para pengunjuk rasa, seraya meneriakkan nama Untung Sangaji.

"Kami tidak menyalahkan tindakan Polres Aceh Utara," kata Yusuf.

Video yang beredar online memperlihatkan bahwa polisi memaksa 12 perempuan transgender untuk mengenakan pakaian sebagaimana layaknya pria, menggunting rambut mereka dan mengomeli mereka lantaran tidak bersikap sebagai wanita. Kaum transgender tersebut digerebek akhir pekan lalu di lima salon yang tersebar di Kecamatan Lhoksukon dan Pantonlabu, Kabupaten Aceh Utara dalam operasi penyakit masyarakat. Penggerebekan dilakukan setelah polisi mendapat keluhan dari masyarakat tentang anak-anak mereka kerap diganggu pekerja di salon tersebut.

Media sosial di Indonesia yang berpenduduk mayoritas Muslim mengecam tindakan polisi.

Aceh adalah satu-satunya provinsi di Indonesia yang menjalankan hukum Syariah. Dalam pelaksanaannya, polisi syariah dan pemerintah daerah, yang berwenang melalui ketentuan otonomi khusus dari Pemerintah RI.

Telepon ke nomor ponsel beberapa kaum transgender dijawab oleh aktivis atau kerabat.

"Mereka masih sangat trauma dengan perlakuan buruk terhadap mereka, mereka takut untuk berbicara dengan siapapun dalam situasi ini, mohon dimengerti," kata aktivis hak asasi Fais Ichall.

Direktur Eksekutif Amnesty International Indonesia Usman Hamid mengatakan bahwa penggerebekan di salon kecantikan hanyalah contoh terakhir dari otoritas yang secara sewenang-wenang menargetkan kaum transgender.

"Memotong rambut mereka yang ditangkap untuk ´membuat mereka maskulin´ dan memaksa mereka berpakaian seperti pria adalah bentuk ketakutan publik dan berarti perlakuan kejam, tidak manusiawi dan merendahkan martabat," katanya dalam sebuah pernyataan.

Sangaji mengatakan kepada wartawan awal pekan ini bahwa tindakan polisi telah didiskusikan sebelumnya dengan ulama Islam dan polisi bertindak sesuai dengan undang-undang Aceh.

"Kami membantu mereka kembali ke kodratnya sebagai pria," kata Sangaji.

Iqbal mengatakan 12 orang tersebut dibebaskan Senin malam. Dia mengatakan mereka bisa kembali bekerja dan akan diberi pelatihan untuk meningkatkan keterampilan mereka sebagai seorang pria seperti dikutip Associated Press yang dilansir MailOnline.
MUSLIMS in Indonesia´s conservative and semiautonomous Aceh province are protesting an investigation into local police who rounded up and publicly humiliated transgender women.

Several hundred people rallied outside the Baiturrahman grand mosque in the provincial capital after Friday prayers, carrying banners the read "LGBT is not Aceh local wisdom" and "Free Aceh from transvestites."

National Police spokesman Mochammad Iqbal said an internal police unit is investigating officers including North Aceh police Chief Untung Sangaji.

The rally, which was attended by Aceh Gov. Irwandi Yusuf, was mostly peaceful.

"We do not hate LGBT people, but what we hate is their behavior," Yusuf told the crowd, which chanted Sangaji´s name.

"We cannot blame the actions of the North Aceh police," Yusuf said.

Videos circulated online showed that police forced the 12 transgender women to dress as men, shaved their heads and berated them about not being masculine. They were rounded up last weekend in raids on hair salons in North Aceh´s Lhoksukon neighborhood. Parents claimed they had harassed or seduced their teenage sons, according to police.

Social media in Muslim-majority Indonesia have exploded with criticism of the police´s behavior.

Aceh is the only province in Indonesia to practice Shariah law. Its implementation by religious police and local authorities, allowed by an autonomy deal with the central government that ended a separatist war, has become increasingly harsh.

Calls to the mobile numbers of some of the transgender women were answered by activists or relatives.

"They are still very traumatized by the bad treatment against them, they´re afraid to talk to anyone in this situation, please understand," said rights activist Fais Ichall.

Amnesty International Indonesia Executive Director Usman Hamid said the raids on beauty salons are just the latest example of the authorities arbitrarily targeting transgender people simply for who they are.

"Cutting the hair of those arrested to ´make them masculine´ and forcing them to dress like men are forms of public shaming and amount to cruel, inhuman and degrading treatment," he said in a statement.

Sangaji told reporters earlier this week that the police´s actions were discussed beforehand with Islamic scholars and police were acting according to Aceh´s laws.

"We helped them to return to their nature as men," Sangaji said.

Iqbal said the 12 were released late Monday. He said they can return to work and would be given training to improve their skills as long as they dress as men.