RI Kecam Rencana Guatemala Pindahkan Kedubes ke Yerusalem
Indonesia Criticized Guatemala`s Decision to Move the Embassy to Jerusalem
Reporter : Rizki Saleh
Editor : Cahyani Harzi
Translator : Dhelia Gani

PUBLISHED: Rabu, 27 Desember 2017 , 00:36:00 WIB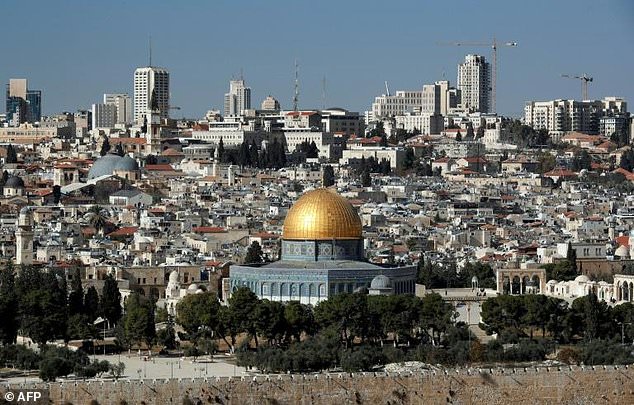 Mesjid Al Aqsa di Yerusalem (Foto: AFP/MailOnline)
Jakarta (B2B) - Pemerintah RI mengecam keputusan Guatemala untuk memindahkan kedutaan besarnya di Israel, dari Tel Aviv ke Yerusalem mengikuti langkah Amerika Serikat setelah Presiden AS Donald Trump mengakui kota suci tersebut sebagai ibu kota Israel.

Akun resmi Twitter dari Kementerian Luar Negeri (Kemenlu) menyatakan: "Indonesia mengecam keputusan Guatemala yang berencana memindahkan kedutaannya di Israel ke Yerusalem."

Kemenlu menyatakan keputusan Guatemala bertentangan dengan hukum internasional terkait status Yerusalem, dan Indonesia menyatakan bahwa kesepakatan internasional tentang status quo Yerusalem sangat penting demi tercapainya solusi atas konflik Palestina dan Israel.

Presiden Guatemala Jimmy Morales pada Minggu mengatakan dia telah memberikan instruksi untuk memindahkan kedutaannya di Israel ke Yerusalem, beberapa hari setelah pemerintahnya mendukung AS tentang status Yerusalem.

Pada Kamis, 128 negara menentang Trump dengan mendukung resolusi Majelis Umum PBB yang tidak mengikat, yang meminta AS untuk menolak pengakuan terhadap Yerusalem, sementara Guatemala adalah salah satu dari sedikit negara yang menentang resolusi PBB.
Jakarta (B2B) - The Indonesian government criticized Guatemala´s decision to move its embassy in Israel from Tel Aviv to Jerusalem following US steps after US President Donald Trump recognized the holy city as Israel´s capital.

The official Twitter account of the Indonesian foreign ministry stated: "Indonesia denounced the Guatemalan decision to move the embassy in Israel to Jerusalem."

Indonesia declared that Guatemala´s decision is against international law regarding status of Jerusalem, and Indonesia declares that international agreement on the status quo of Jerusalem is essential to reach a solution for Palestinian and Israeli conflict.

Guatemalan President Jimmy Morales on Sunday said he had given instructions to move his embassy in Israel to Jerusalem, just days after Guatemala backed the US on Jerusalem.

On Thursday, 128 countries opposed Trump by backing a non-binding UN General Assembly resolution, which opposes US recognition of Jerusalem, while Guatemala is one of the few countries to support the United States.