Jamsyar Dukung Radana Perbesar Portofolio Bisnis Pembiayaan Berkualitas
Indonesia`s Jamkrindo Syariah Signed MoU with the Radana
Reporter : Gusmiati Waris
Editor : Cahyani Harzi
Translator : Dhelia Gani

PUBLISHED: Sabtu, 31 Maret 2018 , 00:37:00 WIB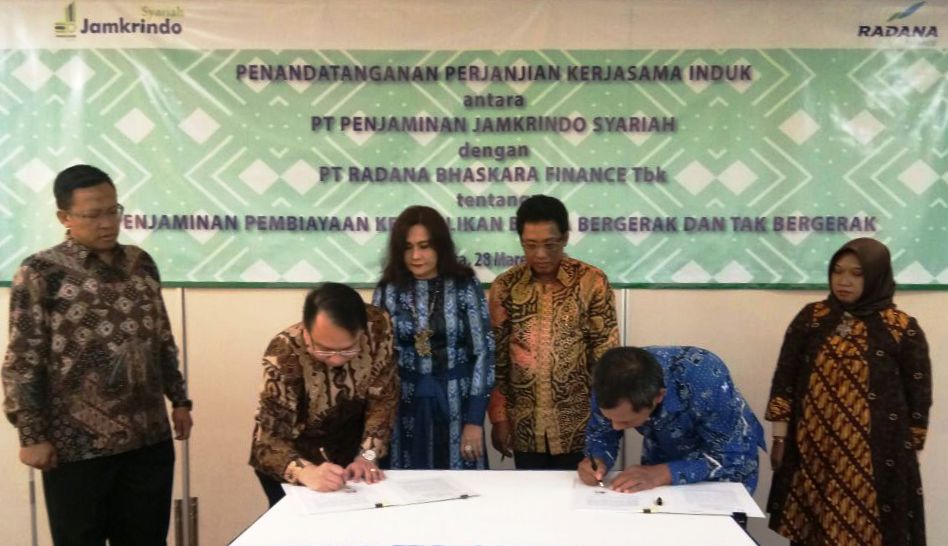 MoU diteken oleh Direktur Utama Jamsyar Gatot Suprabowo dan Direktur Operasi, Achmad Sonhadji, sedangkan dari Radana oleh Direktur Utama Evy Indahwaty dan Direktur Independen Andoko (Foto2: Humas Jamsyar)
Jakarta (B2B) - Unit perusahaan syariah dari Perum Jaminan Kredit Indonesia - Jamkrindo yakni Jamkrindo Syariah disingkat Jamsyar mendukung PT Radana Bhaskara Finance (Radana) memperbesar portofolio bisnis pembiayaan, dengan meneken memoranda kesepahaman (MoU) untuk penjaminan pembiayaan jaminan benda bergerak dan tidak bergerak yang berlaku dua tahun.
MoU diteken oleh Direktur Utama Jamsyar Gatot Suprabowo dan Direktur Operasi, Achmad Sonhadji, sedangkan dari Radana oleh Direktur Utama Evy Indahwaty dan Direktur Independen Andoko di Jakarta, Rabu (28/3).
Gatot mengatakan dengan menggunakan jasa penjaminan dalam penyaluran pembiayaan tersebut, Radana telah menjalankan kewajiban sebagai perusahaan pembiayaan sesuai ketentuan POJK No 29/POJK.05/2014 tentang penyelenggaraan usaha perusahaan pembiayaan.
Dia merujuk pada Pasal 18 tentang mitigasi risiko pembiayaan, Ayat (1) perusahaan pembiayaan wajib melakukan mitigasi risiko pembiayaan dan Pasal 31 tentang piutang pembiayaan bermasalah, Ayat (1) perusahaan pembiayaan wajib menjaga kualitas piutang pembiayaan investasi, penjaminan pembiayaan modal kerja dan pembiayaan multiguna yang diajukan oleh debitur yang berbentuk badan hukum maupun perorangan.
"Perjanjian kerjasama tersebut menjadi dasar bagi Radana untuk memperbesar portofolio bisnis penyaluran pembiayaan yang berkualitas," kata Gatot.
Produk penjaminan yang saat ini dikelola oleh Jamsyar adalah penjaminan pembiayaan kredit usaha rakyat (KUR), penjaminan pembiayaan konstruksi dan pengadaan barang atau jasa, penjaminan pembiayaan fasilitas likuiditas pembiayaan perumahan (FLPP), penjaminan pembiayaan mikro, penjaminan pembiayaan umum, penjaminan pembiayaan multiguna atau komsumtif, surety bond & customs bond, penjaminan bank garansi dan penjaminan distribusi semen.
Achmad Sonhadji menambahkan bagi Jamsyar, MoU dengan Radana akan menambah jenis portofolio bisnis penjaminan pembiayaan, juga diharapkan berkontribusi signifikan pada pencapaian target perolehan imbal jasa kafalah 2018.
"Bagi masyarakat, diharapkan bermanfaat secara tidak langsung kepada masyarakat yang ingin melakukan permohonan pembiayaan kepada Radana," kata Achmad.
Jakarta (B2B) - Unit of sharia companies of a subsidiary of Credit Guarantee Indonesia Corp., locally known as the Jamkrindo, Jamkrindo Syariah called the Jamsyar enlarge the financing business portfolio, by signing a memorandum of understanding to guarantee a two-year fixed assurance of moving and immovable property.
The MoU was signed by President Director Jamsyar Gatot Suprabowo and Director of Operations, Achmad Sonhadji, while Radana by President Director Evy Indahwaty and Independent Director Andoko in Jakarta, Wednesday (28/3).
Mr Suprabowo said with guarantee services, Radana complied with the obligation as a finance company in accordance with government provisions for the operation of the finance company´s business.
He referred to Article 18 on mitigating financing risks, paragraph (1) a finance company is obliged to mitigate financing risks and Article 31 concerning financing receivables, Paragraph (1) a finance company is required to maintain the quality of financing receivables, guarantee of working capital financing and multipurpose financing proposed by debtors in the form of legal entities as well as individuals.
"The cooperation agreement provides the basis for Radana to enlarge its business portfolio of quality financing distribution," Mr Suprabowo said.
The underwriting products currently managed by Jamsyar are the guarantees for the financing of small business loans, the guarantee of construction financing and the procurement of goods or services, the financing of housing finance liquidity facilities, micro financing guarantees, general financing, multi-purpose or customs financing, surety bonds & customs bonds , bank guarantee guarantee and cement distribution guarantee.
Mr. Sonhadji added that for Jamsyar, MoU with Radana will add the financing portfolio type of financing business, is also expected to contribute significantly to the achievement of the target of 2018 kafalah reward.
"This cooperation is expected to be useful indirectly to the people who want to apply for financing to Radana," Mr Sonhaji said.