Ibu Pelaku Bom Bunuh Diri Dikenal Dekat dengan Tetangga
Indonesia Suicide Bomber Mum "Chatted to Neighbours about Schools, Swapped Recipes"
Editor : Ismail Gani
Translator : Novita Cahyadi

PUBLISHED: Jum'at, 18 Mei 2018 , 00:47:00 WIB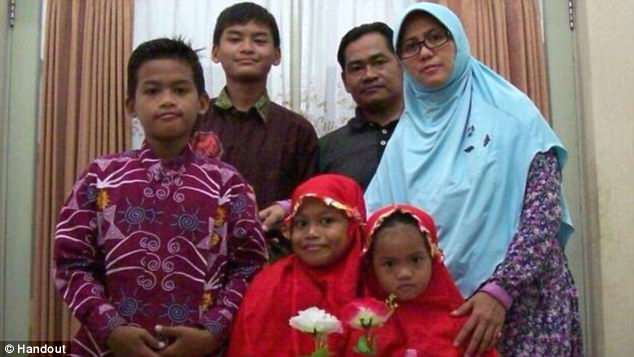 Keluarga Dita Oepriarto yang menjadi pelaku bom bunuh diri di tiga gereja (Foto: MailOnline)
WANITA, ibu empat anak yang yang melancarkan serangan bom bunuh diri di tiga gereja sempat bercengkerama dengan tetangga tentang sekolah dan bertukar resep makanan, terbukti berhasil mengecoh petugas keamanan dengan tampil sebagai keluarga kelas menengah biasa.

Aksi nekat bunuh diri mereka menewaskan sedikitnya 18 orang, termasuk diri mereka sendiri, sebagai para pelaku bom bunuh diri pada tiga gereja di Surabaya pada Minggu, dalam serangan militan terburuk di negara mayoritas Muslim terbesar di dunia dalam lebih dari satu dekade.

Tempat kediaman ibu rumah tangga beserta suami dan keempat anaknya berada di lingkungan pemukiman yang tenang dan relatif berkecukupan di Surabaya. Sebagian besar rumah di daerah itu memiliki mobil keluarga diparkir di luar dan di depan halaman kecil yang kerap dipenuhi mainan dan sepeda anak-anak.

"Istri saya berbicara dengan pelaku di kala senggang tentang pendidikan anak-anak, tentang resep makanan. Mereka sering bertemu di pasar tradisional dekat sini," kata Wery Trikusuma, yang tinggal di sebelah rumah pelaku.

"Mereka cukup terbuka dan interaktif. Mereka menyumbangkan uang untuk perbaikan lingkungan misalnya untuk jalan. Mereka tergolong keluarga terbuka dan kerap menerima kunjungan tamu, katanya, menambahkannya" sepertinya tidak mungkin mereka dapat melakukan perbuatan senekat itu".

Sehari setelah pemboman gereja, enam orang tewas, termasuk empat pengebom, dalam serangan bunuh diri lainnya. Keluarga lain yang terdiri dari lima orang meledakkan diri, tetapi anak perempuan berusia delapan tahun itu selamat.

Dalam ledakan lain di sebuah apartemen dekat Surabaya pada Minggu malam, tiga anggota keluarga yang diyakini telah membuat bom tewas ketika salah satu perangkat bom tidak bekerja. Tiga anak selamat.

Polisi juga kemudian menembak mati empat orang yang dicurigai terkait dengan serangan itu.

Polisi menduga serangan itu dilakukan oleh sel Jemaah Ansharut Daulah (JAD) yang terinspirasi oleh Negara Islam (ISIS), sebuah organisasi payung dalam daftar teroris Departemen Luar Negeri AS yang diperkirakan telah menarik ratusan simpatisan Indonesia dari kelompok ekstrimis.

Kinerja Intelijen
Keluarga dari para pelaku bom bunuh diri ternyata bermukim di lingkungan kelas menengah di mana para tetangga mengaku ada kejanggalan pada mereka.

"Kami telah menerima laporan intelijen yang memperkirakan ada serangan sepekan sebelum Ramadhan tetapi tidak diketahui kapan tepatnya atau di mana," kata seorang pejabat senior pemerintah, mengacu pada bulan suci Ramadan yang dimulai pada Kamis.

"Namun tidak pernah ada laporan tentang pengerahan keluarga sebagai pelaku bom bunuh diri, ternyata terbukti."

Polisi mengatakan ayah dari keluarga yang menyerang tiga gereja di Surabaya, Dita Oepriarto, adalah kepala sel JAD setempat dan mungkin diradikalisasi beberapa dekade sebelumnya.

Indonesia membentuk unit kontra-terorisme, Detasemen, atau "Densus 88" pada 2003 yang dikembangkan dengan target dengan menggagalkan serangan terorisme , tetapi serangan Surabaya menandai tantangan terbesar Densus 88 dalam beberapa dekade.

Secara keseluruhan, sekitar 30 orang tewas sejak Minggu dalam serangan mematikan, termasuk 13 dari pelaku bom bunuh diri yang dicurigai.

Menurut pejabat senior pemerintah, Presiden Joko Widodo memutuskan untuk tidak memecat personel keamanan ketika dia mengetahui sifat mengejutkan dari serangan itu dan sebaliknya menyerukan tindakan untuk membongkar jaringan dan mengatakan dia akan menggunakan kekuatan eksekutif untuk mendorong lahirnya peraturan perundang-undangan anti terorisme.

Istana kepresidenan tidak menanggapi permintaan untuk komentar.

"Serangan ini menunjukkan bahwa seluruh komunitas dan keluarga dapat diradikalisasi," kata Rohan Gunaratna, seorang pakar terorisme yang berbasis di Singapura.

"Ini berarti bahwa respon menangkap dan membunuh saja tidak akan berhasil. Pemerintah harus lebih terlibat dengan para pemimpin masyarakat, sekolah, pemimpin agama di samping memperluas kemampuan kontra-terorisme," katanya seperti dikutip Reuters yang dilansir MailOnline.

Rahasia Keluarga
Wawan Purwanto, juru bicara Badan Intelijen Negara (BIN) mengatakan kaum militan dipengaruhi oleh taktik di Timur Tengah, di mana anak-anak dan perempuan dimanfaatkan untuk melakukan penyerangan.

Dia mengatakan mungkin juga ada keyakinan bahwa seluruh keluarga akan masuk surga dengan melakukan serangan bersama.

Ansyad Mbai, mantan kepala Badan Nasional Penanggulangan Terorisme (BNPT), mengatakan memanfaatkan keluarga untuk serangan membantu memastikan perencanaan penyerangan dapat dirahasiakan.

Orang tua dari keluarga telah mengindoktrinasi anak-anak mereka dan setiap Minggu malam membuat mereka menghadiri pengajian keluarga, kata polisi.

Rumah mendiang Oepriarto kini diawasi dan ditandai dengan garis polisi setelah digeledah oleh regu bom dan tim forensik selama dua hari.

"Pada hari penyerangan, ayah dan dua anak laki-laki itu menghadiri sholat subuh di masjid lingkungan dan kemudian kembali ke rumah sebentar. Mereka keluar lagi sekitar jam 7 pagi tapi saya tidak tahu ke mana mereka akan pergi. Ternyata mereka menuju tiga gereja," kata tetangga, Trikusuma. Namun, tampaknya ada beberapa tanda peringatan. Dalam serangan di markas polisi kota Surabaya pada Senin, ayah yang membawa keluarganya dengan sepeda motor untuk meledakkan diri mereka telah diintai polisi setelah mengunjungi narapidana teroris di penjara terdekat, menurut ketua RT setempat.

Kukuh Santoso, 47, mengatakan bahwa enam hingga delapan bulan yang lalu sang ayah, Tri Murtiono, telah mengunjungi narapidana teroris di sebuah penjara di Porong dan setelah itu polisi melakukan kunjungan ke rumah mereka.

"Selain itu, kami sama sekali tidak tahu kalau mereka berpikir seperti ini," kata Santoso.

Sumber kontra-terorisme mengkonfirmasi akun ini, tetapi menolak untuk menguraikannya.
THE MOTHER of an Indonesian family of six who launched suicide bomb attacks on three churches chatted to neighbours about schooling and swapped recipes, leading what appeared to be a regular middle-class life and eluding counter-terrorism forces.

The family killed at least 18 people, including themselves, by bombing the churches in Indonesia´s second-biggest city of Surabaya on Sunday in the worst militant attacks in the world´s biggest Muslim-majority country in more than a decade.

Home was a quiet, relatively affluent neighbourhood of Surabaya. Most houses in the area have hatchbacks and family cars parked outside and in front a small yard more often than not strewn with toys and children´s bicycles.

"My wife talked to the mother all the time about the children´s education, about recipes. They often met at the local market," said Wery Trikusuma, who lives next door.

"They were quite open and interactive. They contributed money to neighbourhood repairs for example for roads. They often left their front gates open to receive guests, he said, adding it "seemed impossible that they could do this".

The day after the church bombings, six died, including four bombers, in another suicide attack. Another family of five blew themselves up, but the eight-year-old daughter survived.

In another blast in an apartment near Surabaya on Sunday night, three members of a family believed to have been making bombs were killed when one device went off by accident. Three children survived.

Police also later shot dead four people with suspected links to the attacks.

Police suspect the attacks were carried out by a cell of the Islamic State-inspired Jemaah Ansharut Daulah (JAD), an umbrella organisation on a U.S. State Department terrorist list that is reckoned to have drawn hundreds of Indonesian sympathisers of the extremist group.

Raw Intelligence
The families all lived in ordinary middle-class districts where neighbours say they saw few things to mark them out.

"We had received very raw intelligence that there may be an attack in the week before Ramadan but not about when exactly or where," said a senior government official, referring to the Muslim fasting month that started on Thursday in Indonesia.

"But there was never any report about an entire family being used, or that that was even possible."

Police say the father in the family that attacked the churches, Dita Oepriarto, was head of the local JAD cell and likely radicalised decades earlier.

Indonesia set up a counter-terrorism unit, Detachment, or "Densus", 88, in 2003 which is credited with thwarting hundreds of plots, but the Surabaya attacks mark the squad´s biggest challenge in decades.

In all, around 30 people have been killed since Sunday in the attacks, including 13 of the suspected suicide bombers.

According to the senior government official, President Joko Widodo decided not to fire top security personnel when he learnt of the shocking nature of the attacks and instead called for action to dismantle the networks and said he would use executive powers to force through a strengthened anti-terrorism law if parliament did not act.

The presidential palace did not respond to requests for comment.

"This attack demonstrates that entire communities and families can be radicalised," Rohan Gunaratna, a Singapore based terrorism expert, said.

"This means that a catch and kill response alone will not work. The government must engage more with community leaders, schools, religious leaders in addition to expanding counter-terrorism capabilities," he said.

Family Secrets
Wawan Purwanto, a spokesman for the intelligence agency, said militants were being influenced by tactics in the Middle East, where children and women have been used in attacks.

He said there may also have been a belief that the whole family would enter heaven by carrying out an attack together.

Ansyad Mbai, a former head of Indonesia´s anti-terrorism agency (BNPT), said using a family unit for an attack helped ensure planning was kept secret.

The parents of the families had indoctrinated their children and every Sunday evening made them attend a prayer circle with adults, police said.

Oepriarto´s house is now boarded up and cordoned off with police tape after being searched by bomb squad and forensics teams for two days.

"On the day of the attack, the father and the two male children attended morning prayers at the neighbourhood mosque and then came back home briefly. They went out again at around 7 a.m. but I didn´t know where they were going. It turned out to be to the churches," said the neighbour, Trikusuma. Still, it appears there were some warning signs. In the attack on Surabaya´s city police headquarters on Monday, the father who brought his family on motorbikes to blow themselves up had come up on police radar after visiting terror convicts in a nearby jail, according to the community head.

Kukuh Santoso, 47, said that six to eight months ago the father, Tri Murtiono, had visited the convicts in a jail in Porong and after that police had paid a visit to the family.

"Besides that, we had absolutely no idea they were even thinking like this", said Santoso.

A counter-terrorism source confirmed this account, but declined to elaborate.