KKB Serang Nduga, Tiga Warga Tewas akibat Baku Tembak di Bandarfa
Three Killed in Fresh Papua Violence: Indonesia Authorities
Editor : Ismail Gani
Translator : Novita Cahyadi

PUBLISHED: Rabu, 27 Juni 2018 , 01:02:00 WIB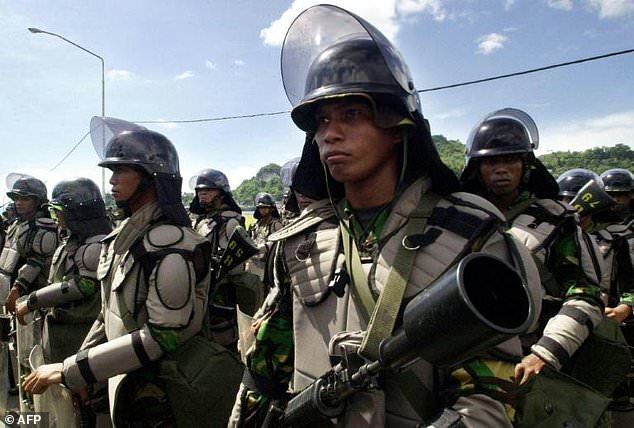 Para pemberontak menembaki sebuah pesawat Twin Otter carteran yang membawa 15 petugas polisi - yang datang untuk mengamankan pelaksanaan Pilkada hari ini - setelah mendarat di Nduga (Foto: AFP/MailOnline)
TIGA WARGA warga tewas ketika kelompok kriminal bersenjata (KKB) di Provinsi Papua pada Senin, kata pihak berwenang Indonesia, dalam kekerasan terbaru yang kembali memanas menjelang pelaksanaan Pilkada serentak.
Para pemberontak menembaki sebuah pesawat Twin Otter carteran yang membawa 15 petugas polisi - yang datang untuk mengamankan pelaksanaan Pilkada hari ini - setelah mendarat di Nduga, kata Kadispen Kodam XVII Cenderawasih, Kolonel Inf Muhammad Aidi.
Pilot pesawat terluka akibat serangan tersebur, tambahnya.
Beberapa anggota KKB kemudian membunuh tiga warga sipil yakni pedagang asal Sulawesi Selatan, termasuk sepasang suami istri, yang ditembak dan ditikam ketika para pemberontak melarikan diri dari bandara, kata Aidi.
"Ketika mereka melarikan diri, mereka menembak dan menyerang pedagang di dekat bandara," katanya.
"Tiga dari mereka ditembak mati sementara yang lain luka parah."
Seorang juru bicara polisi Papua mengatakan pihak berwenang sedang mencari para penembak.
Insiden itu terjadi beberapa hari setelah seorang pilot di pesawat lain ditembak dan terluka di bandara yang sama.
Indonesia menyelenggarakan Pilkada pada Rabu yang dianggap sebagai penentu pemilihan presiden tahun 2019.
Papua, di bagian barat pulau New Guinea, telah menjadi tempat terjadinya pemberontakan yang mendidih sejak bergabung dengan Indonesia pada akhir 1960-an.
Perusahaan tambang emas dan tembaga Freeport McMoRan yang berbasis di AS telah sering menjadi titik nyala dalam perjuangan kemerdekaan dan bagian yang lebih besar dari sumber daya yang kaya di kawasan itu.
Pada bulan April, seorang tentara Indonesia dan setidaknya satu pemberontak separatis tewas di dekat tambang besar tersebut seperti dikutip AFP yang dilansir MailOnline.
THREE PEOPLE were killed by Papuan rebels on Monday, Indonesian authorities said, in the latest violence to hit the restive region ahead of regional elections.
The separatists fired on a small plane carrying 15 police officers -- travelling to oversee the polls -- just after it landed at Nduga in the centre of the province, Papua military spokesman Muhammad Aidi said.
The plane´s pilot was injured in the attack, he added.
Several rebels then killed a trio of street vendors as they fled the scene, Aidi said.
"As they were fleeing, they shot and attacked vendors near the airport," he said.
"Three of them were shot dead while another was seriously injured."
A Papua police spokesman said authorities were looking for the shooters.
The incident comes days after a pilot on another plane was shot and injured at the same airport.
Indonesia holds regional elections on Wednesday that are seen as a bellwether for the 2019 presidential polls.
Papua, on the western half of New Guinea island, has been the scene of a simmering insurgency since it was annexed by Indonesia in the late 1960s.
US-based firm Freeport McMoRan´s gold and copper mine has been a frequent flashpoint in the struggle for independence and a bigger share of the region´s rich resources.
In April, an Indonesian soldier and at least one separatist rebel were killed near the huge mine.