Tanggung Renteng dan Kluster, Skema Baru Penyaluran KUR 2018 dari Kemenkop UKM
The New Scheme of People`s Business Credit 2018 for Indonesian SMEs
Reporter : Gusmiati Waris
Editor : Cahyani Harzi
Translator : Dhelia Gani

PUBLISHED: Kamis, 18 Januari 2018 , 01:14:00 WIB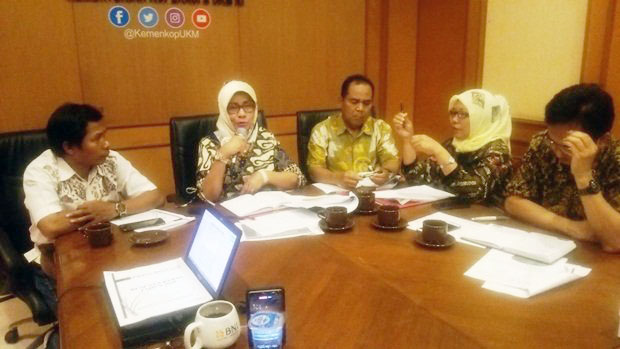 Deputi Bidang Pembiayaan Kemenkop dan UKM Yuana Sutyowati (ke-2 kiri) menjelaskan kepada pers tentang skema baru penyaluran KUR untuk 2018 (Foto: istimewa)
Jakarta (B2B) - Dua skema baru penyaluran kredit usaha rakyat (KUR) sebesar Rp120 triliun untuk 2018 telah disiapkan oleh Kementerian Koperasi dan UKM pada 2018 yakni sistem tanggung renteng dan kluster, dan kementerian menggandeng pemerintah daerah untuk sosialisasi KUR di 20 provinsi.

Deputi Bidang Pembiayaan Kemenkop dan UKM Yuana Sutyowati mengatakan skema pertama adalah sistem tanggung renteng yang memungkinkan sejumlah pengusaha pemula memanfaatkan mekanisme pembayaran kredit yang ditanggung bersama sesuai jumlah pinjaman modal yang diterima dari KUR.

"Skema kedua untuk KUR 2018 khusus diberikan kepada kelompok yang dikelola secara bersama dalam bentuk kluster dengan menggunakan mitra usaha, khusus untuk perkebunan, peternakan dan perikanan milik rakyat," kata Yuana kepada pers di Jakarta, Rabu (17/1).

Menurutnya, untuk mendukung percepatan penyaluran KUR di 2018, Kemenkop dan UKM menggandeng pemerintah daerah untuk melaksanakan sosialisasi dan pendampingan kepada usaha mikro kecil dan menengah (UMKM).

"Sosialisasi KUR 2018 dilakukan di 20 provinsi dengan taget 1.000 UMKM, kementerian juga akan merekrut 314 orang tenaga pendamping untuk mendukung pemanfaatan pinjaman KUR untuk 15 ribu usaha mikro kecil," katanya.

Penyaluran KUR tersebar pada lima sektor usaha yakni sektor perdagangan 58%;, 24% untuk pertanian, perkebunan dan kehutanan 24%; jasa 11%; industri pengolahan 5,5%, dan perikanan 1,5%.
Jakarta (B2B) - Indonesian government has provided two new schemes for the distribution of people`s business credit for 2018 amounted to 120 trillion rupiah namely the joint liability system and clusters, and the Cooperatives and SMEs Ministry invites local governments for socialization in 20 provinces.

The Deputy Minister of Financing Yuana Sutyowati said the first scheme is a joint liability system that allows a number of beginner entrepreneurs utilizing a co-financed credit payment mechanism based on the amount of the capital loan.

"The second scheme is given specifically to a number of small entrepreneurs jointly managed in the form of clusters using business partners, especially for plantations, livestock and fishery owned by the people," Sutyowati told the press here on Wednesday (January 17).

According to her, the ministry invites local governments to carry out socialization and assistance for small and medium entrepreneurs.

"The program socialization is conducted in 20 provinces, the ministry will also recruit 314 assistants to support the utilization of business capital loan for 15 thousand small micro entrepreneurs," she said.

The capital loan is aimed at five business sectors namely trade sector 58%, 24% for agriculture, plantation and forestry 24%; services 11%; processing industry 5.5%, and fishery 1.5%.