Dubes Inggris Dipanggil Menko Kemaritiman Bahas Raja Ampat
Indonesia Summons UK Envoy over Coral Reef Destruction
Editor : Ismail Gani
Translator : Novita Cahyadi

PUBLISHED: Sabtu, 18 Maret 2017 , 01:29:00 WIB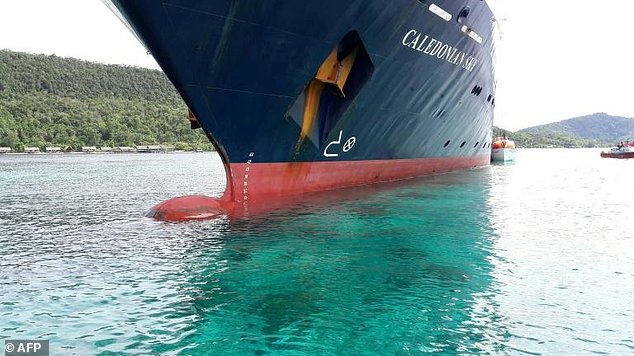 Kapal pesiar Caledonian Sky mengangkut 102 penumpang dan 79 awak berlabuh di atas terumbu karang saat menurunkan penumpang dan kemudian kandas (Foto: MailOnline)
PEMERINTAH Indonesia memanggil Duta Besar Inggris pada Jumat, setelah sebuah kapal pesiar pada perjalanan wisata yang diselenggarakan oleh sebuah perusahaan yang berbasis di London menabrak terumbu karang di destinasi wisata terpopuler dan mengakibatkan kerusakan yang luas.

Raja Ampat di Provinsi Papua merupakan salah satu habitat laut yang paling kaya dengan keanekaragaman hayati di Bumi, dan menarik perhatian wisatawan dan penyelam ke pulau-pulau yang ditumbuhi pohon palem yang dikelilingi oleh karang dan ikan.

Kecelakaan itu terjadi bulan ini ketika kapal pesiar Caledonian Sky berbobot 4.200 ton menabrak terumbu karang di sekitar Kri, salah satu dari ratusan pulau-pulau kecil di Raja Ampat, setelah mengantarkan wisatawan berwisata di Raja Ampat.

Kapal pesiar yang mengangkut 102 penumpang dan 79 awak, itu berlabuh di atas terumbu karang saat menurunkan penumpang dan kemudian kandas. Berbagai upaya dilakukan menarik kapal dari lokasi berlabuh di atas terumbu karang namun gagal, dan malahan mengakibatkan kerusakan lebih parah pada terumbu karang.

Insiden di Provinsi Papua Barat membuat marah pemerintah Indonesia, yang menegaskan bahwa kapten kapal pesiar asal Inggris dapat diancam tuduhan kriminal, sementara warga setempat risau atas kejadian tersebut akan berdampak negatif pada industri pariwisata dan mata pencaharian nelayan.

Pada Jumat Menko Kemaritiman Luhut Panjaitan, yang disebut AFP seperti dilansir MailOnline sebagai tokoh senior dalam kabinet yang dekat dengan Presiden Joko Widodo, memanggil duta besar Inggris untuk Indonesia, Moazzam Malik.

Setelah pertemuan di kantor Menko Kemaritiman di Jakarta, Dubes Moazzam Malik mengatakan kepada pers bahwa pertemuan tersebut ´berjalan lancar´ dengan Menteri Luhut Panjaitan.

"Saya kecewa atas kejadian tersebut yang mengakibatkan kerusakan terumbu karang di Papua Barat, kami menyatakan prihatin atas insiden lingkungan yang terjadi di Indonesia atau di mana pun di dunia," katanya.

"Kami berharap masalah ini dapat diselesaikan dengan cepat antara pemerintah Indonesia dan perusahaan yang bertanggung jawab atas kecelakaan ini dan manajemen mengelola kapal pesiar."

Kerusakan Serius
Namun, Dubes Moazzm Malik juga mencatat bahwa kapal pesiar tersebut sebenarnya dimiliki oleh sebuah perusahaan Swedia. Operator tur Caledonia Noble, yang menyelenggarakan perjalanan wisata ke Indonesia, yang berbasis di London.

Menteri Luhut Panjaitan mengatakan pihak berwenang menegaskan bahwa kerusakan terumbu sebagai "sangat serius".

"Dia (kapten) berusaha untuk meninggalkan lokasi terumbu karang dan malah membuat kerusakan lebih buruk meskipun dia telah diperintahkan untuk berhenti," katanya, menambahkan bahwa kerusakan pada terumbu karang memakan waktu hingga 100 tahun untuk pulih kembali.

Pemerintah Indonesia menyatakan kegusarannya setelah mengetahui kapal berbendera Bahama meninggalkan Indonesia dan berlayar ke Filipina tanpa menunggu investigasi dampak kerusakan rampung dilakukan.

Pemerintah telah membentuk gugus tugas untuk menyelidiki kerusakan terumbu karang dan menyatakan akan mengambil tindakan tegas.

Ricardo Tapilatu, seorang peneliti kelautan dari Universitas Papua yang memimpin tim investigasi dampak kerusakan, mengatakan insiden 4 Maret 2017 diperkirakan seluas 13.500 m2 dari terumbu karang yang dapat menghabiskan biaya US$16,2 juta untuk tindakan pemulihan.

Caledonia Noble telah menyatakan permintaan maaf atas kecelakaan itu dan mengatakan mereka akan bekerja sama dengan pemerintah Indonesia untuk mencari jalan keluar terbaik.

Dalam sebuah pernyataan awal pekan ini, pihak perusahaan mengatakan: "Kami menghargai hubungan kami di seluruh dunia dengan warga lokal dan kami mohon maaf telah bertindak ceroboh yang merugikan warga setempat."
INDONESIA summoned the British ambassador Friday after a cruise ship on a voyage organised by a London-based company smashed into coral reefs in a popular tourist spot and caused extensive damage.

Raja Ampat in eastern Indonesia is one of the most biodiverse marine habitats on Earth, and attracts intrepid travellers and divers to its palm-fringed islands surrounded by coral and fish.

The accident happened this month when the 4,200-ton Caledonian Sky smashed into the reefs at low tide around Kri, one of hundreds of small islands in Raja Ampat, after taking tourists on a bird-watching expedition.

The boat, which was carrying 102 passengers and 79 crew, was grounded on the reefs and only refloated later on a high tide. Numerous attempts to free it using a tug boat failed, causing further damage to the corals.

The incident in West Papua province infuriated the government, who say the British captain could face criminal charges, while local residents believe it will impact the tourism industry and the livelihoods of fishermen.

On Friday Coordinating Minister for Maritime Affairs Luhut Panjaitan, a senior figure in the cabinet who is close to President Joko Widodo, summoned the British ambassador to Indonesia, Moazzam Malik.

After the meeting at Panjaitan´s office in the capital, Malik told reporters he had a "very good discussion" with the minister.

"I´m disappointed to learn about the damage to this coral reef in West Papua, as we are with any environmental incident that occurs in Indonesia or anywhere else in the world," he said.

"We hope the matter can be resolved quickly between the Indonesian authorities and the company that is responsible for this accident and was managing the ship."

- Serious concern -
However, Malik also noted that the ship was in fact owned by a Swedish company. The tour operator Noble Caledonia, which organised the voyage to Indonesia, is based in London.

Panjaitan said authorities were taking the reef destruction "very seriously".

"He (the captain) attempted to break free from the reefs and made the damage even worse even though he was ordered to stop," he said, adding it could take up to 100 years to restore the corals.

Authorities have expressed anger that the Bahamas-flagged vessel left Indonesia and sailed on to the Philippines without waiting for a full damage assessment to be completed.

The government has set up a task force to investigate the devastation of the reef and promised to take firm action.

Ricardo Tapilatu, a marine researcher from the University of Papua who headed a team assessing the impact, has said the March 4 accident damaged an estimated 13,500 square metres (145,000 square feet) of coral reef which could cost up to $16.2 million to restore.

Noble Caledonia has apologised for the accident and said they are working to reach a settlement with the government.

In a statement earlier this week, the company said: "We value our relationships around the world with local people and we are sorry to have impacted the local community."