PPh UMKM 0,5%, Presiden Jokowi Akui sebagai Wujud Aspirasi Pelaku UMKM
Indonesian Govt Cuts Income Tax for Cooperatives and SMEs
Reporter : Gusmiati Waris
Editor : Cahyani Harzi
Translator : Dhelia Gani

PUBLISHED: Sabtu, 23 Juni 2018 , 01:36:00 WIB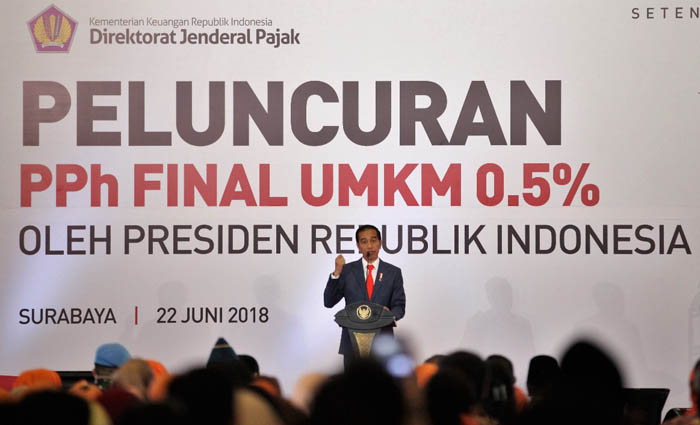 Presiden Joko Widodo (Foto: Humas Kemenkop UKM)
Surabaya, Jatim (B2B) - Presiden Joko Widodo mengakui bahwa keputusan Pemerintah RI menurunkan Pajak Penghasilan (PPh) dari 1% menjadi 0,5% sebagai hasil aspirasi dari para pelaku UMKM yang ditemuinya saat melakukan kunjungan kerja ke sejumlah daerah, dan kebijakan tersebut bertujuan meringankan beban biaya para pelaku UMKM untuk mengembangkan bisnis dari usaha kecil ke menengah dan meningkat menjadi pengusaha besar.
Presiden Jokowi mengatakan penurunan pajak dilakukan setelah melakukan revisi Peraturan Pemerintah (PP) No. 46 Tahun 2013 tentang Pajak Penghasilan atas Penghasilan Dari Usaha yang Diterima atau Diperoleh Wajib Pajak yang Memiliki Peredaran Bruto Tertentu. Berdasarkan PP No. 46 Tahun 2013, pelaku UMKM dikenai PPh final sebesar 1%.
"Saya minta agar dihitung berapa penurunannya. Setelah dihitung-hitung akhirnya diturunkan menjadi 0,5%. Aturannya sudah ada, revisi dari PP 46 Tahun 2013 menjadi PP No. 23 Tahun 2018. Sudah saya tandatangani," kata Presiden Jokowi di Surabaya, Jawa Timur pada Jumat (22/6).
Jokowi menegaskan tujuan penurunan pajak UMKM adalah untuk meringankan biaya agar pelaku usaha UMKM tumbuh. Pelaku usaha mikro meloncat jadi usaha kecil, usaha kecil naik jadi usaha menengah dan usaha menengah naik jadi usaha besar.
Presiden juga mengingatkan para pelaku UMKM untuk mengikuti perubahan global yang terjadi sangat cepat. Dunia saat ini mengalami revolusi industri 4.0.
"Saya titip pesan kepada UMKM menyesuaikan, jangan tergantung dengan penjualan langsung. Sekarang jualan online, gunakan Facebook, Instagram, video di Youtube karena memang dunia sudah berubah. Jangan hanya menunggu di toko kita, orang lain sudah jualan di internet," kata Presiden.
Presiden mengatakan dunia usaha harus memahami, mengantisipasi dan mengikuti perkembangan cara-cara berusaha yang terjadi saat ini. Jika perubahan tidak dilakukan pasti akan tertinggal.
Surabaya of East Java (B2B) - Indonesian President Joko Widodo acknowledged that the government´s decision to lower income tax or income tax from 1% to 0.5% as an aspiration of SMEs that he met during his working visit to a number of regions, and the policy aims to support SME business development across the country.
President Widodo said the tax reduction was done after the revision of Government Regulation No. 46/2010 on Income Tax and Business Received by Taxpayers.
"I ask to be calculated how to decrease the ideal income tax. After finally counted down to 0.5%. The rules already exist, the revision of the government regulation number 46 of 2013 to number 23 of 2018. I have already signed," said President Widodo here on Friday (June 22).
President Widodo said the goal of reducing taxes on SMEs is to ease the costs of small and medium entrepreneurs to develop themselves into big entrepreneurs.
The President also reminded SME entrepreneurs to keep pace with global change, especially the industrial revolution 4.0.
"I remind SME entrepreneurs to immediately adjust, do not depend on direct sales. Use Facebook, Instagram, and Youtube because the world has changed. Do not just wait in store, while others sell on the internet," President Widodo said.
President Jokowi said SME entrepreneurs should understand, anticipate and follow the current business trends. "No change will be left behind by consumers."=