91%, Pengembalian Dana Bergulir Mitra LPDB-KUMKM di Provinsi Lampung
Indonesia`s Fund Management for SMEs Intends to Support Cooperative in Lampung
Reporter : Gusmiati Waris
Editor : Cahyani Harzi
Translator : Dhelia Gani

PUBLISHED: Selasa, 08 Mei 2018 , 01:56:00 WIB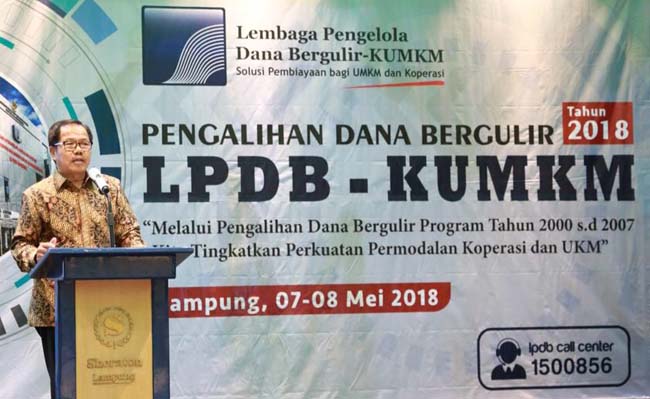 Direktur Utama LPDB-KUMKM, Braman Setyo saat membuka kegiatan ´Koordinasi Pengalihan Dana Bergulir 2018 di Bandar Lampung (Foto: Humas LPDB-KUMKM)
Jakarta (B2B) - Pengelola Dana Bergulir Koperasi Usaha Mikro Kecil dan Menengah (LPDB-KUMKM) mengapresiasi 66 mitra di Lampung hingga 30 April 2018 atas pengembalian dana bergulir sebesar Rp135 miliar dari total dana bergulir Rp154 miliar atau mencapai 91%, yang dinilai LPDB KUMKM sebagai mitra terbaik dibanding provinsi lain di seluruh Indonesia.

"Kami mengapresiasi Provinsi Lampung karena tingkat pengembaliannya di atas 90%, sebagai yang terbaik dibanding provinsi lain," kata Direktur Utama LPDB-KUMKM, Braman Setyo saat membuka kegiatan ´Koordinasi Pengalihan Dana Bergulir 2018 di Bandar Lampung, Senin (7/5).

Dia mengharapkan dinas terkait dan perbankan dapat membantu proses pengalihan dana di rekening koperasi ke rekening LPDB-KUMKM, karena apabila berjalan baik, koperasi yang sudah lunas masih memiliki kesempatan mengakses pembiayaan dari LPDB.

Mengacu pada laporan Direktur Keuangan LPDB-KUMKM, Ahmad Nizar, menurut Braman Setyo, perkembangan pengalihan di Provinsi Lampung sudah mencapai 34% dari plafon Rp55,6 miliar. Dari jumlah tersebut, dana pengalihan yang dialihkan ke rekening LPDB di Provinsi Lampung mencapai 34% dari Rp55,6 miliar atau Rp18 miliar. Dan dari 40 koperasi yang menghadiri kegiatan koordinasi, potensi dana untuk dialihkan ke rekening LPDB sekitar Rp1,4 miliar.

"Harapan kami dana bergulir yang berada di rekening koperasi yang belum dialihkan ke rekening LPDB dapat segera dialihkan, supaya dapat digulirkan kembali ke koperasi lainnya," kata Ahmad Nizar.

Direktur Umum dan Hukum, Fitri Rinaldi menambahkan, bahwa kewajiban peminjam adalah mengembalikan pinjaman sesuai komitmennya.

"Tidak gugur kewajibannya meskipun terjadi hal tertentu sehingga tidak mampu mengembalikan, yang bisa dilakukan misalnya pengajuan pengunduran masa pengembalian ataupun diperingan besaran angsurannya," kata Fitri Rinaldi.

Kepala Dinas Koperasi Provinsi Lampung, Satria Alam menyatakan komitmennya mendukung LPDB-KUMKM untuk pengembalian dana yang digulirkan kepada koperasi, namun kendalanya banyak koperasi yang alamatnya sudah pindah.
Jakarta (B2B) - The Indonesia´s fund management institutions lending to cooperatives and SMEs or the LPDB-KUMKM appreciated 66 debtors in Lampung until April 30, 2018 which returned a capital loan of 135 billion rupiah from a total of 154 billion rupiah or 91% and Lampung is considered the best province compared to other provinces.

"We appreciate the Lampung province for repayment of capital loans above 90%, as the best compared to other provinces," said President Director of LPDB-KUMKM, Braman Setyo in Bandar Lampung on Monday (May 7).

He expects the related agencies and banks to assist in the process of transferring funds in cooperative accounts to LPDB-KUMKM, then cooperatives that have paid off capital loans will have the opportunity to become LPDB-KUMKM partners.

Referring to the report of Finance Director Ahmad Nizar, according to Mr. Setyo, in Lampung province has reached 34% of the ceiling of 55.6 billion rupiah. Of this amount, the funds transferred to LPDB accounts in Lampung province reached 34% from 55.6 billion or 18 billion rupiah.

"Our hope that funds in cooperative accounts that have not been transferred to LPDB can be immediately transferred, in order to be utilized by other cooperatives," Mr Nizar said.

Director General and Legal, Fitri Rinaldi added, that the debtor´s obligation is to return the capital loan in accordance with its commitment.

"Debt must be paid in spite of certain things so as not to be able to repay the loan capital," she said.

Head of Lampung cooperatives agency office, Satria Alam stated its commitment to support LPDB-KUMKM, but the problem is that many cooperatives moved the address.