Polri Temukan Propaganda ISIS di Rumah Penyerang Markas Polda Sumut
Indonesia Police Find Islamic State Propaganda Targeting Children
Editor : Ismail Gani
Translator : Novita Cahyadi

PUBLISHED: Rabu, 28 Juni 2017 , 02:08:00 WIB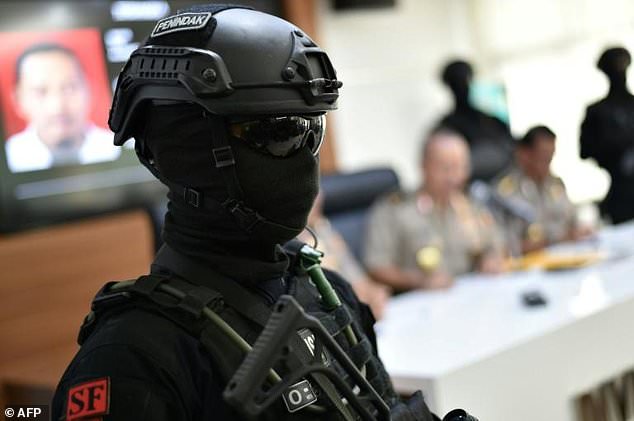 Buku-buku yang ditujukan untuk anak-anak yang ditemukan di rumah orang yang ditangkap itu ditulis dalam bahasa Indonesia dan menyertakan gambar dan pesan yang mendukung kematian dalam jihad (Foto: MailOnline)
KEPOLISIAN RI (Polri) mendapati ratusan buku berisi propaganda Negara Islam (ISIS) yang menargetkan anak-anak di rumah tersangka teroris yang ditangkap sehubungan dengan tewasnya seorang polisi.

Seorang tersangka teroris lainnya ditembak mati oleh polisi saat kedua teroris menyerang markas Polda Sumut di Medan, ibu kota provinsi Sumatera Utara.

Istri pria yang ditangkap tersebut mengatakan kepada polisi bahwa suaminya berada di Suriah selama enam bulan pada 2013, kata Kadiv Humas Polda Sumut, Kombes Rina Sari Ginting, seraya menambahkan bahwa temuan tersebut masih diselidiki.

Polisi yakin bahwa orang-orang tersebut adalah bagian dari Jemaah Ansharut Daulah (JAD), sebuah organisasi payung dalam daftar "teroris" yang diincar Amerika, sebagai organisasi yang mendukung ISIS dan memiliki ratusan pengikut di Indonesia.

"Kita bisa melihat dari pola serangan mereka sehingga kemungkinan mereka termasuk dalam jaringan JAD," kata Kombes Rina.

Ada kekhawatiran tentang bangkitnya militansi di Indonesia, yang memiliki populasi Muslim terbesar di dunia.

Simpatisan ISIS telah melakukan serangkaian serangan tingkat rendah selama beberapa tahun terakhir, dan ada kekhawatiran tentang kembalinya ratusan orang Indonesia yang pergi ke Suriah untuk mendukung negara Islam.

Buku-buku yang ditujukan untuk anak-anak yang ditemukan di rumah orang yang ditangkap itu ditulis dalam bahasa Indonesia dan menyertakan gambar dan pesan yang mendukung kematian dalam jihad, atau perang suci, kata Ginting.

Buku-buku tersebut tampaknya dirancang dan dicetak oleh tersangka, katanya.

Polisi yakin para tersangka tidak hanya bermaksud membunuh polisi dengan pisau pada Minggu tapi juga untuk merebut senjata polisi.

Dari 12 orang yang ditanyai sehubungan dengan serangan tersebut, satu orang dinyatakan sebagai tersangka dan diduga telah membantu penyerang dengan melakukan survei di markas besar polisi, katanya.

Polisi juga menyelidiki apakah penyerang tersebut terkait dengan tiga tersangka militan yang ditangkap pada 6 Juni di daerah tersebut oleh satuan polisi anti teror seperti dikutip Reuters yang dillansir MailOnline.
INDONESIAN police have found hundreds of books containing Islamic State propaganda targeting children at the home of a suspect arrested in connection with the stabbing death of an officer, a police spokeswoman said on Monday.

Another suspected militant was shot and killed by police during Sunday´s attack on a police station in Medan, the capital of North Sumatra province.

The wife of the arrested man told police her husband had spent six months in Syria in 2013, said police spokeswoman Rina Sari Ginting, adding this was still being investigated.

Police believe the men were part of Jemaah Ansharut Daulah (JAD), an umbrella organization on a U.S. State Department "terrorist" list which supports Islamic State and has hundreds of Indonesian followers.

"We can see from the pattern of their attack that it is likely they belong to the JAD network," said Ginting.

There is concern about a rise of militancy in Indonesia, which has the world´s biggest Muslim population.

Islamic State sympathisers have carried out a series of mostly low-level attacks over the past few years, and there are fears about the return of hundreds of Indonesians who have gone to Syria to support Islamic State.

The books aimed at children found at the home of the arrested man were written in Indonesian and included pictures and messages supportive of dying in jihad, or holy war, Ginting said.

They appeared to be designed and printed by the suspect, she said.

Police believe the suspects had intended not only to kill police during Sunday´s knife attack but also to seize their guns.

Out of 12 people being questioned in connection with the attack, one had been made a suspect and is alleged to have helped the attackers by surveying the police headquarters, she said.

Police were also investigating whether the attackers were linked to three suspected militants who were arrested on June 6 in the area by anti-terrorism police.