UU Terorisme Disahkan DPR melalui Rapat Paripurna
Indonesia Toughens Up Anti-terror Laws Days after Worst Attack in Years
Editor : Ismail Gani
Translator : Novita Cahyadi

PUBLISHED: Sabtu, 26 Mei 2018 , 02:28:00 WIB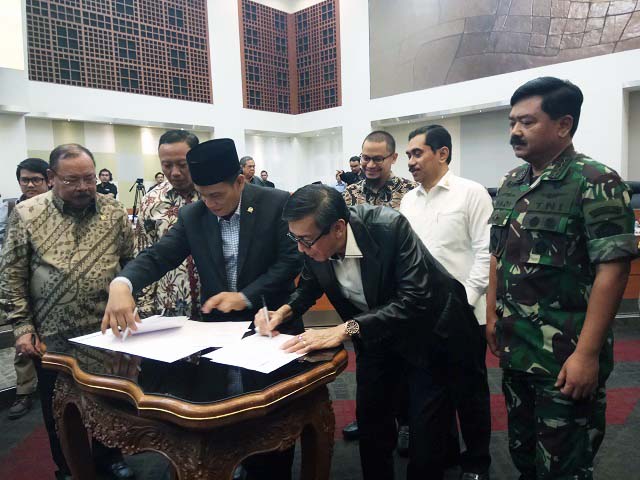 Foto: istimewa
DPR RI akhirnya mengesahkan revisi UU Terorisme pada Jumat untuk mengatasi aksi terorisme menyusul serangan teror berantai yang bermula dari serangan tiga gereja di Surabaya pada Selasa lalu (8/5) akibat aksi radikal yang diklaim didukung oleh Negara Islam (ISIS) dan menewaskan lebih dari 30 orang di Surabaya.
Revisi UU Terorisme tahun 2003 menjadi prioritas utama bagi Indonesia sebagai negara mayoritas Muslim terbesar di dunia setelah serangan Surabaya, yang paling mematikan di Indonesia dalam hampir dua dekade.
UU Terorisme yang direvisi memungkinkan polisi untuk menahan tersangka lebih lama dan menuntut mereka yang bergabung atau merekrut untuk kelompok militan.
Revisi UU ini juga berusaha untuk menentukan isu sensitif dari peran militer dalam operasi anti-terorisme.
"Presiden berharap dengan berlalunya RUU ini, Indonesia mampu memberantas terorisme menggunakan kekuatan lunak dan kekuatan keras," Johan Budi, juru bicara Presiden Joko Widodo, melalui pesan singkat.
Serangan militan paling mematikan terjadi di Bali pada tahun 2002, ketika pembom menewaskan 202 orang, sebagian besar dari mereka adalah turis asing.
Pada tahun-tahun berikutnya, Indonesia berhasil mengatasi aksi terorisme oleh kelompok radikal.
Namun baru-baru ini telah terjadi kebangkitan kekerasan militan dan sejumlah orang Indonesia telah melakukan perjalanan ke Timur Tengah untuk memperjuangkan Negara Islam.
Ribuan orang diyakini mendapat inspirasi dari kelompok di dalam negeri.
Lembaga penegak hukum mengeluhkan bahwa mereka tidak memiliki kekuatan untuk menahan militan yang dicurigai merencanakan serangan terorisme kecuali ancaman dibuat atau serangan benar-benar dilakukan.
Berdasarkan undang-undang yang direvisi, siapa pun yang dicurigai merencanakan serangan dapat ditahan hingga 21 hari untuk pemeriksaan awal, bukan satu minggu, dan hingga 200 hari untuk penyelidikan formal.
Tersangka juga akan terbuka untuk penuntutan karena bergabung dengan organisasi "teroris", menyebarluaskan ajaran-ajaran tersebut atau mengambil bagian dalam pelatihan militer di rumah atau di luar negeri.
Mereka yang dihukum karena menyelundupkan bahan peledak atau bahan kimia dan senjata lainnya ke dalam atau ke luar negeri karena "terorisme" akan menghadapi hukuman mati yang maksimum seperti dikutip Reuters yang dilansir MailOnline.
INDONESIA´S parliament approved on Friday tougher anti-terrorism laws as it seeks to combat a surge in homegrown Islamist militancy, days after suicide bombings claimed by Islamic State killed more than 30 people in the city of Surabaya.
Revising a 2003 law became a top priority for the world´s biggest Muslim-majority country after the Surabaya attacks, the deadliest in Indonesia in nearly two decades.
The revised law allows police to preemptively detain suspects for longer and prosecute those who join or recruit for militant groups.
It also seeks to determine the sensitive issue of the military´s role in anti-terrorism operations.
"The president hopes that with the passage of this bill, we can be successful in eradicating terrorism using both soft power and hard power," Johan Budi, a spokesman for President Joko Widodo, said in a text message.
Indonesia´s most deadly Islamist militant attack took place on the tourist island of Bali in 2002, when bombers killed 202 people, most of them foreign tourists.
In subsequent years, Indonesia scored some major successes in tackling militancy.
But recently there has been a resurgence of militant violence and scores of Indonesians have travelled to the Middle East to fight for Islamic State.
Thousands are believed to be drawing inspiration from the group at home.
Law enforcement agencies have complained that they lack the power to detain militants suspected of plotting attacks unless a threat is made or an attack actually carried out.
Under the revised law, anyone suspected of planning an attack can be held for up to 21 days for an initial examination, instead of a week, and for up to 200 days for a formal investigation.
Suspects will also be open to prosecution for joining a "terrorist" organisation, disseminating such teachings or taking part in military-style training at home or overseas.
Those convicted of smuggling explosives or other chemicals and weapons into or out of the country for "terrorism" will face a maximum penalty of death.