TPI Kembali Dikelola Koperasi, Kemenkop UKM Tunggu Presiden Teken Perpres
Fisheries Cooperatives should Manage the Fish Auction in Indonesia
Reporter : Gusmiati Waris
Editor : Cahyani Harzi
Translator : Dhelia Gani

PUBLISHED: Kamis, 22 Februari 2018 , 03:01:00 WIB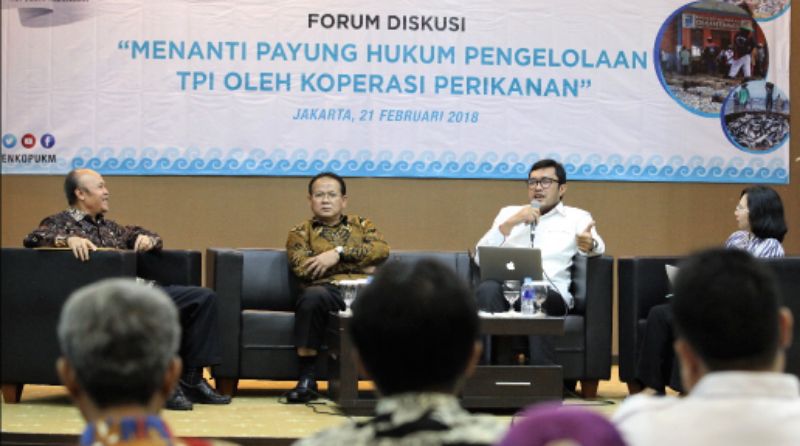 Kiri ke kanan: Deputi Bidang Produksi dan Pemasaran Kemenkop UKM I Wayan Dipta, mantan Menteri Kelautan dan Perikanan Rokhmin Dahuri, dan Ketua Umum Induk Koperasi Perikanan Indonesia (IKPI) Ono Surono (Foto: Humas Kemenkop UKM)
Jakarta (B2B) - Pengelolaan tempat pelelangan ikan (TPI) sudah selayaknya dikembalikan pemerintah daerah (Pemda) kepada koperasi untuk meningkatkan kesejahteraan nelayan sebagai subjek dan bukan objek, namun hal itu terkatung-katung selama tiga tahun lantaran rancangan peraturan presiden (Perpres) belum diteken oleh Presiden Joko Widodo meski sudah berada di meja sekretaris kabinet
Peraturan presiden tentang pemberdayaan koperasi perikanan untuk mengelola pelelangan ikan sudah mendesak diberlakukan setelah presiden pada hari koperasi nasional di Makassar meminta pengelolaan pelelangan ikan dikembalikan kepada koperasi.
Hal itu dikemukakan oleh Deputi Bidang Produksi dan Pemasaran Kementerian Koperasi dan UKM, I Wayan Dipta; Sekjen Dewan Koperasi Indonesia (Dekopin) I Neddy Refinaldy; Ketua Umum Induk Koperasi Perikanan Indonesia (IKPI) Ono Surono; dan mantan Menteri Kelautan dan Perikanan Rokhmin Dahuri di Jakarta, Rabu (21/2) pada diskusi ´Menanti Payung Hukum Pengelolaan TPI oleh Koperasi Perikanan´.
I Wayan Dipta mengatakan pemerintahan Jokowi saat ini fokus pada program ketahanan pangan, dan sudah selayaknya pengelolaan TPI dikembalikan kepada koperasi, apalagi kondisi TPI setelah dikelola oleh Pemda tidak menjadi lebih baik sehingga tidak berdampak signifikan terhadap pendapatan asli daerah (PAD) dari sektor perikanan.
"Dampak TPI terhadap PAD juga tidak terlalu signifikan dibanding ketika dikelola koperasi. Draft Perpres sudah berubah menjadi pemberdayaan koperasi perikanan dalam penyelenggaraan pelelangan ikan di TPI," kata Wayan Dipta.
Neddy mengingatkan bahwa Perpres tersebut harus memberikan kepastian kepada koperasi untuk mengelola TPI seperti ketika sebelum era reformasi. "Dekopin akan mapping koperasi nelayan dan koperasi perikanan yang bagus-bagus."
Ono Surono menyoroti dua masalah utama yang dihadapi nelayan Indonesia yaitu produksi yang mencakup seluruh kebutuhan nelayan saat melaut, dan masalah distribusi karena hasil tangkap ikan nelayan masih dikuasai oleh para tengkulak.
"Kalau TPI dikelola koperasi maka akan mucul unit usaha lain seperti perbekalan nelayan, galangan kapal, kredit modal, dan sebagainya," kata Ono yang juga Anggota Komisi IV DPR.
Rokhmin Dahuri mengingatkan tentang syarat utama koperasi perikanan dalam mengelola TPI yakni mampu meningkatkan sarana dan prasarana, sanitasi, higienis, standar nasional dan internasional, dan pemasaran ikan.
"Menguntungkan nelayan, tapi juga tidak membebani konsumen nasional, intinya koperasi sebagai buffer stock dan stabilisasi harga," katanya.
Jakarta (B2B) - Management of fish auctions in Indonesia should be returned to the cooperative to improve the welfare of fishermen as the subject and not the object, but it was in limbo for three years because the draft presidential decree has not been signed by the President Joko Widodo despite being on the cabinet secretary´s desk, according to senior official of cooperatives and SMEs ministry.
The regulation on empowering fishery cooperatives to manage fish auctions has been urged to take effect after the president on the national cooperative day in Makassar requested the management of fish auctions returned to cooperatives.
It was stated by the Deputy Minister of Production and Marketing, I Wayan Dipta; Secretary General of the Indonesian Cooperative Council or the Dekopin, Neddy Refinaldy; Chairman of Indonesian Fishery Cooperative (IKPI) Ono Surono; and former Minister of Marine Affairs and Fisheries Rokhmin Dahuri here on Wednesday (February 21).
Mr Dipta said that Joko Widodo´s government is currently focus on food security programs, and it is proper management of the fish auction are returned to the cooperative, especially after managed by the local government does not get better so it does not have a significant impact on regional revenues from the fisheries sector.
"The impact on regional revenues is also not significant compared to managed cooperatives. The draft presidential regulation has turned into empowering fisheries cooperatives to manage fish auctions," Wayan Dipta said.
Neddy reminded that the presidential regulation should provide certainty to the cooperative to manage the fish auction place as it was before the reform era. "Dekopin will mapping fishermen cooperatives and good fisheries cooperatives."
Ono Surono highlighted two main problems faced by Indonesian fishermen, namely the production that covers all the needs of fishermen when they go to sea, and distribution problem because the fisherman fish catch is still controlled by the middlemen.
"If managed by the cooperative, it will be developed other business units such as fishing supplies, shipyards, capital loans, and others," said Ono who is also a member of parliament.
Rokhmin Dahuri reminded of the main requirements of fishery cooperatives in managing fish auctions to improve facilities and infrastructure, sanitation, hygiene, national and international standards, and fish marketing.
"Fishermen make a profit, and do not burden national consumers, because cooperatives as buffer stock and price stabilization," he said.