Jokowi Didesak Selebritas Dunia Stop Perdagangan Daging Anjing dan Kucing
Gervais and Cowell among Stars urging Indonesia to Ban `Brutal` Dog Meat Trade
Editor : Ismail Gani
Translator : Novita Cahyadi

PUBLISHED: Selasa, 22 Mei 2018 , 04:01:00 WIB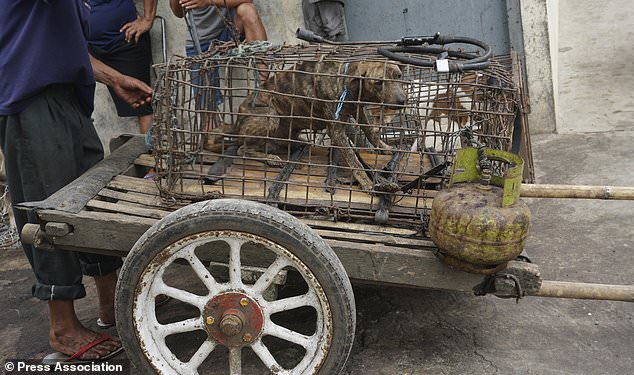 Ribuan anjing dan kucing disembelih setiap pekan di Sulawesi Utara, sebagian besar diimpor dari provinsi lain di Indonesia, menurut LSM tersebut (Foto: Press Association/MailOnline)
SELEBRITAS dunia termasuk Ricky Gervais dan Simon Cowell mendesak Presiden RI Joko Widodo Indonesia untuk melarang praktik perdagangan hewan yang mereka tuding sebagai tindakan brutal terhadap anjing dan kucing untuk dikonsumsi manusia.
Desakan ini muncul setelah LSM asing Humane Society International dan Indonesia pada Januari mengungkap tentang pasar perdagangan hewan di Sulawesi Utara yang memperlihatkan sejumlah anjing dipukuli oleh pedagang dan dibakar hidup-hidup untuk menghilangkan rambut anjing di depan publik dan turut disaksikan oleh anak-anak.
Surat kepada Presiden Joko "Jokowi" Widodo dirilis pada Senin yang menyebutkan bahwa Indonesia termasuk sejumlah negara-negara Asia lainnya yang dilarang melakukan tindakan brutal terhadap hewan, dan desakan tersebut akan "diumumkan secara global" sehingga dapat mempengaruhi reputasi Indonesia di mata dunia.
Koalisi juru kampanye, yang menyebut sebagai Dog Meat Free Indonesia, juga memperingatkan risiko kesehatan yang ditimbulkan oleh perdagangan hewan karena berpotensi untuk menyebarkan rabies.
"Hewan-hewan ini, banyak di antaranya diperoleh dari mencuri hewan peliharaan, menjadi sasaran metode penangkapan, pengangkutan dan pembantaian yang brutal, dan penderitaan serta ketakutan yang sangat besar yang harus ditanggung hewan untuk disantap manusia adalah memilukan dan benar-benar mengejutkan," kata surat itu.
Cowell, Gervais, aktris Cameron Diaz, pembawa acara talk show Ellen DeGeneres, penyanyi pop Indonesia Anggun dan musisi Moby termasuk di antara 90 lebih selebriti yang tercantum dalam surat itu.
Daging anjing dimakan oleh hanya sebagian kecil penduduk Indonesia tetapi di negara berpenduduk lebih dari 250 juta orang, itu masih merupakan perdagangan yang signifikan.
Ribuan anjing dan kucing disembelih setiap pekan di Sulawesi Utara, sebagian besar diimpor dari provinsi lain di Indonesia, menurut LSM tersebut.
Setelah publisitas buruk pada Januari, Pasar Hewan Tomohon yang terkenal di Sulawesi Utara menghentikan pembantaian anjing oleh publik tetapi video yang direkam oleh juru kampanye menunjukkan bangkai anjing masih dikirim dari lokasi lain.
"Kami sangat berterima kasih kepada para superstar global dan Indonesia yang datang bersama-sama untuk mendukung kampanye Dog Meat Free Indonesia untuk mengakhiri praktik perdagangan yang kejam dan berbahaya ini," kata Presiden Humane Society International, Kitty Block, dalam sebuah pernyataan.
"Kami dengan hormat mendesak Presiden Widodo untuk bekerja bersama kami dalam solusi yang melindungi tidak hanya anjing dan kucing Indonesia tetapi juga kesehatan rakyatnya," katanya seperti dikutip Press Association yang dilansir MailOnline.
STARS including Ricky Gervais and Simon Cowell have urged Indonesia's president to ban what they say is a brutal trade in dog and cat meat for human consumption.
The appeal comes after Humane Society International and Indonesian campaigners in January exposed markets on the island of Sulawesi where dogs were bludgeoned by the thousands and blow-torched alive to remove their hair in front of onlookers including children.
The letter to President Joko "Jokowi" Widodo released on Monday said if Indonesia joined other Asian nations that have already banned the cruel trade, it would be "celebrated globally" and end a stain on the country's reputation.
The coalition of campaigners, calling itself Dog Meat Free Indonesia, also warned of health risks posed by the trade due to its potential to spread rabies.
"These animals, many of them stolen pets, are subjected to crude and brutal methods of capture, transport and slaughter, and the immense suffering and fear they must endure is heartbreaking and absolutely shocking," the letter said.
Cowell, Gervais, actress Cameron Diaz, talk show host Ellen DeGeneres, Indonesian pop singer Anggun and musician Moby are among the more than 90 celebrities listed in the letter.
Dog meat is eaten by only a small percentage of Indonesians but in a country of more than 250 million people it still represents a significant trade.
Thousands of dogs and cats are slaughtered weekly in North Sulawesi, most of which are imported from other provinces in Indonesia, according to the anti-animal cruelty groups.
After the blaze of bad publicity in January, the infamous Tomohon Extreme Market in North Sulawesi stopped the public slaughter of dogs but video shot by campaigners showed dog carcasses were still being delivered from other locations.
"We are so grateful to these global and Indonesian superstars who have come together to support Dog Meat Free Indonesia's efforts to end this cruel and dangerous industry," Humane Society International president Kitty Block said in a statement.
"We respectfully urge President Widodo to work with us on a solution that protects not only Indonesia's dogs and cats but also the health of its people," she said.