Raih Kepercayaan TLD di Indonesia, Gapura Angkasa Incar SSC untuk Asia Pasifik
Indonesia`s GSE Leader Seek Support Service Center in Asia Pacific Region
Reporter : Gusmiati Waris
Editor : Cahyani Harzi
Translator : Dhelia Gani

PUBLISHED: Minggu, 01 Juli 2018 , 04:21:00 WIB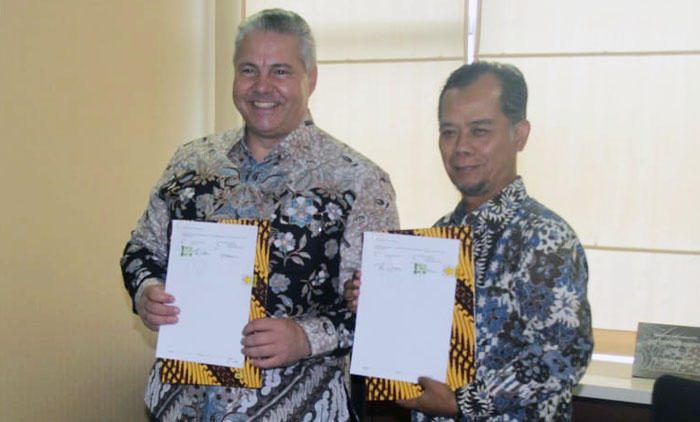 CEO TLD Asia, Thomas Dorn (kiri) dan Dirut Gapura Angkasa, Sucipto usai menandatangani kontrak Gapura sebagai Support Service Center TLD di Indonesia (Foto2: Humas Gapura)
Jakarta (B2B) - Perusahaan jasa layanan darat di bandar udara (ground handling) PT Gapura Angkasa berupaya mendapatkan kepercayaan penuh dari TLD, produsen ground support equipment (GSE) untuk memperluas cakupan layanan menjadi support service center (SSC) kawasan Asia Pasifik, setelah dipercaya TLD sebagai SSC resmi di Indonesia yang diupayakan melalui peningkatan kualitas SDM dan peralatan.
"Salah satu upaya peningkatan yang sedang dilakukan untuk mendukung pencapaian target di atas adalah pengembangan logistic center, yang mengatur stok dan suplai suku cadang di seluruh kantor cabang Gapura secara online dan real time melalui program Inventory Management System," kata Direktur Utama Gapura Angkasa, Sucipto di Jakarta, Kamis (28/6) usai menandatangani kontrak kerja Gapura sebagai SSC resmi TLD di Indonesia.
Sucipto menambahkan, kepercayaan TLD pada Gapura untuk menangani SSC di Indonesia, memicu Gapura untuk meningkatkan dukungan pada industri penerbangan dan jasa terkait lainnya yang ada di Indonesia sesuai persyaratan safety, security, service, dan compliance.
Gapura sebagai salah satu perusahaan ground handling terbesar di Indonesia saat ini telah beroperasi di 60 bandara di seluruh Indonesia, dan saat ini telah mengoperasikan 1.194 GSE motorized dan 3.915 GSE non motorized untuk melayani pesawat udara dari maskapai penerbangan domestik dan internasional.
Kontrak kerja sebagai SSC dari TLD di Indonesia diteken oleh Sucipto dan CEO TLD Asia, Thomas Dorn di Jakarta, Kamis siang (28/6) yang disaksikan oleh TLD Customer Service Manager Asia, Alvin Chiu; dan TLD Indonesia, Budi Setio dan Alisan Widjaja.
"Bermodalkan SDM terdidik dan terlatih dengan fasilitas perawatan workshop termasuk peralatan kerja pendukungnya yang tersebar di beberapa bandara di Indonesia. Gapura mendapatkan kepercayaan dari TLD sebagai SSC untuk melakukan perawatan GSE merek TLD yang dioperasikan di seluruh bandara di Indonesia," kata Sucipto kepada pers di kantornya.
Dukungan Teknologi
Saat ini Gapura didukung berbagai tipe GSE seperti aircraft towing tractors (ATT) untuk menarik atau mendorong pesawat udara di apron bandara, high lift loader (HLL) untuk pemuatan bagasi dan kargo ke dalam kompartemen pesawat berbadan lebar, air starter (ASU) untuk melakukan start on atau down mesin pesawat udara.
"Teknologi TLD lainnya adalah ground power unit disingkat GPU untuk suplai listrik pada pesawat udara, passenger steps atau PBS untuk naik turunnya penumpang dan awak pesawat udara, dan belt conveyor loader atau CBL untuk pemuatan bagasi dan kargo ke dalam bulk pesawat udara berbadan lebar dan narrow body," kata Sucipto.
Tak kalah penting adalah air conditioners unit (ACU) untuk pendinginan suhu udara di kokpit maupun kabin pesawat udara, baggage towing tractors (BTT) untuk menarik cart maupun ULD yang berisi kargo maupun bagasi dari dan ke pesawat udara.
"Gapura juga didukung lavatory service trucks atau LST untuk lavatory pesawat udara, dan water service trucks disingkat WST untuk pengisian air ke dalam pesawat," kata Sucipto yang didampingi direksi lainnya.
Jakarta (B2B) - Gapura Angkasa as the leading ground handling company in Indonesia seek trust of TLD, the leading industrial group specializing in ground support equipment or GSE to expand the service center support in the Asia Pacific region, after being appointed as the official SSC of TLD in Indonesia, according to the CEO of Gapura.
"Many things done by Gapura to support the achievement of targets by developing logistics center in branch offices with online and real time through Inventory Management System program," President Director of Gapura Angkasa, Sucipto here on Thursday (June 28).
According to him, the trust of TLD to Gapura encourages the company he leads to increase support for the aviation industry and other related services in Indonesia according to safety, security, service and compliance requirements.
The Gapura currently operates at 60 airports across the country, and operates 1,194 units of motorized and 3,915 non-motorized to serve ground support equipment for domestic and international airlines.
The contract was signed by President Director of Gapura Angkasa, Sucipto and CEO TLD Asia, Thomas Dorn here on Thursday (June 28) witnessed by TLD Customer Service Manager Asia, Alvin Chiu; and TLD for Indonesia, Budi Setio and Alisan Widjaja.
"Gapura is supported by educated human resources and quality workshops spread across several major airports in Indonesia. Gapura is trusted by TLD as a support service center for maintenance of TLD products operated at airports across the country," Sucipto told the reporters.
Technology Support
Gapura is supported by various types of GSE such as aircraft towing tractors or ATT to pull or push aircraft at the airport apron, high lift loader or HLL for baggage and cargo loading into wide-body aircraft compartments, air starter or ASU to start on or down aircraft engines.
"Another TLD technology is a ground power unit or GPU for power supply on an aircraft, passenger steps or PBS for ladder passengers and crew, and belt conveyor loader or CBL for baggage and cargo loading into, and belt conveyor loader or CBL for baggage and cargo loading into bulk aircraft for wide bodyes and narrow body," said Sucipto, who goes by one name, like many Indonesians.
Another technology is air conditioners unit or ACU for cooling air temperature in cockpit and cabin, baggage towing tractors or BTT to draw carts or ULD containing cargo and baggage to and from aircraft.
"Gapura also supported lavatory service trucks or LST for lavatory aircraft, an water service trucks or WST to fill the water to the aircraft," Sucipto said.