Zakat Perusahaan, Jamkrindo Syariah Salurkan Rp279,7 Juta dari Laba Rp11,18 Miliar
Indonesian Sharia Company Provide Zakah Company to the Orphans
Reporter : Gusmiati Waris
Editor : Cahyani Harzi
Translator : Dhelia Gani

PUBLISHED: Jum'at, 08 Juni 2018 , 05:28:00 WIB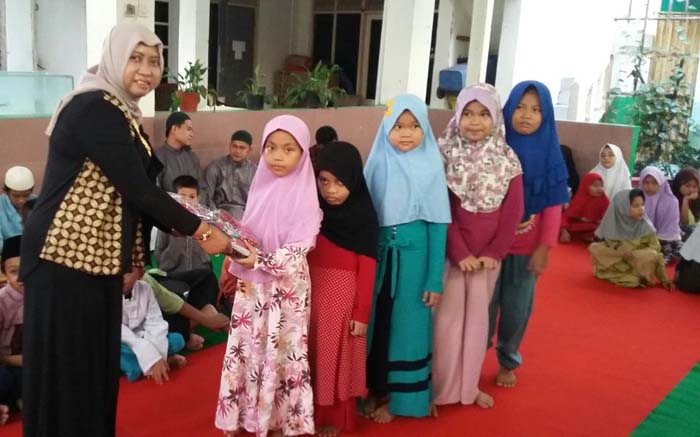 Direktur Keuangan, SDM dan Umum Jamsyar, Endang Sri Winarni (kiri) simbolis menyerahkan santunan di Panti Asuhan Muslimin Putra Jaya di Kayu Putih, Jakarta Timur.
Jakarta (B2B) - Lembaga keuangan syariah, PT Penjaminan Jamkrindo Syariah (Jamsyar) menyalurkan zakat perusahaan sebesar Rp279,7 juta melalui Baznas di Jakarta, Rabu (6/6), setelah disisihkan dari laba usaha 2017 sebesar Rp11,18 miliar, meningkat Rp4,37 miliar pada 2016 yang tercatat mencapai Rp6,81 miliar.
"Sebagai lembaga keuangan syariah, Jamsyar mempunyai kebijakan untuk menyalurkan zakat perusahaan, yang didasarkan pada capaian keuntungan perusahaan, dan laba usaha 2017 mencapai Rp11,18 miliar sehingga dapat disisihkan Rp279,7 untuk disalurkan melalui Baznas," kata Direktur Keuangan, SDM dan Umum Jamsyar, Endang Sri Winarni.
Dia mengharapkan kebijakan Jamsyar akan menginspirasi perusahaan lain untuk menunaikan zakatnya, "Inshaa Allah mendatangkan berkah bagi perusahaan dan para pegawainya."
"Adapun zakat yang disalurkan melalui Baznas tahun ini sebesar Rp100 juta untuk menyantuni anak yatim dan untuk pemberdayaan program ekonomi kreatif," kata Endang SW kepada pers di Jakarta.
Jamsyar merupakan anak perusahaan dari Perum Jamkrindo, BUMN yang bergerak di bidang usaha penjaminan berbasis syariah. Kantor pusat di Jakarta didukung empat kantor cabang di Medan, Palembang, Bandung, Surabaya, dan ditunjang enam kantor unit pelayanan yang tersebar di Banda Aceh, Semarang, Pontianak, Banjarmasin, Makasar, Mataram.
Jakarta (B2B) Unit of sharia companies of a subsidiary of Credit Guarantee Indonesia Corp., locally known as the Jamkrindo, Jamkrindo Syariah called the Jamsyar provides corporate zakah 279,7 million rupiah through the Baznas here on Wednesday (June 6), that aside from the company´s profit in 2017 of 11.18 billion rupiah, an increase of 4.37 billion rupiah in 2016 reached 6.81 billion rupiah.
"As a sharia financial institution, Jamsyar has a policy to set aside the company´s profit for corporate zakah," said Director of Finance, Human Resources and General Affairs of Jamsyar, Endang Sri Winarni.
He expects Jamsyar´s policy will inspire other companies to pay corporate zakah of company, "Inshaa Allah brings blessings to the company and its employees."
"The company´s zakah channeled through Baznas this year amounted to 100 million rupiah to help orphans, and to empower the creative economy," Winarni told the press here.
The Jamsyar was established in September 2014 manages the Islamic financing underwriting business, and almost 100% of the ownership interest is owned by the Jamkrindo which guarantees the Jamsyar´s business activities.