SisminbhKop Diterapkan Kemenkop UKM, Tiap Hari Berdiri 10 Koperasi
Indonesian Govt Provides Online Services for Establishment of Cooperative Legal Entities
Reporter : Gusmiati Waris
Editor : Cahyani Harzi
Translator : Dhelia Gani

PUBLISHED: Senin, 15 Januari 2018 , 12:12:00 WIB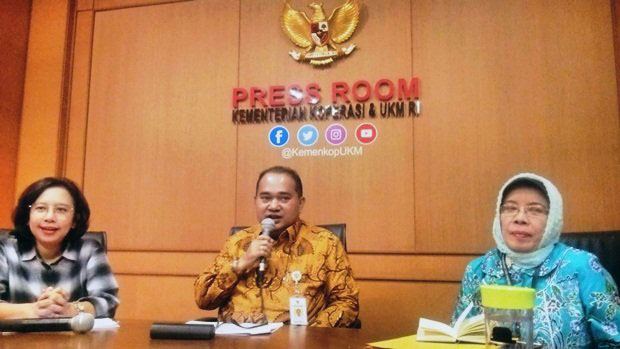 Deputi Bidang Kelembagaan Kemenkop UKM, Meliadi Sembiring (tengah) menjawab pers di Jakarta (Foto: istimewa)
Jakarta (B2B) - Pemerintah RI menyatakan minat publik untuk mendirikan koperasi meningkat setelah Kementerian Koperasi dan UKM mengembangkan layanan online Sistem Administrasi Badan Hukum Koperasi (SisminbhKop), hingga akhir 2017 tercatat berdiri 5.397 koperasi baru sejak layanan SisminbhKop diluncurkan pada April 2016, atau rata-rata tiap hari berdiri 10 koperasi dan 311 koperasi per bulan.

Deputi Bidang Kelembagaan Kemenkop UKM, Meliadi Sembiring mengatakan sejak kementerian menerapkan SisminbhKop maka pada 2016 berdiri 1.661 koperasi dan pada 2017 berdiri 3.736 koperasi baru.

"Rata-rata per bulan berdiri 311 koperasi baru atau 10 koperasi per hari, hal itu artinya minat dan semangat untuk mendirikan koperasi masih tinggi," kata Meliadi Sembiring kepada pers di Jakarta, belum lama ini.

Kemenkop UKM juga menyediakan fasilitas bantuan biaya pembuatan akte pendirian koperasi yang dibuat oleh notaris senilai Rp2,5 juta per koperasi, dan target pemerintah adalah 1.100 koperasi, yang anggotanya merupakan pengusaha mikro.
Jakarta (B2B) - The enthusiasm of Indonesian small entrepreneurs to establish cooperatives remains high after Indonesian government through the ministry of cooperatives and SMEs developed an online service of establishing cooperatives, known by its Indonesian acronym SisminbhKop, according to senior official.

The Deputy Minister of Institutional Meliadi Sembiring said until the end of 2017 there are 5,397 new cooperatives after the SisminbhKop launched in April 2016, meaning each day stand 10 cooperatives or 311 cooperatives per month.

"On average per month there are 311 new cooperatives or 10 cooperatives per day, it means interest and spirit to establish a cooperative is remain high," Mr Sembiring told the press here recently.

The ministry also subsidizes 2.5 million rupiah for notarial deed fees, and the government targets the development of 1,100 cooperatives active members of SMEs, he said.