Penyerangan Polda Sumut Tewaskan Polisi dan Terduga Teroris Disorot Dunia
Militants Hit Indonesia Police; 1 Officer, 1 Attacker Dead
Editor : Ismail Gani
Translator : Novita Cahyadi

PUBLISHED: Senin, 26 Juni 2017 , 12:44:59 WIB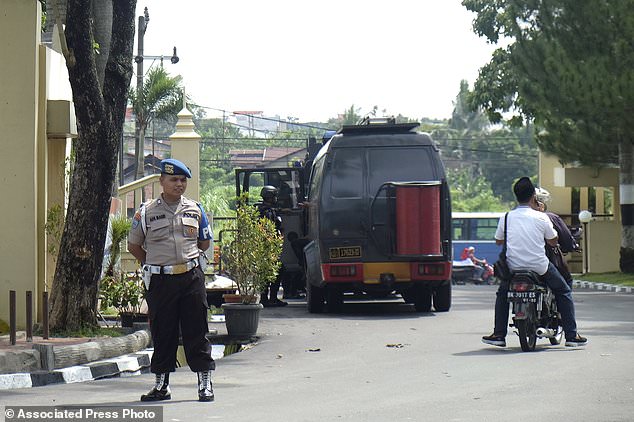 Polda Sumut pasca penyerangan dua terduga teroris (Foto: MailOnline)
DUA TERSANGKA teroris menyerang markas Kepolisian Daerah Sumatera Utara (Polda Sumut) pada Minggu, mengakibatkan seorang perwira dan seorang penyerang yang tewas saat perayaan Hari Raya Idul Fitri.

Dengan memegang pisau dan parang, kedua terduga teroris menyerbu markas Polda Sumut di ibukota provinsi Sumatra Utara, Medan dan menikam seorang perwira polisi berada di posnya, kata Kadiv Humas Mabes Polri Irjen Pol Setyo Wasisto.

Menghadapi aksi penyerangan tersebut kemudian polisi yang bertugas menembak kedua penyerang, menewaskan satu tersangka dan yang lainnya luka serius," kata Setyo.

Serangan tersebut terjadi ketika sebagian besar warga merayakan hari pertama liburan Idul Fitri, yang menandai berakhirnya bulan puasa Ramadhan.

Setyo mengatakan bahwa para penyerang tersebut diduga merupakan bagian dari kelompok ekstremis yang menyatakan setia kepada kelompok militan Islam di Suriah (ISIS). Dia tidak mengidentifikasi kelompok tersebut dengan nama, namun mengatakan polisi menahan tiga terduga teroris yang merencanakan serangan.

"Mereka ingin menjalankan perintah negara Islam yang memerintahkan pengikut mereka untuk melakukan serangan di manapun dengan apapun yang mereka miliki," kata Setyo kepada pers di Jakarta.

Indonesia, negara berpenduduk Muslim terbesar di dunia, telah melakukan tindakan keras terhadap teroris sejak pemboman Bali tahun 2002 yang menewaskan 202 orang, namun ancaman baru muncul dari simpatisan kelompok negara Islam. Dalam beberapa tahun terakhir, aksi penyerangan yang lebih kecil dan tidak mematikan telah menargetkan pemerintah, terutama polisi dan pasukan anti-terorisme.

Kabid Humas Polda Sumut Kombes Rina Sari Ginting
mengatakan bahwa polisi menggeledah rumah pelaku penyerangan dan menyita bendera hitam kelompok Negara Islam ISIS, sebuah dokumen yang merencanakan serangan tersebut, sebuah gambar pemimpin IS Abu Bakr al-Baghdadi, sebuah komputer laptop, sebuah video jihad dan parang.

Pemboman bunuh diri dua bulan lalu menewaskan tiga petugas dalam serangan militan paling mematikan di Jakarta dalam setahun. Polisi mengumumkan pada Kamis bahwa mereka telah menangkap 41 tersangka militan setelah pemboman tersebut, yang diduga dilakukan oleh anggota Jemaah Anshorut Daulah, yang berafiliasi dengan kelompok seperti dikutip Associated Press yang dilansir MailOnline.
TWO SUSPECTED militants attacked a provincial police headquarters in western Indonesia on Sunday, leaving an officer and an assailant dead during Islam's most important holiday, an official said.

Wielding a knife and a machete, the men stormed the police headquarters in North Sumatra's provincial capital of Medan and stabbed to death an officer who was at his post, said National Police spokesman Setyo Wasisto.

Responding officers shot the two attackers, killing one and seriously wounding the other, he said.

The attack came when most Indonesians were celebrating the first day of the Eid al-Fitr holiday, which marks the end of the fasting month of Ramadan.

Wasisto said the attackers were allegedly part of an extremist group that has pledged allegiance to Islamic State group militants in Syria. He did not identify the group by name, but said police arrested three members who were plotting an attack.

"They want to execute an Islamic State command that tells their followers to carry out attacks anywhere with whatever they have," Wasisto told reporters in the capital, Jakarta.

Indonesia, the world's most populous Muslim nation, has carried out a sustained crackdown on militants since the 2002 Bali bombings that killed 202 people, but a new threat has emerged from Islamic State group sympathizers. In recent years, smaller and less deadly strikes have been targeting the government, mainly police and anti-terrorism forces.

North Sumatra police spokeswoman Rina Sari Ginting said police searched the attackers' houses and seized a black flag of the Islamic State group, a document planning the attack, a picture of IS leader Abu Bakr al-Baghdadi, a laptop computer, a jihadi video and machetes.

Twin suicide bombings last month killed three officers in the deadliest militant attack in Jakarta in a year. Police announced Thursday that they had arrested 41 suspected militants following the bombing, allegedly carried out by members of Jemaah Anshorut Daulah, which is affiliated with the Islamic State group.