21 Tewas Akibat Ledakan Sumur Minyak di Aceh Timur
Indonesia Oil Well Explosion Death Toll climbs to 21
Editor : Ismail Gani
Translator : Novita Cahyadi

PUBLISHED: Kamis, 26 April 2018 , 13:36:00 WIB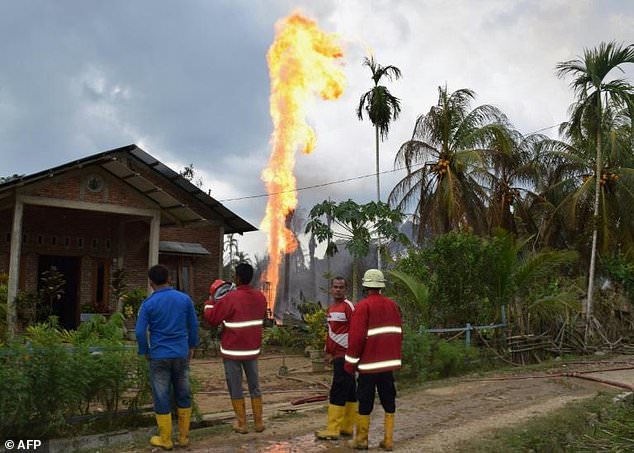 Foto: AFP/MailOnline
JUMLAH korban tewas akibat ledakan sumur minyak di Aceh Timur meningkat menjadi 21 orang, dan puluhan korban luka-luka, sementara kobaran api sudah berhasil dipadamkan.

Jumlah korban tewas meningkat dua kali lipat dari jumlah awal mencapai 10 tewas menyusul banyak korban yang meninggal dunia di rumah sakit akibat luka berat yang mereka alami menyusul ledakan pada Rabu pagi.

Tumpahan minyak memicu kebakaran besar yang melesat sekitar 70 meter di udara, di atas rumah-rumah dan pohon-pohon palem di daerah pemukiman di Provinsi Nanggroe Aceh Darussalam.

Beberapa rumah juga hancur akibat ledakan hebat di desa Peureulak sampai pihak berwenang akhirnya berhasil memadamkan api.

"Api telah padam sekarang .... Kami masih memantau korban yang terluka dan situasi pada kecelakaan itu," kata Henny Nurmayani, seorang pejabat di lembaga penanggulangan bencana Aceh.

Puluhan korban luka masih menjalani perawatan medis di rumah sakit, tambahnya.

Para korban mengumpulkan minyak dari sekitar pintu masuk sumur bor tua yang ilegal saat api meletus, kata polisi.

Pihak berwenang masih menyelidiki kecelakaan itu, tetapi memperkirakan penyebabnya akibat ada yang merokok.

"Ada banyak orang di sana yang merokok," kata Kepala Divisi Humas Mabes Polri Irjen Pol Setyo Wasisto.

"Lokasinya di desa, begitu banyak orang yang berebut untuk mendapatkan minyak dan akibatnya sangat ramai."

Banyak dijumpai di Aceh Timur pertambangan minyak ilegal minyak skala kecil, yang sering dijalankan secara ilegal oleh penduduk desa setempat.

Ada dilaporkan puluhan ribu sumur seperti di seluruh kepulauan Indonesia.

Sumur minyak bekas kadang-kadang ditambang ulang sementara penduduk setempat juga mengebor ke situs-situs baru untuk menemukan sumber-sumber baru.

Kebakaran mematikan tidak jarang terjadi di Indonesia, negara yang luasnya lebih dari 260 juta orang di mana peraturan keselamatan sering dilanggar.

Pada Oktober 47 orang meninggal setelah api terjadi ledakan pabrik petasan dan kembang api di Tangerang, Banten seperti dikutip AFP yang dilansir MailOnline.
THE DEATH toll from an oil well explosion in Indonesia has climbed to 21, with dozens of others in hospital, authorities said Thursday, as they extinguished the towering blaze.

The latest toll was more than double an initial count of 10 as more victims succumbed to their injuries in hospital following the accident early Wednesday morning.

An oil spill sparked a huge fire that shot up some 70 metres (230 feet) in the air, above homes and palm trees in a residential area on Sumatra island's Aceh province.

Several houses were also destroyed in the explosion in the village of Peureulak until authorities finally managed to snuff out the blaze.

"The fire has been extinguished now.... We are still monitoring the injured and the situation at the accident," said Henny Nurmayani, an official at Aceh's disaster mitigation agency.

Three dozen victims remain in hospital, she added.

The victims were collecting oil from around the entrance of the illegal old well bore when the fire erupted, police said.

Authorities are still investigating the accident, but suggested a lit cigarette as a possible cause.

"There were many people there who were smoking," national police spokesman Setyo Wasisto said earlier.

"It's a village, so many were scrambling to get oil and it was crowded."

East Aceh is dotted with numerous small-scale oil drilling operations, which are often run illegally by local villagers.

There are reportedly tens of thousands of such wells across the Indonesian archipelago.

Abandoned oil wells are sometimes re-tapped while locals also drill into fresh sites to find new sources.

Deadly fires are not uncommon in Indonesia, a sprawling country of more than 260 million people where safety regulations are often flouted.

In October 47 people died after a blaze tore through a fireworks factory outside Jakarta.