Luar Biasa! Jokowi Ajak Habibie, Megawati dan SBY Foto Bareng
Indonesian Former Presidents Mark Independence Day in State Palace
Editor : Cahyani Harzi
Translator : Dhelia Gani

PUBLISHED: Jum'at, 18 Agustus 2017 , 01:35:00 WIB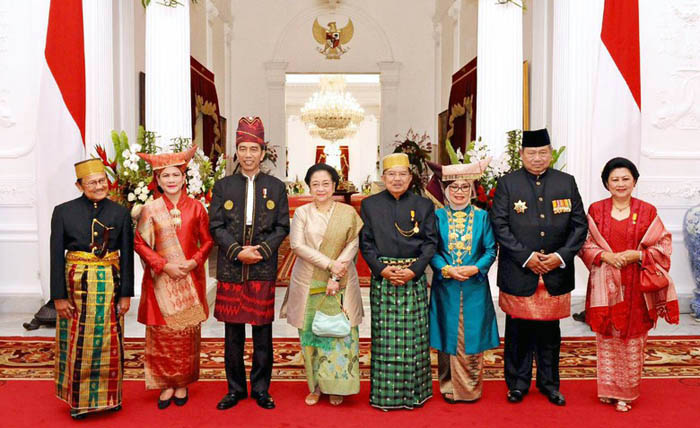 Foto: Setkab
Jakarta (B2B) - Momen luar biasa terjadi di Istana Merdeka Jakarta setelah upacara bendera memperingati HUT Kemerdekaan RI ke-72, Presiden RI Joko Widodo mengajak presiden ketiga BJ Habibie, presiden kelima Megawati Soekarnoputri, dan presiden keenam Susilo Bambang Yudhoyono (SBY) untuk foto bersama.

Selanjutnya, Presiden Jokowi mengajak mantan wakil presiden Boediono dan istri, istri presiden keempat Ny Sinta Nuriyah Abdurrahman Wahid, dan mantan wakil presiden Try Sutrisno beserta istri untuk foto sesi kedua.

Ini adalah pertama kalinya SBY dan Ani Yudhoyono menghadiri peringatan HUT RI ke-72 setelah lengser sebagai presiden keenam, dan lebih memilih merayakan kemerdekaan di Pacitan, kampung halamannya.

Sementara Megawati juga tidak pernah hadir di Istana Merdeka selama 10 tahun (2004-2014) SBY berkuasa, dan barulah merayakan Kemerdekaan RI 17 Agustus di istana setelah Joko Widodo terpilih menjadi presiden.
Jakarta (B2B) - The extraordinary moment took place at Jakarta's Merdeka Palace after the commemoration of the 72th Independence Day, Indonesian President Joko Widodo invited three former presidents BJ Habibie, Megawati Soekarnoputri and Susilo Bambang Yudhoyono for photo session.

President Widodo then invited former vice-presidents Boediono, Try Sutrisno and wife of former president Ny Sinta Nuriyah Abdurrahman Wahid for a second session photo.

This meeting of the two figures was a rare occasion. Megawati had never attended Independence Day ceremonies at the palace while Yudhoyono was president, while this was the first ceremony attended by Yudhoyono during Joko Widodo¿s presidency, who was from Megawati's Indonesia Democratic Party Struggle (PDIP).

The ceremony was led by President Joko Widodo, who also wore a traditional costume, which was the first to happen so far. The presence of officials and invitees in various traditional costumes from across the regions reflects not only the diversity but also the unity of the nation.