Kasus Prostitusi Anak untuk Kaum Gay Diungkap Polri Disorot Internasional
Indonesian Police Bust Online Paedophile Ring
Editor : Cahyani Harzi
Translator : Dhelia Gani

PUBLISHED: Jum'at, 02 September 2016 , 01:48:19 WIB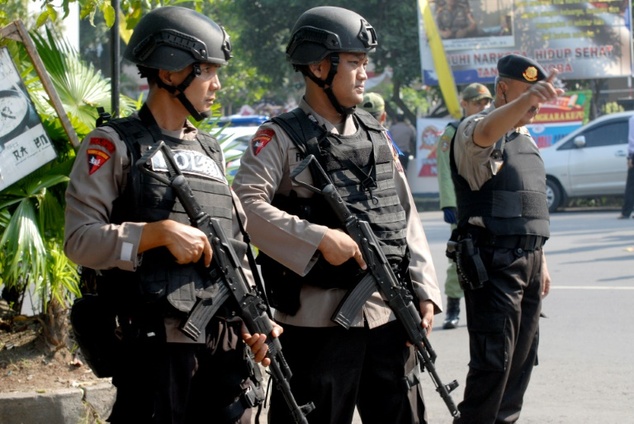 Foto: MailOnline
POLISI Indonesia pada Kamis menyatakan telah menangkap tiga tersangka sehubungan dengan jaringan pedofil online yang diduga terkait pria dewasa untuk sekitar 100 anak laki-laki sebagian besar remaja.

Petugas menangkap tersangka pertama, seorang pria berusia 40-an yang dituduh sebagai mucikari bagi anak laki-laki pada laman Facebook-nya, Selasa di sebuah kamar hotel di Cisarua, Jawa Barat.

Pria, yang identitasnya tidak diungkapkan, tertangkap bersama tujuh anak laki-laki dan remaja 18 tahun ketika ditangkap, kata Direktur Tindak Pidana Ekonomi Khusus Bareskrim Polri, Brigjen Pol Agung Setya.

Dua tersangka ditahan pada Rabu, yang diduga juga menawarkan anak laki-laki melalui media sosial, dan yang lain dituduh menawarkan layanan seksual yang melibatkan anak laki-laki berusia 12 dan 18 tahun.

"Mereka semua mengenal satu sama lain, mereka merupakan sindikat," kata Setya.

Penyidik Polri mendapati 99 anak laki-laki yang ditawarkan secara online dengan harga mulai dari 1,2 juta rupiah hingga 10 juta rupiah.

Polisi mulai memantau tersangka pertama pada Agustus, ketika mereka mengamati akun Facebook-nya saat melakukan pemantauan internet secara rutin.

Pelaku keluar penjara pada Maret, setelah menjalani hukuman untuk prostitusi yang melibatkan perempuan, Setya menambahkan.

Asrorun Niam Sholeh, dari Komisi Nasional Perlindungan Anak (KPAI), mendesak pemerintah untuk segera mengeluarkan undang-undang baru untuk memerangi kejahatan seksual terhadap anak.

"Kami harus menggunakan ini sebagai momentum untuk benar-benar mengobarkan perang melawan kejahatan seksual," katanya, seraya menambahkan hal itu mencegah kerusakan "secara fisik dan psikologis" pada anak.

Presiden Joko Widodo Mei memperkenalkan hukuman baru yang keras bagi pelaku seks anak, termasuk hukuman mati dan hukuman kebiri dengan kimia, setelah aksi pemerkosaan dan pembunuhan anak sekolah memicu kemarahan publik, seperti dikutip AFP yang dilansir MailOnline.
INDONESIAN police said Thursday they have arrested three suspects in connection with an online paedophile ring that allegedly linked adult men to about 100 mostly teenage boys.

Officers caught the first suspect, a man in his 40s accused of pimping out boys on his Facebook page, on Tuesday in a hotel room in Cisarua on Java island.

The man, whose identity was not disclosed, was with seven boys and an 18-year-old when he was arrested, said senior police officer Agung Setya.

Two more suspects were detained on Wednesday, one who allegedly also offered boys over social media, and another accused of using the service which involved boys between 12 and 18 years of age.

The age of consent in Indonesia is 18.

"They all know each other, they're a syndicate," said Setya.

Investigators found 99 boys offered online at prices ranging from 1.2 million rupiah to 10 million rupiah ($90 to $750).

The police began monitoring the first suspect in August, when they came across his Facebook account during a regular online check.

He had been released from jail in March after serving a sentence for prostitution involving girls, Setya added.

Asrorun Niam Sholeh, head of the government-backed rights group the National Commission for Child Protection, urged the state to swiftly issue new laws to combat sexual crimes against children.

"We have to use this as momentum to really wage a war against sexual crime," he said, adding that children were being "physically and psychologically damaged".

President Joko Widodo in May introduced tough new punishments for child sex offenders, including a maximum penalty of death and chemical castration, after the brutal gang-rape and murder of a schoolgirl sparked nationwide outrage.