Alexa, Transformasi Phinisi untuk Wisata Keliling Indonesia
From Cargo Ship to Sailing Boat Across Indonesia
Editor : Ismail Gani
Translator : Novita Cahyadi

PUBLISHED: Selasa, 04 November 2014 , 15:26:00 WIB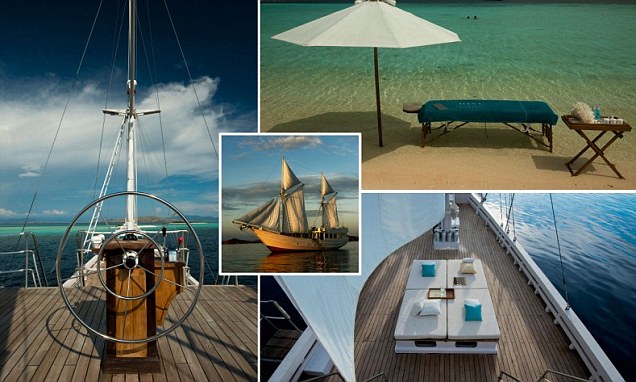 Dengan kabin berukuran 31 meter, perahu bermesin ini dari operator wisata Incrediblue, menawarkan penjelajahan ke seluruh kepulauan di Indonesia (Foto2: MailOnline)
SEBUAH perahu layar tradisional phinisi pengangkut beras dan rempah-rempah di seluruh Indonesia telah berubah fungsi sebagai kapal wisata charter, khususnya pasangan pengantin baru yang ingin berbulan madu - dengan biaya sekitar Rp34 jutaan per pekan (17 ribu poundsterling).

Kapal wisata ini menawarkan koki pribadi, terapis spa, dan perahu berhias barang antik dan seni, ini dinamai Alexa adalah sebuah perahu bertiang dua - yang tampil mewah dan spesial mengangkut dua penumpang saja, yang berpasangan.

Dengan kabin berukuran 31 meter, perahu bermesin ini dari operator wisata Incrediblue, menawarkan penjelajahan ke seluruh kepulauan di Indonesia, seperti MailOnline.

Dek utama menawarkan area lounge terbuka dan di dek bawah adalah perpustakaan diisi dengan buku-buku wisata dan peta, lengkap dengan sebuah TV besar.

Perahu wisata dengan fasilitas penuh ´kemewahan´, didukung tujuh anggota awak kapal berpengalaman, termasuk seorang kapten dengan 15 tahun pengalaman berlayar, koki restoran, dan terapis spa.

Pasangan penyewa juga dapat menikmati scuba diving, dengan instruktur berpengalaman yang merupakan instruktur PADI berkualitas.

Rute perjalanan harus dipesan lebih dahulu, termasuk berselancar di Sumbawa, trekking dan diving di Taman Nasional Komodo, atau berenang dengan lumba-lumba di Laut Flores.

Pilihan lainnya termasuk berjalan di pantai terpencil di pulau eksotis yang sangat luas atau bersantai di atas kapal.

Antonios Fiorakis, CEO Incrediblue, pemenang penghargaan start-up yang menempatkan pelanggan berhubungan dengan pemilik kapal, mengatakan: "Perahu ini memiliki sejarah yang berwarna-warni. Alexa digunakan untuk mengangkut rempah-rempah di seluruh Indonesia - luar biasa eksotis.

"Wisata bahari dengan pengalaman yang benar-benar unik, menikmati pengalaman menarik bagi Anda dan pasangan Anda di tengah laut, berlayar asyik di antara pulau-pulau yang bermandi matahari, yang tak akan terlupakan."

Desain Alexa memadukan gaya tradisional Phinisi dan kemewahan modern, dengan kayu jati, kaca dan stainless steel ramping, patung primitif dan barang antik.

Semua makanan dan minuman serta perawatan spa dan wisata sudah termasuk dalam harga.

Kapal dapat disewa selama satu hari, dengan biaya sekitar Rp4 jutaan, sementara di akhir pekan dapat disewa oleh wisatawan dengan biaya mulai dari Rp14 jutaan.
A TRADITIONAL sailing boat that once carried cargos of spices across Indonesia is now available for couples to charter – at a cost of £17,000 a week.

Boasting a private chef, a spa therapist, and decked out with antiques and art, Alexa is a luxurious two-masted vessel made for just two people.

With one 31-metre cabin, the motor sailor is Incrediblue's newest addition, and is now available for explorations around the Indonesian Archipelago.

The main deck offers open lounge areas and on the lower deck is a library stocked with travel books and maps, along with a large TV.

Billed as 'the ultimate in luxury', the ship boasts seven dedicated crew members, including a captain with 15 years' sailing experience, a gourmet chef, and a spa therapist.

Couples can also enjoy scuba diving, with a cruise director who is a qualified PADI instructor.

Itineraries are bespoke, and include surfing in Sumbawa, trekking and diving in Komodo National Park, or swimming with dolphins in the Flores Sea.

Other options include walking on a deserted beach in a far-flung exotic island or relaxing on board.

Antonios Fiorakis, CEO of Incrediblue, an award-winning start-up that puts customers in touch with boat owners, said: ´The boat has a colourful history. Alexa was used to transport spices across Indonesia - wonderfully exotic.

'It's a totally unique experience, to have an entire ship for you and your partner to play on, to sail stylishly amongst sun-kissed islands, nothing could be more exciting.'

Alexa's design mixes the traditional Phinisi style and modern luxuries, with refinished original teak, glass and sleek stainless steel, primitive sculpture and antiques.

All food and drinks as well as spa treatments and excursions are include in the price.

The vessel can be chartered for a day, costing from £2,000, while a weekend will set holidaymakers back from £7,000.