Polisi Ditusuk di Mesjid Falatehan jadi Sorotan Dunia
Suspected Militant Shot Dead after Stabbing Indonesian Policemen
Editor : Ismail Gani
Translator : Novita Cahyadi

PUBLISHED: Minggu, 02 Juli 2017 , 15:58:40 WIB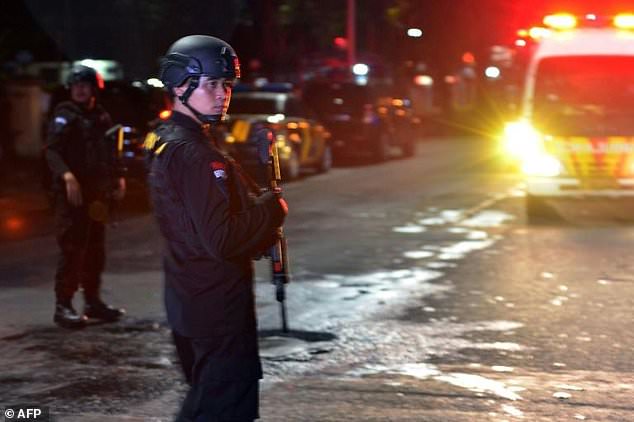 Kedua polisi ditikam di leher dan wajahnya dan kini dirawat di rumah sakit setempat (Foto: MailOnline)
POLISI menembak mati seorang tersangka penyerang setelah dia menusuk dua polisi di dalam sebuah masjid di dekat Lapangan Bhayangkara, Mabes Polri, Jakarta Selatan, kurang dari sepekan setelah penyerangan serupa terhadap markas Polda Sumut.

Penyerang baru saja selesai sholat dengan beberapa polisi dan jamaah lainnya pada Jumat malam saat menikam kedua polisi tersebut dan meneriakkan kata 'toghut'," kata Karopenmas Mabes Polri Brigjen Rikwanto.

Pelakunya langsung berlari ke terminal bus terdekat dan menolak untuk menyerah.

"Dia malah mengancam akan menyerang (kami) dengan bayonet. Setelah tembakan peringatan dilepaskan, dia ditembak di tempat ...," kata Rikwanto.

Kedua petugas polisi tersebut ditikam di leher dan wajahnya dan kini dirawat di rumah sakit setempat.

Motif dan identitas penyerang masih diselidiki, kata Kadiv Humas Mabes Polri Irjen Setyo Wasisto kepada AFP pada Sabtu.

Indonesia telah mengalami serangkaian serangan teror sejak Januari tahun lalu yang dilakukan oleh simpatisan negara Islam ISIS yang sebagian besar mengincar polisi.

Serangan tersebut merupakan tindakan penyerangan kedua terhadap polisi pekan ini.

Pekan lalu, dua terduga teroris dari kelompok Islam yang menyerang markas polisi di provinsi Sumatera Utara, mengakibatkan seorang polisi tewas. Pada MeiMei tiga petugas polisi tewas dalam serangan dua bom bunuh diri di Terminal Kampung Melayu, Jakarta Timur seperti dikutip AFP yang dilansir MailOnline.
INDONESIAN police shot dead a suspected militant after he stabbed two policemen inside a mosque near the national police headquarters in Jakarta, less than a week after an Islamist attack on security forces.

The attacker had just finished praying with several policemen and other worshippers Friday night when he stabbed the two officers and screamed 'infidel', said national police spokesman Rikwanto, who like many Indonesians goes by one name.

The perpetrator immediately ran to a nearby crowded bus terminal and refused to surrender.

"He instead threatened to attack (us) with a bayonet. After warning shots were fired, he was killed on the spot...," Rikwanto said.

The two police officers were stabbed in the neck and face and are being treated at a local hospital.

The motive and identity of the attacker are still being examined, police spokesman Setyo Wasisto told AFP Saturday.

Indonesia has seen a string of low level attacks since January last year carried out by Islamic State sympathisers mostly targeting the police.

The attack is just the second attack on the police this week.

Last Sunday, two alleged Islamic State group militants attacked the police headquarters in North Sumatra province leaving a policeman dead. In May three police officers were killed in twin suicide bombings at a Jakarta bus station.