Protes Kebijakan Trump, Bendera AS dan Israel Dibakar di Depan Kedubes
Indonesians Burn US Flags in 4th Day of Jerusalem Protests
Editor : Ismail Gani
Translator : Novita Cahyadi

PUBLISHED: Selasa, 12 Desember 2017 , 01:59:00 WIB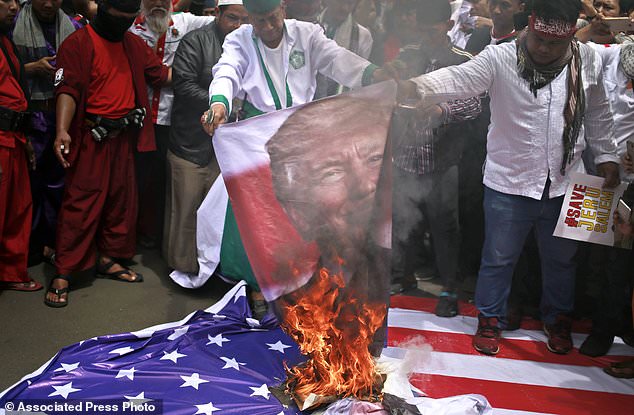 Foto: Associated Press/MailOnline
AKSI SOLIDARITAS untuk Palestina di depan Kedubes Amerika Serikat (AS) di Jakarta diwarnai aksi membakar bendera AS, Senin, di hari keempat unjuk rasa di Indonesia terhadap pengakuan Presiden Donald Trump atas Yerusalem sebagai ibukota Israel.

Ratusan pengunjuk rasa berasal dari kelompok pemuda Islam berkumpul di luar Kedubes AS, membakar bendera dan gambar Presiden Trump dan Perdana Menteri Israel Benyamin Netanyahu.

Dengan mengenakan jubah putih, para pengunjuk rasa membentangkan spanduk bertuliskan "Kedutaan Besar A.S., Keluar dari Al-Quds" dan "Kami bersama orang-orang Palestina." Al-Quds adalah nama Arab untuk Yerusalem, kota bersejarah Timur Tengah yang merupakan tempat suci bagi orang Yahudi, Kristen dan Muslim.

Protes akhir pekan di kedutaan menarik beberapa ribu orang dan demonstrasi serupa diadakan di kota-kota lain di seluruh Indonesia, negara berpenduduk Muslim terbesar di dunia.

Presiden Indonesia Joko "Jokowi" Widodo telah mengecam keras langkah Trump, yang dia gambarkan sebagai pelanggaran terhadap resolusi Perserikatan Bangsa-Bangsa (PBB).

Indonesia tidak memiliki hubungan diplomatik dengan Israel dan telah lama menjadi pendukung kuat aspirasi Palestina untuk kenegaraan.

Pengumuman Trump pada Rabu membatalkan beberapa dasawarsa kebijakan AS, dan sebuah konsensus internasional yang telah berlangsung lama, bahwa nasib Yerusalem diputuskan sebagai bagian dari kesepakatan damai antara Israel dan Palestina.

Klaim Israel dan Palestina terhadap sektor timur kota merupakan inti dari konflik tersebut, dan pernyataan Trump dipandang memihak Israel seperti dikutip Associated Press yang dilansir MailOnline.
ACTIVISTS burned U.S. and Israeli flags in front of the American embassy in Jakarta on Monday in a fourth day of protests in Indonesia against President Donald Trump's recognition of Jerusalem as Israel's capital.

Several hundred protesters from an Islamic youth group rallied outside the embassy, burning flags and images of Trump and Israeli Prime Minister Benyamin Netanyahu.

Wearing white robes, the protesters unfurled banners reading "U.S. Embassy, Get Out from Al-Quds" and "We are with the Palestinians." Al-Quds is the Arabic name for Jerusalem, the historic Middle East city that is a holy site for Jews, Christians and Muslims.

A weekend protest at the embassy attracted several thousand people and similar protests have been held in other cities around Indonesia, the world's most populous Muslim nation.

Indonesian President Joko "Jokowi" Widodo has strongly condemned Trump's move, which he described as a violation of U.N. resolutions.

Indonesia does not have diplomatic ties with Israel and has long been a strong supporter of Palestinian aspirations for statehood.

Trump's announcement Wednesday overturned decades of U.S. policy, and a longstanding international consensus, that the fate of Jerusalem be decided as a part of a peace deal between Israel and Palestine.

Israeli and Palestinian claims to the city's eastern sector form the core of their conflict, and Trump's announcement was seen as siding with the Israelis.