WNI Diminta Menlu Tetap Tenang Sikapi Kebijakan Imigrasi Trump
Muslim-majority Indonesia Deeply Regrets U.S. Immigrant Vetting Plans
Editor : Ismail Gani
Translator : Novita Cahyadi

PUBLISHED: Senin, 30 Januari 2017 , 01:06:15 WIB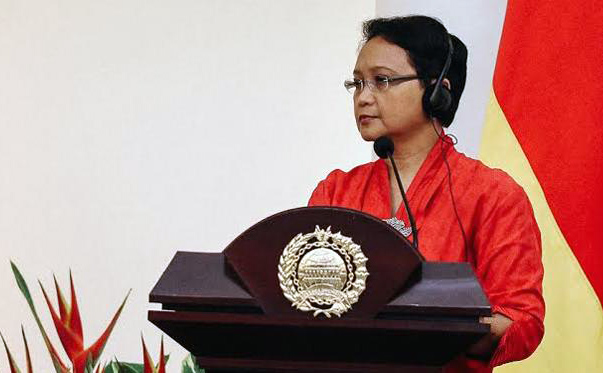 Menlu Retno Marsudi (Foto: istimewa)
MENTERI Luar Negeri Indonesia Retno Marsudi mengatakan pada Minggu bahwa Indonesia sebagai negara dengan populasi Muslim terbesar di dunia telah menyesalkan rencana Presiden Donald Trump untuk "pemeriksaan ekstra ketat" terhadap warga dari beberapa negara Muslim untuk memasuki Amerika Serikat sesuai ketentuan imigrasi yang baru.

Ketentuan baru yang memicu kekacauan dan kebingungan setelah ditandatangani pada Jumat, Trump memerintahkan pembatasan jumlah pengungsi ke Amerika Serikat dan mencegah masuknya warga dari Suriah dan enam negara mayoritas Muslim lainnya.

Indonesia, yang memiliki populasi Muslim terbesar di dunia, bukan merupakan salah satu tujuh negara yang warga negaranya menghadapi pembatasan. Namun, ketika ditanya tentang rencana Trump untuk "pemeriksaan ekstra ketat", Menlu Retno Marsudi mengatakan dalam pesan media sosial yang dikirim ke Reuters: "Kami menyatakan penyesalan mendalam tentang kebijakan tersebut."

Pada Desember 2015, Trump menyerukan larangan pada semua umat Islam memasuki Amerika Serikat. Gagasan tersebut memicu kecaman luas dan kritikus mengatakan hal itu melanggar konstitusi AS dan kemudian berkembang menjadi sebuah proposal untuk 'pemeriksaan ekstra ketat.'

Sebagian besar dari 220 juta Muslim Indonesia mempraktikkan bentuk moderat Islam, meskipun negara ini memiliki beberapa kelompok Islam militan dan Indonesia beberapa kali mendapat serangan teror dari kalangan militan Islam.

Indonesia memiliki hubungan yang erat dengan Amerika Serikat dan banyak warganya mengaitkan kedekatan Indonesia dengan mantan Presiden AS Barack Obama, yang menghabiskan sebagian masa kecilnya di Jakarta.

Presiden Indonesia Joko Widodo mengatakan setelah pelantikan Trump ia optimis bahwa hubungan kedua negara akan semakin erat, demi kepentingan kedua negara.

Menlu Retno Marsudi mengatakan warga Indonesia yang ingin mendapatkan visa ke Amerika Serikat tidak menghadapi masalah sejauh ini. Dia mengatakan ada 'ratusan ribu' orang Indonesia di Amerika Serikat.

Sebuah pernyataan di situs kedutaan Indonesia di Washington (http://bit.ly/2kdBJs1) mendesak warganya di Amerika Serikat untuk tetap tenang, tapi tetap waspada.

Dikatakan warga negara Indonesia harus menghormati hukum AS dan membantu memastikan ketertiban umum di lingkungan mereka, tetapi mereka juga harus memahami hak-hak mereka dengan menyarankan warga Indonesia untuk membuka laman dari American Civil Liberties Union (ACLU). (Www.aclu.org).

ACLU dijadikan dasar pijakan bagi Trump untuk membatasi warga negara dengan paspor dari Suriah, Iran, Irak, Libya, Somalia, Sudan, Suriah dan Yaman.

Trump kepada wartawan di Oval Office Gedung Putih pada Sabtu mengatakan bahwa perintahnya "bukan mencekal Muslim" untuk masuk ke Amerika seperti dilansir MailOnline.
INDONESIAN Foreign Minister Retno Marsudi said on Sunday the Muslim-majority nation deeply regrets President Donald Trump's plans for "extreme vetting" of people from some Muslim countries entering the United States under new immigration orders.

In a far-reaching order that caused chaos and confusion after it was signed late on Friday, Trump put a four-month hold on allowing refugees into the United States and temporarily barred travellers from Syria and six other Muslim-majority countries.

Indonesia, which has the world's largest Muslim population, is not among the seven nations whose citizens face restrictions. However, when asked about Trump's plans for "extreme vetting", Marsudi said in social media message sent to Reuters: "We have deep regrets about the policy."

In December 2015, Trump called for a ban on all Muslims entering the United States. The idea drew fire for suggesting a religious test for immigrants that critics said would violate the U.S. Constitution and later evolved into a proposal for "extreme vetting".

Most of Indonesia's 220 million Muslims practise a moderate form of Islam, although the country has some vocal Islamist groups and has suffered in the past from attacks by militants.

Indonesia has close relations with the United States and many of its citizens think highly of former U.S. President Barack Obama, who spent part of his childhood in Jakarta.

Indonesian President Joko Widodo said after Trump's inauguration he was optimistic that relations between the countries would strengthen, to the benefit of both.

Foreign Minister Marsudi said Indonesians seeking visas to go the United States had not faced any problems so far. She said there were "hundreds of thousands" of Indonesians in the United States.

A statement on the website of the Indonesian embassy in Washington (http://bit.ly/2kdBJs1) urged its citizens in the United States to stay calm, but keep vigilant.

It said Indonesian citizens should respect U.S. laws and help ensure public order in their neighbourhoods, but also that they should understand their rights in case of any issues and directed them to the website of the American Civil Liberties Union (ACLU). (www.aclu.org).

The ACLU sought and won a temporary stay on Trump's order to restrict travellers with passports from Syria, Iran, Iraq, Libya, Somalia, Sudan, Syria and Yemen.

Trump told reporters in the White House's Oval Office on Saturday that his order was "not a Muslim ban" and said the measures were long overdue.