Rp26,88 M banding Rp1,4 T, Pemanfaatan Dana LPDB di Banyuwangi dari Seluruh Jatim
Banyuwangi have not Maximal Take Advantage of Venture Capital of Indonesian Govt
Reporter : Gusmiati Waris
Editor : Cahyani Harzi
Translator : Dhelia Gani

PUBLISHED: Minggu, 27 Januari 2019 , 16:58:00 WIB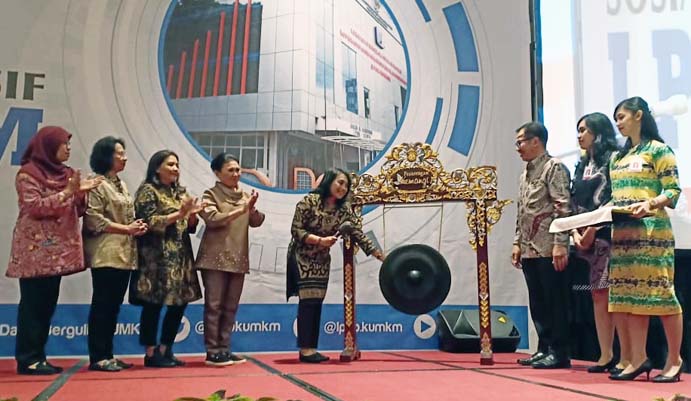 SOSIALISASI & BIMTEK: Bintang Puspayoga memukul gong didampingi para istri menteri anggota OASE tandai pembukaan Bimtek disaksikan Dirut LPBD-KUMKM Braman Setyo (ke-3 kanan) Foto:B2B/Mya
Banyuwangi, Jatim (B2B) - Lebih dari 100 peserta mengikuti ´sosialisasi dan bimbingan teknis dana bergulir´ di Banyuwangi, selama dua hari, 27 - 28 Januari, yang digelar Lembaga Pengelola Dana Bergulir Koperasi Usaha Mikro, Kecil dan Menengah (LPDB-KUMKM), menyikapi minimnya pemanfaatan dana bergulir di Kabupaten Banyuwangi baru mencapai Rp26,88 miliar sementara selama 10 tahun terakhir, 2008 - 2018, LPDB-KUMKM telah menyalurkan dana bergulir hingga Rp1,4 triliun di seluruh Provinsi Jawa Timur.
Direktur Direktur Utama LPDB - KUMKM, Braman Setyo mengatakan nilai dana bergulir yang dimanfaatkan oleh koperasi dan UMKM di Banyuwangi tergolong sangat minim, hanya Rp26,88 miliar dalam 10 tahun terakhir padahal dana bergulir yang disalurkan di seluruh Jawa Timur sudah mencapai Rp1,4 triliun.
"Potensi Banyuwangi luar biasa. Pemerintah kabupaten tengah berlari kencang mengejar ketertinggalan dari wilayah lain dalam memajukan sektor usaha produktif di Banyuwangi, baik koperasi maupun UMKM," kata Braman Setyo saat membuka sosialisasi dan Bimtek di El Royale Hotel & Resort Banyuwangi, Minggu (27/1).
Braman S mengkritisi minimnya akses dana bergulir harus menjadi perhatian dinas yang membidangi koperasi dan UMKM di Banyuwangi untuk mendukung para pelaku usaha potensial di wilayah binaannya.
Bupati Banyuwangi Abdullah Azwar Anas mengapresiasi acara sosialisasi dan Bimtek dana bergulir di wilayahnya. Pasalnya, saat ini, Banyuwangi tengah tancap gas dalam program membangun para pelaku usaha kecil dan StartUp di Banyuwangi.
"Kita sedang gencar membumikan dari Revolusi Industri 4.0 secara nyata di lapangan," kata Bupati AA Anas pada Bimtek LPDB- KUMKM yang dihadiri oleh Bintang Puspayoga dan sejumlah istri dari menteri di Kabinet Kerja yang tergabung pada Organisasi Aksi Solidaritas Era (OASE) yang berada di Banyuwangi terkait kunjungan kerja Ibu Iriana Joko Widodo pada Senin (28/1).
Saat ini, kata Bupati Anas, pihaknya tengah mengembangkan apa yang dinamakan Warung Pintar dengan sistem pembayaran Cashless. "Dengan segala keterbatasan yang ada, kita harus berkolaborasi dengan banyak pihak untuk melahirkan banyak juragan bisnis di Banyuwangi. Salah satunya dengan LPDB dalam hal pembiayaan bagi UKM dan bisnis StartUp."
Direktur Bisnis Direktur Bisnis LPDB-KUMKM Krisdianto Sudarmono mengatakan kegiatan sosialisasi juga merupakan upaya mewujudkan tujuan pemerintah dalam rangka pengembangan kewirausahaan untuk menciptakan lapangan kerja baru, dengan memberikan edukasi kepada pelaku usaha UMKM dalam hal akses permodalan.
"Diharapkan dari kegiatan ini nantinya ada wirausaha pemula yang bisa mendapatkan akses permodalan melalui program ini baik secara langsung dari Kementerian Koperasi dan UKM, LPDB-KUMKM maupun program dana bergulir yang disalurkan melalui lembaga perantara mitra LPDB-KUMKM," kata Kristidianto S yang bertindak selaku ketua panitia sosialisasi dan Bimtek di Banyuwangi.
Tampak hadir Kepala Dinas Koperasi dan UKMK Provinsi Jawa Timur, Mas Purnomo Hadi; Kepala Dinas Koperasi dan UMKM Banyuwangi, Alief Rachman Kartiono; Direktur Pembiayaan Syariah LPDB-KUMKM Jaenal Aripin; dan Direktur Pengembangan Usaha LPDB KUMKM, Iman Pribadi.
Banyuwangi of East Java (B2B) - More than 100 participants attended technical guidance of venture capital of Indonesian government here for two days, 27 to 28 January was held by Indonesia´s venture capital provider companies called the LPDB-KUMKM addressing the minimum utilization of venture capital in Banyuwangi district only IDR 26.88 billion while for the last 10 years, 2008 - 2018, the LPDB-KUMKM has provided venture capital of IDR 1.4 trillion in East Java province.
President Director of LPDB-KUMKM Braman Setyo said said that venture capital used by cooperatives and SMEs in Banyuwangi is relatively minimal, only IDR 26.88 billion in the last 10 years, while venture capital distributed throughout East Java has reached IDR 1.4 trillion.
"Banyuwangi´s potential is extraordinary. The district government is running hard to catch up with other districts to developing productive business sectors in Banyuwangi, especially cooperatives and SMEs," Setyo said.
Setyo criticized the lack of access to venture capital in Banyuwangi should be the concern of the cooperative and SMEs office, to support potential entrepreneurs in districts in the east end of East Java province.
Banyuwangi Regent Abdullah Azwar Anas appreciated the venture capital outreach program in his area. Because, at this time, Banyuwangi is developing a program to build small entrepreneurs and startups in Banyuwangi.
"We are intensively grounding of the 4.0 Industrial Revolution significantly in the field," said Regent Anas
At present, said Regent Anas, his party is developing Smart Stalls with the Cashless payment system and the Santripreneur Program.
Business Director of LPDB-KUMKM Krisdianto Sudarmono said the socialization activities were also an effort to realize the government´s goals developing entrepreneurship and open employment, by educating SME entrepreneurs and cooperatives to access venture capital.
"It is hoped that from this activity a new entrepreneur will be able to access venture capital," Sudarmono said.