314 Tenaga Pendamping Dukung 15 Ribu Pengusaha UKM Terpilih Akses Dana KUR
Indonesian Govt Recruited Hundreds of Assistant SMEs Recipient of KUR
Reporter : Gusmiati Waris
Editor : Cahyani Harzi
Translator : Dhelia Gani

PUBLISHED: Minggu, 08 April 2018 , 17:24:00 WIB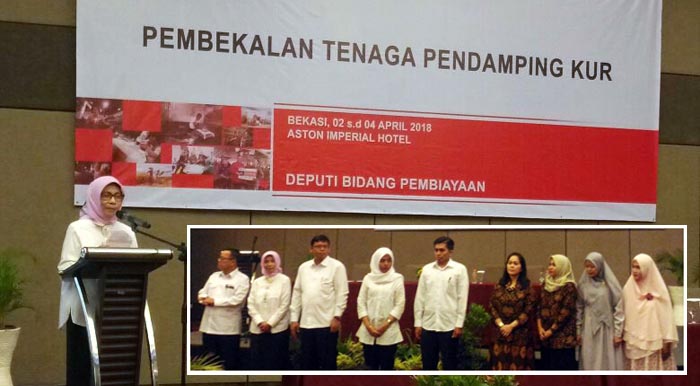 PENDAMPING KUR: Deputi Bidang Pembiayaan Kemenkop UKM, Yuana Sutyowati memberi arahan dan sebagian peserta pelatihan pendamping KUR (inset) Foto2: Humas Kemenkop UKM
Jakarta (B2B) - Sedikitnya 201 orang terdiri atas 20 koordinator dan 181 tenaga pendamping kredit usaha rakyat (KUR) dari 10 provinsi mengikuti sosialisasi dan pembekalan di Bekasi, belum lama ini, untuk mendampingi 15 ribu usaha mikro kecil dan menengah (UMKM) yang sebagian besar belum 'percaya diri' berhubungan dengan perbankan sebagai penyalur KUR, dan tahun ini Pemerintah RI mengalokasikan dana KUR Rp120 triliun untuk 2018, sementara 2017 mencapai Rp110 triliun.

"Kegiatan pendampingan KUR cukup strategis, karena dapat memperluas penyaluran KUR hingga ke pelosok daerah. Juga untuk mendampingi pelaku UMKM yang khawatir berhubungan dengan perbankan, dan masih terbatas kemampuannya menyiapkan kelengkapan administratif yang dibutuhkan dalam pengajuan KUR," kata Deputi Bidang Pembiayaan Kemenkop UKM, Yuana Sutyowati di Bekasi, belum lama ini.

Dalam upaya mendorong percepatan realisasi penyaluran dana KUR 2018, Kementerian Koperasi dan UKM merekrut 34 koordinator didukung 314 tenaga pendamping KUR dari 20 provinsi untuk mendukung pencapaian target 15.000 usaha mikro terdampingi untuk mengakses KUR, dengan bunga rendah 7% dari sebelumnya 9% pada 2017.

''Ini sebagai bukti keberpihakan kepada usaha mikro, kecil dan menengah untuk meningkatkan akses pada sumber pembiayaan," kata Yuana pada kegiatan pembekalan tenaga pendamping KUR di Bekasi, belum lama ini.

Dia berharap para pendamping KUR dapat memberikan informasi dan pemahaman terkait KUR kepada para koordinator dan tenaga pendamping KUR untuk melaksanakan tugasnya dengan baik dan efektif.
Jakarta (B2B) - The Indonesian government has recruited 34 coordinators and 314 assistants of small and medium entrepreneurs to access capital loans of people's business credit or KUR, they came from 20 provinces, and Indonesian Cooperatives and SMEs Ministry provides KUR up to 120 trillion rupiah, while 2017 is only 110 trillion rupiah.

"The socialization of mentors for fund disbursement of KUR is quite strategic, because it can expand access across the country, especially to assist SME entrepreneurs facing banks to prepare documents on the requirements for obtaining KUR funds," said Deputy Minister of Financing, Yuana Sutyowati in Bekasi, recently.

In an effort to encourage acceleration of realization of KUR funds, the ministry recruited a companion of SME entrepreneurs, the Indonesian government is targeting 15,000 selected SME entrepreneurs to obtain KUR with interest rate only 7% from the previous 9% in 2017.

'' The evidence that the government side with SME entrepreneurs to open access to banking," said Yuana on training activities KUR companion in Bekasi, recently.

He hopes that the facilitators of KUR can provide KUR related information and understanding to the coordinators and assistants to work properly and effectively.