Indonesia Science Day 2018, PP-Iptek TMII Tambah Koleksi Wahana Tekno Sains
Indonesia Science Day 2018 Launched by Research Minister
Reporter : Gusmiati Waris
Editor : Cahyani Harzi
Translator : Dhelia Gani

PUBLISHED: Jum'at, 20 April 2018 , 18:11:00 WIB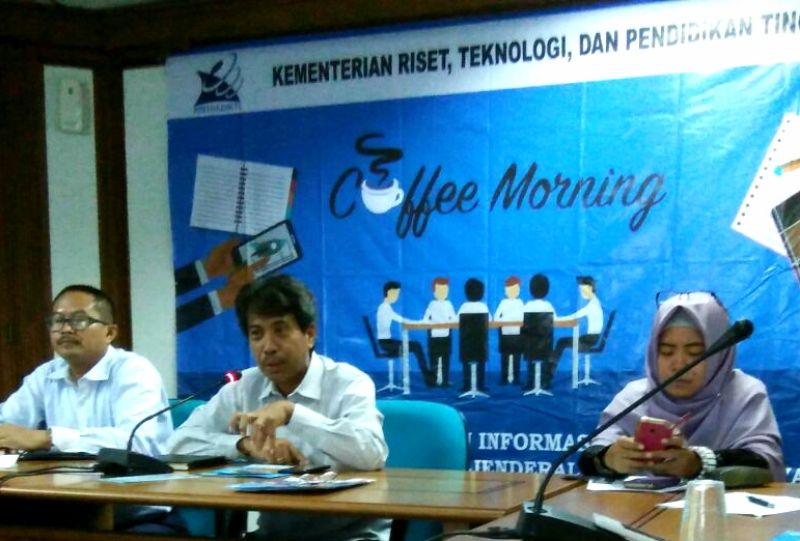 Direktur PP-Iptek, Mochammad Syachrial Annas (tengah) memberi keterangan pers (Foto: B2B/Mya)
Jakarta (B2B) - Wahana ilmu pengetahuan dan teknologi (Iptek) dinamai Self Balancing Wheel dan Stereo Visual akan menambah koleksi di Pusat Peraga Iptek (PP-Iptek) Taman Mini Indonesia Indah (TMII), yang diluncurkan Menristek Mohamad Nasir pada pembukaan Indonesia Science Day 2018 hari ini, Jumat (20/4).
"Kami berharap anak-anak, pelajar dan publik akan mengetahui perkembangan Iptek sejak dulu hingga kini dan yang akan datang," kata Direktur PP-Iptek, Mochammad Syachrial Annas kepada pers di Jakarta, Rabu (18/4).
Wahana Stereo Visual akan mengungkap kelebihan sepasang mata yang dapat melihat secara tiga dimensi (3D) dan menguak secara konseptual apakah benar seperti yang ditampilkan film-film tertentu bahwa ada dimensi-dimensi yang lain.
Sementara wahana Self Balancing Wheel bergerak memakai sensor gyroscope yang dapat bekerja di kemiringan bahkan hanya dengan satu roda pada kendaraan.
Peluncuran dua wahana baru bersamaan dengan pembukaan Indonesia Science Day 2018 oleh Menristek Teknologi Mohamad Nasir, dilanjutkan panen buah dan sayuran di wahana Ecogarden milik PP-Iptek.
"Pengunjung Indonesia Science Day 2018 mulai hari ini sampai Minggu (22/4) akan mendapat promo tiket beli dua gratis satu," kata Syachrial Annas.
Jakarta (B2B) - Indonesian science and technology exhibition center - Science and Technology or PP-Iptek at Jakarta´s Taman Mini Indonesia Indah will add the collection with Self Balancing Wheel and Stereo Visual, launched by Research and Technology Minister Mohamad Nasir today at the opening of Indonesia Science Day 2018.
"We hope that children and students will know basic of science and technology development can be a product as result of downstream innovation of research " Director of PP-Iptek, Mochammad Syachrial Annas to the press here on Wednesday (April 18).
The Visual Stereo will reveal the ability to see three dimensional (3D) eyes, and reveal conceptually whether it is true as it appears on Hollywod movies.
While the Self Balancing Wheel moves using a gyroscope sensor that can work on a tilt though with just one wheel on the vehicle.
Minister Nasir will launch technology rides as well as opening Indonesia Science Day 2018.
Visitors to Indonesia Science Day 2018 from today to Sunday will get promo tickets," said Syachrial Annas.