Kecam Akun Grup Diblokir, FPI Demo ke Kantor Facebook Indonesia
Indonesia Hard-line Muslims Protest Ban on Facebook Accounts
Editor : Ismail Gani
Translator : Novita Cahyadi

PUBLISHED: Sabtu, 13 Januari 2018 , 18:14:00 WIB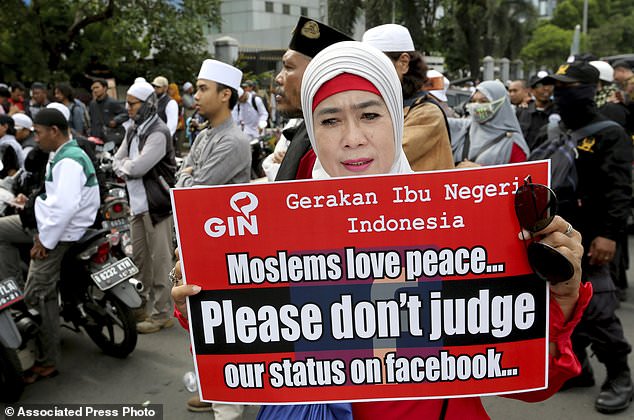 Foto: Associated Press/MailOnline
ORGANISASI massa (Ormas) Islam dari Front Pembela Islam (FPI) menggelar unjuk rasa di Jakarta untuk mengecam pemblokiran akun grup milik di jejaring media sosial Facebook.

Sekitar 200 pengunjuk rasa, mengikuti unjuk rasa yang digelar FPI yang berkumpul untuk unjuk rasa setelah shalat Jumat dari sebuah masjid ke kantor Facebook Indonesia di Jakarta Selatan, sambil menggelar unjuk rasa di jalan raya mereka meneriakkan "Allahu Akbar," atau "Tuhan itu Maha Besar. "

Sebagian dari pengunjuk rasa membawa spanduk bertuliskan "Jangan menzalimi umat Islam."

Juru bicara FPI Slamet Maarif mengatakan bahwa mereka menuntut penjelasan mengapa Facebook memblokir akun kelompok tersebut sementara mengizinkan orang-orang yang mencela para ulama dan ajaran Islam.

Juru bicara Facebook Putri Ariani mengatakan bahwa pihaknya menghapus konten yang mendorong kebencian dan kekerasan terhadap pihak lain dengan pandangan berbeda seperti dikutip Associated Press yang dilansir MailOnline.
MUSLIM hard-liners have protested in Indonesia´s capital against Facebook´s blocking of accounts belonging to the group.

About 200 protesters, organized by the Islamic Defenders Front, known by its Indonesian acronym FPI, marched after Friday prayers from a mosque to the Facebook Indonesia office in south Jakarta, halting traffic as they chanted "Allah Akbar," or "God is Great."

Many carried banners saying "Don´t persecute Muslims."

FPI spokesman Slamet Maarif said they were demanding an explanation of why Facebook had blocked the group´s accounts while allowing ones that denounced its leaders and Islam.

Facebook spokeswoman Putri Ariani said it removes content that promotes hatred and violence against people with different views.

FPI has a long record of vandalizing nightspots, hurling stones at Western embassies and attacking rival religious groups.