Kerusuhan Mako Brimob Berakhir Disorot Media Asing
Police Hostage Crisis at Indonesia Jail over: Officials
Editor : Ismail Gani
Translator : Novita Cahyadi

PUBLISHED: Kamis, 10 Mei 2018 , 18:52:00 WIB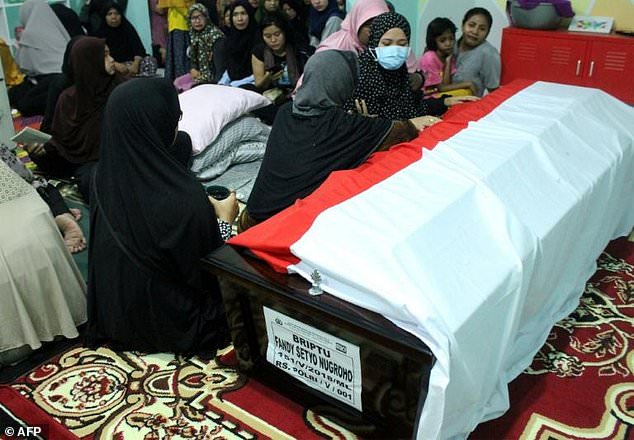 Lima personel Polri tewas dalam kerusuhan di Mako Brimob Kelapa Dua Depok termasuk jasad Briptu Fandy Setyo Nugroho (Foto: AFP/MailOnline)
KRISIS penyanderaan yang melibatkan narapidana teroris di rumah tahanan Mako Brimob di Kelapa Dua Depok baru rampung dua hari setelah kerusuhan mematikan terjadi di penjara, kata petinggi Polri, Kamis.
Ratusan polisi dan kendaraan lapis baja dikerahkan untuk menyelamatkan seorang personel Polri yang disandera oleh para narapidana setelah kerusuhan meletus Selasa malam di Rutan Mako Brimob di Depok, mengakibatkan lima personel Polri dan seorang narapidana tewas.
Dalam operasi sebelum fajar, 145 tahanan "menyerah tanpa syarat" dan sandera dibebaskan tanpa ada korban lebih lanjut yang dilaporkan, kata Menko Polkam Wiranto.
Sepuluh tahanan lain yang bertahan melawan polisi kemudian menyerah setelah digunakan gas air mata, menurut Wiranto.
Beberapa ledakan terdengar di dekat penjara pada Kamis pagi setelah polisi menghancurkan bom rakitan yang dibuat oleh para tahanan, kata polisi.
Kerusuhan pecah setelah beberapa tahanan menuntut mereka diberi makanan yang dikirim kepada mereka oleh keluarga mereka dan berhasil mengambil beberapa senjata api pemenjara mereka dalam kerusuhan berikutnya.
Beberapa narapidana yang terlibat dalam bentrokan itu adalah militan Islam yang dipenjarakan atas tuduhan yang berkaitan dengan teror, menurut polisi.
Kelompok Negara Islam segera mengklaim tanggung jawab atas kerusuhan melalui Amaq News Agency, tetapi pihak berwenang Indonesia menolak klaim itu.
Di antara tahanan yang terlibat bentrokan adalah Aman Abdurrahman, seorang radikal Islam yang dipenjara karena mendalangi serangan di Jakarta pada 2016 yang menyebabkan delapan orang tewas.
Mantan Gubernur DKI Jakarta Basuki Tjahaja Purnama, yang dipenjara selama dua tahun karena penistaan agama setelah kalah dalam pemilihan kembali, juga ditahan di penjara.
Abdurrahman dan Purnama, lebih dikenal sebagai Ahok, tidak ditempatkan di bagian penjara di mana kerusuhan pecah.
Penjara yang penuh sesak di Indonesia sangat terkenal karena kondisi mereka yang buruk dan wabah kekerasan.
Dua tahun lalu, hampir 500 narapidana kabur dari penjara setelah mengeluh tentang kepadatan dan pemerasan seperti dikutip AFP yang dilansir MailOnline.
A HOSTAGE crisis involving Islamist prisoners at a high-security jail outside Jakarta has been resolved nearly two days after a deadly riot broke out at the prison, Indonesian officials said Thursday.
Hundreds of police and armoured vehicles were deployed to rescue a police officer taken hostage by inmates after chaos erupted late Tuesday at the facility inside the Mobile Police Brigade headquarters in Depok, leaving five officers and an inmate dead.
In the pre-dawn operation, 145 prisoners "surrendered unconditionally" and the hostage was released with no further casualties reported, said Chief Security Minister Wiranto, who like many Indonesians goes by one name.
Another ten inmates holding out against police later surrendered after tear gas was used, according to Wiranto.
Several blasts heard near the prison on Thursday morning were caused by police destroying home-made bombs created by the prisoners, police said.
Rioting broke out after several prisoners demanded they be given food sent to them by their families and managed to grab some of their jailers´ firearms in the ensuing fracas.
Some of the inmates involved in the clashes were Islamist militants jailed on terror-related charges, according to police.
The Islamic State group was quick to claim responsibility for the riot through its Amaq News Agency, but authorities rejected that claim.
Among the facility´s prisoners is Aman Abdurrahman, an Islamic radical jailed for orchestrating an attack in Jakarta in 2016 that left eight people dead.
Former Jakarta governor Basuki Tjahaja Purnama, who was jailed for two years for blasphemy after losing a re-election bid, is also held in the jail.
Abdurrahman and Purnama, better known as Ahok, are not housed in the part of the prison where the riot broke out.
Indonesia´s overcrowded prisons are notorious for their poor conditions and outbreaks of violence.
Two years ago, nearly 500 inmates broke out from a prison after complaining about overcrowding and extortion.