Enam Negara Perairan Sulu Sepakat Kerjasama Penanggulangan Terorisme Lintas Negara
Nations Agree to Boost Fight Against IS in Southeast Asia
Editor : Ismail Gani
Translator : Novita Cahyadi

PUBLISHED: Minggu, 30 Juli 2017 , 18:53:00 WIB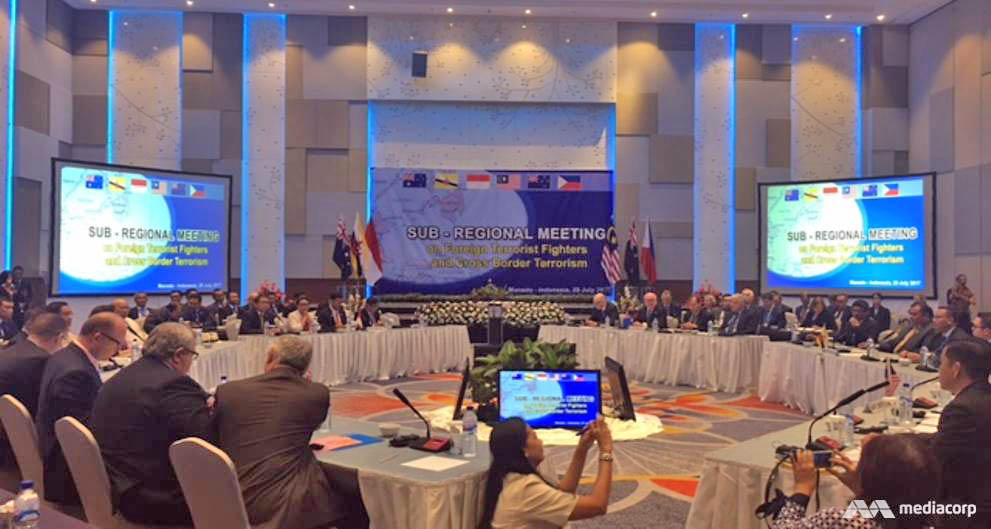 Para menteri pertahanan dan pejabat tinggi dari Indonesia, Australia, Brunei, Filipina dan Selandia Baru mengadakan pertemuan satu hari di Manado, ibukota provinsi Sulawesi Utara (Foto: channelnewsasia.com)
PERTEMUAN tingkat tinggi enam negara yang diselenggarakan oleh Indonesia dan Australia pada Sabtu, sepakat untuk membentuk sebuah forum untuk memperkuat kerjasama antar badan intelijen untuk menanggulangi ancaman terorisme di Asia Tenggara.

Para menteri pertahanan dan pejabat tinggi dari Indonesia, Australia, Brunei, Filipina dan Selandia Baru mengadakan pertemuan satu hari di Manado, ibukota provinsi Sulawesi Utara, dengan fokus pada ancaman serangan kelompok negara Islam ISIS di kota Marawi, Filipina selatan.

Menteri Koordinator Politik, Hukum dan Keamanan RI (Menko Polhukam) Wiranto mengatakan kepada pers bahwa keenam negara sepakat untuk membentuk Forum Penanggulangan Terorisme Asing untuk meningkatkan pertukaran informasi dan kerjasama antara penegak hukum dan badan intelijen.

Pendudukan kombatan ISIS di Marawi, Filipina memicu kekhawatiran bahwa kelompok penebar teror itu mengancam keamanan Filipina dan negara-negara tetangga. Lebih dari 600 orang tewas dalam konflik tersebut, termasuk kombatan ISIS, dan kota tersebut porak-poranda akibat serangan udara pemerintah Filipina terhadap kelompok militan. Indonesia dan Malaysia juga menghadapi ancaman dari warganya yang pergi ke Suriah dan Irak untuk mendukung ISIS dan kemudian kembali ke negeri asalnya untuk menebar teror.

"Kita tidak bisa berdiam diri karena terorisme telah menjadi ancaman nyata bagi kemanusiaan," kata Wiranto, jendral purnawirawan TNI. "Tidak ada satu negara pun yang bebas dari ancaman terorisme dan oleh karena itu ancaman ini harus dihadapi bersama."

Dia mengatakan bahwa prosedur imigrasi juga harus diperkuat untuk mencegah militan bepergian ke wilayah tersebut seperti dikutip Associated Press yang dilansir MailOnline.

Jaksa Agung Australia George Brandis mengatakan dalam sambutannya bahwa konflik di Marawi "mengingatkan kita akan kemungkinan mendesak dan kedekatan ancaman yang dihadapi oleh kita semua."
A SIX-NATION summit co-hosted by Indonesia and Australia agreed Saturday to set up a forum to strengthen cooperation between intelligence services to counter extremist threats in Southeast Asia.

Security ministers and officials from Indonesia, Australia, Malaysia, Brunei, the Philippines and New Zealand held a one-day meeting in Manado, the capital of Indonesia's North Sulawesi province, focusing on the Islamic State group attack on the southern Philippine city of Marawi.

Indonesia's top security minister, Wiranto, told a news conference that the six countries agreed to establish the Foreign Terrorist Fighters Forum to strengthen information sharing and cooperation between law enforcement and intelligence services.

The Marawi occupation has raised fears that the Islamic State group's violent ideology has taken root in the Philippines' restive south and could destabilize neighboring countries. More than 600 people have been killed in the conflict, including foreign fighters, and the city has been devastated by government air strikes against the militants. Indonesia and Malaysia also face the threat of citizens who went to Syria and Iraq to fight with IS returning home and carrying out attacks.

"We cannot keep silent because terrorism has become a real threat to humanity," said Wiranto, who uses one name. "Not a single country is free from the threat of terrorism and therefore this threat must be faced together."

He said immigration procedures should also be strengthened to prevent militants from traveling in the region.

Australian Attorney General George Brandis said in his opening speech that the conflict in Marawi "reminds us in the most immediate possible way of the urgency and the proximity of the threat that is faced by all of us."