13 Nelayan Belum Ditemukan setelah Kapal Ikan Terbalik di Laut Jawa
Fishing Boat Capsizes Off Java, All 13 aboard Missing
Editor : Ismail Gani
Translator : Novita Cahyadi

PUBLISHED: Sabtu, 04 Agustus 2018 , 18:54:00 WIB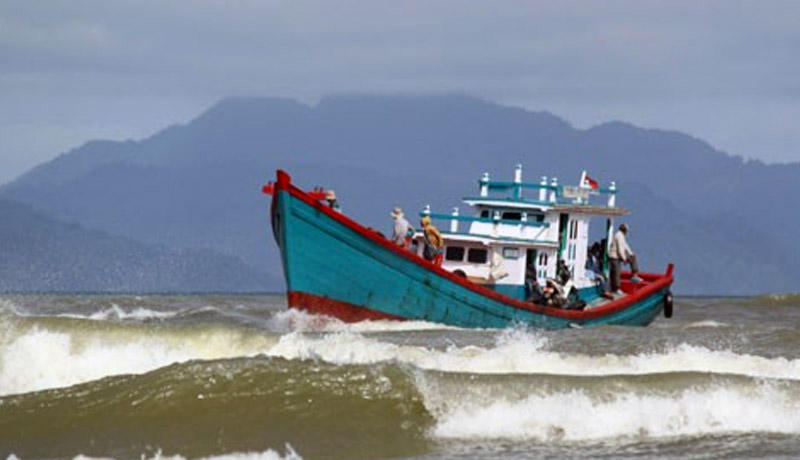 Foto: istimewa
PERAHU nelayan terbalik Jumat akibat cuaca buruk di lepas pantai utara Jawa, yang mengakibatkan 13 orang hilang, kata Badan SAR.
Perahu nelayan, Bunga Hati 2, meninggalkan kampung nelayan di Karangsong di Kabupaten Indramayu, Provinsi Jawa Barat dan terbalik di Laut Jawa sekitar 32 kilometer dari Pulau Biawak di lepas pantai utara Jawa.
Koordinator Humas dan Protokoler Badan SAR Nasional Kantor SAR Bandung, Joshua Banjarnahor mengatakan tim penyelamat menemukan perahu nelayan terbalik berikut dengan jaring ikan, tapi para nelayan belum ditemukan.
Dia mengatakan perahu nelayan meninggalkan pelabuhan saat angin kencang dan ombak tinggi.
Delapan kapal dan hampir 100 orang mencari awak yang hilang, kata Banjarnahor. Pencarian terhambat oleh angin kencang dan ombak besar.
Sebuah kapal kargo dilaporkan berlayar melewati lokasi kapal nelayan terbalik dan pihak SAR berusaha untuk menghubungi kapal tersebut, dengan harapan dapat menyelamatkan awak kapal, kata Banjarnahor.
Kecelakaan di laut sering terjadi di Indonesia, negara kepulauan dengan lebih dari 17.000 pulau, dengan penegakan peraturan keselamatan yang lemah dan kerap dituding sebagai penyebab kecelakaan laut seperti dikutip Associated Press yang dilansir MailOnline.
A FISHING BOAT capsized Friday in bad weather off Indonesia´s main island of Java, leaving 13 people missing, a rescue official said.
The boat, Bunga Hati 2, left port from the town of Karangsong in West Java and capsized in the Java Sea about 20 miles (32 kilometers) from Biawak Island off the northern coast of Java.
A spokesman for the local search and rescue agency, Joshua Banjarnahor, said rescuers found the capsized ship and its net but none of the crewmen.
He said the boat left port during strong winds and high waves.
Eight ships and nearly 100 people were searching for the missing crew, Banjarnahor said. The search was hampered by strong winds and huge waves.
A cargo ship reportedly sailed through the area of the sinking and officials were trying to contact it, hoping it had rescued the crewmen, Banjarnahor said.
Sea accidents are common in Indonesia, an archipelago of more than 17,000 islands, with weak enforcement of safety regulations often to blame.