PHK Belum Tentu Pengaruhi Tingkat Kemiskinan, kata BPS
Indonesian Statistics Agency Says Layoffs Not Always Affect Poverty Rate
Reporter : Gatot Priyantono
Editor : Cahyani Harzi
Translator : Dhelia Gani

PUBLISHED: Jum'at, 05 Februari 2016 , 19:24:08 WIB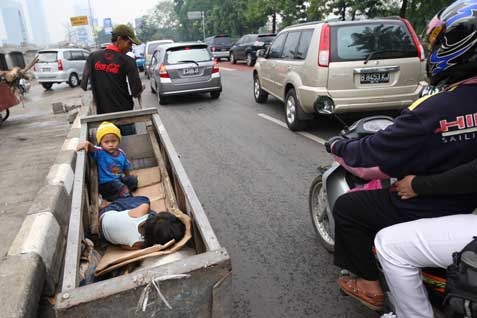 Foto: istimewa
Jakarta (B2B) - Badan Pusat Statistik (BPS) mengatakan bahwa tindak pemutusan hubungan kerja (PHK) yang dilakukan sejumlah perusahaan belum tentu mempengaruhi tingkat kemiskinan.

Kepala BPS Suryamin mengatakan PHK tidak selalu berdampak langsung pada tingkat kemiskinan, sementara rencana PHK oleh sejumlah perusahaan besar akan kita lihat dampaknya dari sisi mikro.

"Belum tentu, karena itu kan perusahaan-perusahaan besar. Ada pengaruh dari sisi mikro, nanti akan kelihatan," kata Suryamin di Jakarta, Kamis (4/2/2016).

Dia mengatakan, saat ini pemerintah sedang menggenjot usaha mikro yang tidak memerlukan bahan baku impor. Namun PHK tentunya akan mempengaruhi ekonomi jika lebih banyak yang melakukan PHK dibandingkan tumbuhnya lapangan kerja baru di usaha mikro kecil.

"Dampaknya ini kan baru satu tahun ke depan, nanti 2016 seperti apa, karena dari mikro kecil juga sudah ada yang tumbuh. "Usaha mikro ini juga bisa menyerap, nanti Februari kita lihat," katanya lagi.
," kata Suryamin.

Sebelumnya diberitakan, perusahaan elektronik dari Jepang berencana menutup pabriknya di Indonesia, sehingga ribuan buruhnya terancam PHK dan menganggur.
Jakarta (B2B) - Indonesian Statistics Agency called the BPS claimed the layoffs to be conducted by several companies will not always influence the poverty rate, according to the head of BPS.

The Head of BPS, Suryamin said layoffs will not always have an impact on the poverty level. After all, those planning to lay off workers are big companies, it will be seen later whether there will be an impact at the micro level.

"Indonesian government is currently boosting the development of micro businesses, which do not import raw materials. These micro businesses can also absorb the worker we will see this month," Suryamin said.

He said, however layoffs will affect the economy if more companies sever work relations with their workers, while there are not many new job opportunities in the micro sector.

"The impact of the layoffs will be seen only in the year ahead. We will see what it will be like at the end of 2016. Moreover, there is already a significant growth in micro businesses," Suryamin said.

As reported several Japanese electronics companies had reportedly planned to shut down their factories in Indonesia, and this will lead to thousands of Indonesian workers being laid off and staying unemployed.