ORI Tuding Eksekusi Mati Terpidana Mati Humphrey Jefferson `Maladministrasi`
Indonesia Watchdog Says Execution of Nigerian was Unlawful
Editor : Ismail Gani
Translator : Novita Cahyadi

PUBLISHED: Jum'at, 28 Juli 2017 , 19:45:00 WIB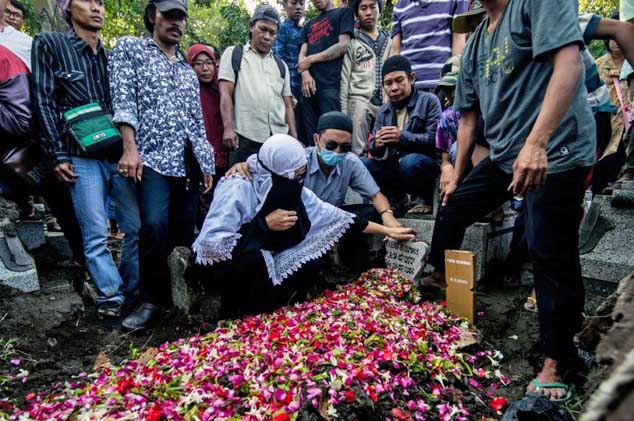 Pemakaman salah satu terpidana mati warga Indonesia (Foto: MailOnline)
OMBUDSMAN RI (ORI) pada Jumat menyatakan bahwa hukuman tembak mati terpidana mati kasus narkoba pada tahun lalu terhadap seorang warga Nigeria seharusnya tidak dilaksanakan sesuai ketentuan perundang-undangan atau maladministrasi.

Terpidana mati Humphrey Jefferson termasuk di antara empat orang yang dieksekusi mati oleh regu tembak di Nusa Kambangan pada 29 Juli 2016. 10 terpidana mati lainnya juga dijadwalkan dieksekusi pada saat yang bersamaan namun diberi penangguhan hukuman pada saat-saat terakhir menjelang eksekusi tanpa penjelasan.

Ketua ORI Ninik Rahayu mengatakan eksekusi mati seharusnya tidak dilakukan sementara permintaan grasi Jefferson masih berlangsung. Eksekusi tersebut tergolong lalai, diskriminatif dan menunjukkan terjadi 'maladministrasi' oleh Kejaksaan Agung, yang mengawasi eksekusi, katanya.

Pengacara Ricky Gunawan mengatakan laporan Ombudsman "menegaskan tuduhan kami bahwa Kejaksaan Agung telah melanggar hukum."

Ninik Rahayu juga menuding Pengadilan Negeri Jakarta Pusat lalai karena tidak menyampaikan permintaan judicial review Humphrey Jefferson ke Mahkamah Agung (MA) dan direkomendasikan agar diselidiki oleh pengadilan tinggi.

Kejaksaan Agung memiliki waktu 60 hari untuk menanggapi ORI. Laporan ORI dapat diteruskan kepada DPR dan Presiden Joko Widodo.

Indonesia menerapkan memiliki hukuman mati atas kejahatan narkoba dan pelaku perdagangan manusia dapat dijatuhi hukuman mati. Lebih dari 150 orang dinyatakan sebagai terpidana mati, sebagian besar karena kejahatan narkoba.

Sebanyak 18 orang terpidana mati karena kasus narkoba, sebagian besar warga asing, telah dieksekusi sejak Jokowi berkuasa pada akhir 2014. Dalam wawancara dengan media asing pada tahun lalu, dia mengatakan bahwa orang Indonesia dapat menerima hukuman mati pada tahun-tahun mendatang. Namun dia belum mengumumkan langkah ke arah itu seperti dikutip Associated Press yang dilansir MailOnline.
INDONESIA'S state watchdog said Friday the execution last year of a Nigerian man for drug offenses should not have been carried out and was the result of institutional negligence.

Humphrey Jefferson was among four men executed by firing squad at Nusa Kambangan prison island last July 29. Ten others were also due to be executed at the same time but were given a reprieve at the last moment without explanation.

Ombudsman Ninik Rahayu said the execution should not have been carried out while Jefferson's request for clemency was still underway. That it occurred was negligent, discriminatory and showed "maladministration" by the Attorney General's Office, which oversees executions, she said.

Lawyer Ricky Gunawan said the Ombudsman's report "confirms our allegations that the Attorney General's Office did violate the law."

Rahayu also blamed the Central Jakarta District Court for not conveying Jefferson's second request for judicial review to the Supreme Court and recommended it should be investigated by the higher court.

The Attorney General's Office has 60 days to respond. The Ombudsman's report can be sent to parliament and President Joko "Jokowi" Widodo.

Indonesia has harsh penalties for drug crimes and traffickers can receive the death penalty. More than 150 people are on death row, mostly for drug crimes.

A total of 18 people convicted of drug-related crimes, mostly foreigners, have been executed since Jokowi took office in late 2014. In interviews with foreign media in the past year, he has said Indonesians could be open to ending capital punishment in the future but he has not announced any steps in that direction.