Dunia Soroti Skandal Uskup Indonesia karena Skandal Memalukan
Indonesia Bishop Resigns in Finance, Mistress Scandal
Editor : Ismail Gani
Translator : Novita Cahyadi

PUBLISHED: Sabtu, 14 Oktober 2017 , 20:10:00 WIB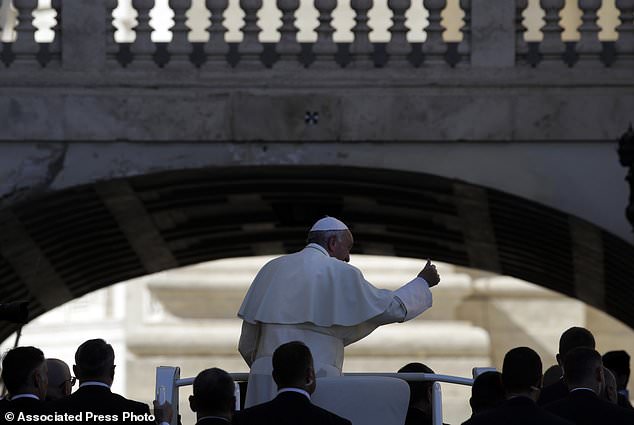 Paus Francis (Foto: Associated Press/MailOnline)
USKUP KATOLIK Roma di Ruteng, Nusa Tenggara Timur (NTT) dinyatakan mengundurkan diri menyusul laporan bahwa sang uskup memiliki wanita simpanan dan diduga menyalahgunakan dana gereja lebih dari Rp1,3 miliar (US$100.000).

Media asing Associated Press melaporkan pada Rabu bahwa Paus Francis di Vatikan menerima pengunduran diri Uskup Hubertus Leteng dari Keuskupan Ruteng di NTT. Uskup Denpasar, Monsignor Sylvester San, untuk sementara akan memimpin keuskupan di Ruteng hingga dipilihnya uskup baru, menurut keterangan resmi Vatikan.

Sejumlah media dan kantor berita Ucanews melaporkan bahwa puluhan pastur dari sejumlah Gereja Katolik di Asia mengundurkan diri secara massal pada Juni untuk memprotes kepemimpinan Uskup Hubertus Leteng.

Vatikan mengutus seorang investigator untuk menyelidiki dugaan bahwa Leteng memiliki seorang wanita simpanan dan diam-diam meminjam dana sekitar Rp1 miliar (US$94.000) dari Konferensi Wali Gereja Indonesia dan kemudian Rp400 jutaan (US$30.000) dari keuskupan tanpa dicatat dalam pembukuan.

Ucanews melaporkan, Uskup Hubertus Leteng mengaku uang itu digunakan untuk membiayai pendidikan pemuda miskin, meski ia enggan memberikan rincian. Dia menyebut tuduhan bahwa dia memiliki hubungan dengan wanita adalah "fitnah."

Vatikan tidak membahas skandal tersebut atau menjelaskan mengapa Uskup Ruteng mendadak mengundurkan diri. Keuskupan Ruteng tidak menyebutkan dugaan tersebut dalam pengumuman mundurnya Uskup Ruteng pada Rabu. Uskup biasanya mengajukan pengunduran diri mereka saat mereka mencapai usia 75. Sementara Uskup Hubertus Leteng baru berusia 58 tahun.

Umat Katolik mewakili minoritas di Indonesia, negara berpenduduk Muslim terbesar di dunia. Kendati Indonesia tetap toleran terhadap keberadaan sekitar 45 uskup dan 4.900 pastur Katolik, menurut statistik Vatikan 2015.

Pengunduran diri Hubertus Leteng adalah kasus terakhir dalam beberapa kasus yang menyangkut Vatikan - atau dalam beberapa kasus penyelewengan wewenang - uskup yang dituduh melakukan kesalahan disarankan untuk mengundurkan diri. Seringkali kasus tersebut tidak diketahui, terutama bila melibatkan kesalahan manajemen internal, karena Vatikan tidak pernah menjelaskan mengapa para uskup melepas jabatan mereka.

Sementara beberapa skandal telah terungkap. Di Amerika Serikat, dua uskup dituduh terlibat kasus pelecehan seksual dan dipaksa mengundurkan diri karena tekanan Vatikan pada 2015. Baru-baru ini, uskup agung Guam dipaksa untuk mundur setelah menjalani pemeriksaan di Vatikan karena diduga melakukan pelecehan seksual terhadap anak laki-laki seperti dilansir MailOnline.
A ROMAN Catholic bishop in Indonesia has resigned following reports that he had a mistress and siphoned off more than $100,000 in church funds.

Pope Francis on Wednesday accepted the resignation of Bishop Hubertus Leteng of Indonesia's Ruteng diocese. The Denpasar bishop, Monsignor Sylvester San, will run the diocese until a permanent replacement is found, the Vatican said.

Local Indonesian media and the Ucanews agency, which covers the Catholic Church in Asia, reported that dozens of priests resigned en masse in June to protest Leteng's administration.

The Vatican sent an investigator to look into their allegations that Leteng had a mistress and secretly borrowed $94,000 from the Indonesian bishops' conference and another $30,000 from the diocese without accounting for it.

According to Ucanews, Leteng said the money was used to finance the education of a poor youth, though he declined to provide details. He called allegations he had a relationship with a woman "slanderous."

The Vatican didn't address the scandal or explain why Leteng was retiring early. The Ruteng diocese made no mention of the allegations in its announcement of Leteng's departure Wednesday. Bishops normally submit their resignations when they reach age 75. Leteng is 58.

Catholics represent a minority in Indonesia, the world's most populous Muslim country. The nation nevertheless is home to some 45 bishops and 4,900 Catholic priests, according to 2015 Vatican statistics.

Leteng's resignation is the latest in a handful of cases of the Vatican persuading - or in some cases strong-arming - bishops accused of wrongdoing to step down. Often the cases go unnoticed, particularly when they involve in-house financial mismanagement, because the Vatican never explains why bishops are leaving their posts.

Sometimes the scandals are well known. In the United States, two bishops accused of botching clerical sexual abuse cases resigned under Vatican pressure in 2015. More recently, Guam's archbishop was forced to step aside after he was put on trial in the Vatican for allegedly sexually abusing young boys. A decision in that case is expected soon.