Bus Listrik di Jakarta Bisa Diterapkan pada 2017, kata Menristekdikti
Indonesian Minister Says Electric Buses will be Applied in Jakarta by 2017
Reporter : Gusmiati Waris
Editor : Cahyani Harzi
Translator : Dhelia Gani

PUBLISHED: Rabu, 16 Desember 2015 , 20:28:55 WIB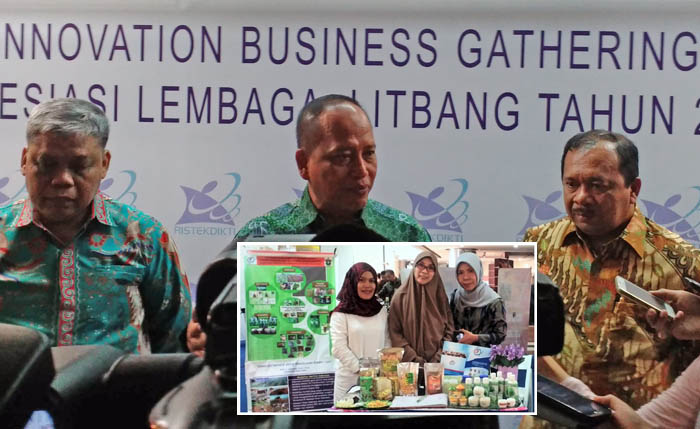 Menristekdikti Mohammad Nasir (tengah) dan Dirjen Kelembagaan Iptek dan Dikti, Patdono Suwignyo (kiri) dan stand dari lembaga inovasi tingkat provinsi (Foto2: B2B/Mya)
Jakarta (B2B) - Pemerintah Indonesia tengah menjajaki pengembangan bus listrik dengan Universitas Helsinki di Finlandia dan diharapkan dapat diterapkan di Jakarta pada 2017, dan saat ini fokus pada peningkatan kinerja baterai dan terminal pengisian ulang daya listrik (charging).

"Indonesia terus mengembangkan bus listrik dengan melibatkan universitas negeri di Finlandia khususnya pada kemampuan baterai dan recharging baterai," kata Menteri Riset Teknologi dan Pendidikan Tinggi (Kemenristekdikti) Mohammad Nasir kepada pers di Jakarta pada Selasa (15/12).

Menurutnya, langkah tersebut sebagai upaya Indonesia untuk mengembangkan energi baru terbarukan, yang memanfaatkan listrik sebagai pengganti bahan bakar minyak (BBM).

"Tahapannya sudah sampai ke sana, kita harapkan pada 2016 kemampuan baterai lebih baik lagi dan pada 2017 sudah final untuk digunakan sebagai pengganti BBM pada sarana transportasi umum," kata Nasir pada kegiatan apresiasi lembaga penelitian dan pengembangan (Litbang) atas keberhasilannya.

Nasir menambahkan terkait apresiasi kepada lembaga Litbang, kementeriannya memberikan tiga apresiasi dengan menetapkannya sebagai pusat unggulan ilmu pengetahuan dan teknologi (Iptek), penghargaan bagi badan penelitian dan pengembangan daerah di tingkat provinsi berkinerja utama, dan pemberian sertifikat akreditasi bagi pranata Litbang.

Direktur Jenderal Kelembagaan Iptek dan Dikti, Patdono Suwignyo mengatakan kegiatan apresiasi merupakan kegiatan tahunan yang dilaksanakan lembaga Litbang dengan tujuan meningkatkan kapasitas dan kapabilitas sehingga Litbang mampu berkontribusi secara nyata bagi perekonomian dan daya saing bangsa.

"Kegiatan pengembangan Pusat Unggulan Iptek atau PUI telah dikembangkan sejak 2010, dengan meningkatkan kompetensi lembaga Litbang untuk menyerap informasi dan teknologi atau sourcing capacity, kegiatan riset dengan R&D capacity, untuk diseminasi hasil-hasil riset, dan mengembangkan Litbang berbasis potensi sumber daya lokal," kata Patdono.
Jakarta (B2B) - The Indonesian government to develop an electric bus by involving the University of Helsinki in Finland, and is expected to be applied in Jakarta by 2017, and is currently focused on improving performance of the battery and recharging terminal.

"Indonesia constantly developing electric buses by involving universities in Finland, notably to improve the ability battery and recharging terminals," Minister of Research Technology and Higher Education of Indonesia, Mohammad Nasir told reporters here on Tuesday (12/15).

According to him, the move as Indonesia's efforts to develop renewable energy, which utilize the electric as a substitute for oil.

"The progress is positive, we expect in 2016 a better battery capacity, and by 2017 was final as a substitute for oil on public transportation," Nasir said in appreciation for research and development (R&D).

Mr Nasir added related to the appreciation of the R & D institutions, his ministry gave three appreciation by specifying it as the leading center of science and technology, the award for R & D institutions at the provincial level with the best performance, and a certificate of accreditation for R & D institutions.

Director General of Science and Higher Education Institutions, Patdono Suwignyo said appreciation is an annual event to increase the capacity and capability so that the R & D institutions can contribute to the economy and competitiveness of the nation.

"The development of science and technology center of excellence carried out since 2010, with R & D institutions to improve the competence of sourcing capacity, R & D capacity, diseminating capacity, and local resources development capacity," Mr Suwignyo said.