Menlu Retno Marsudi Akan ke Bangladesh setelah Temui Aung San Suu Kyi
Indonesia Foreign Minister Flies to Bangladesh after Myanmar Visit on Rohingya
Editor : Ismail Gani
Translator : Novita Cahyadi

PUBLISHED: Selasa, 05 September 2017 , 20:32:00 WIB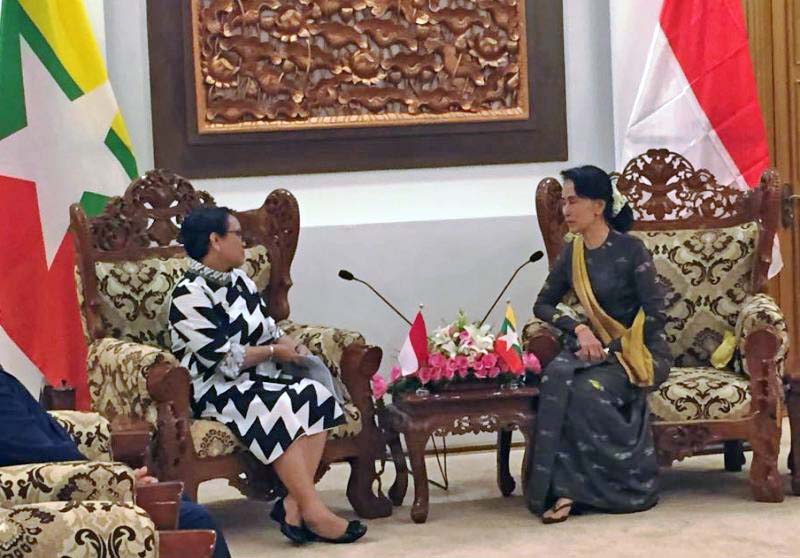 Menlu Retno Marsudi melakukan pertemuan dengan pemimpin nasional Myanmar Aung San Suu Kyi (Foto: istimewa)
MENTERI Luar Negeri RI Retno Marsudi akan terbang ke Bangladesh pada Selasa untuk melakukan perundingan setelah berkunjung ke Myanmar, Menlu Retno mendesak pemimpin nasional Aung San Suu Kyi untuk mengakhiri kekerasan yang terus berlanjut terhadap minoritas Muslim Rohingya di Myanmar.

Sekretaris kementerian luar negeri Bangladesh, Shahidul Haque kepada Reuters mengatakan bahwa Menlu RI Retno Marsudi akan bertemu pejabat senior Bangladesh di Dakka.

Hampir 90.000 orang Rohingya melarikan diri ke Bangladesh sejak 25 Agustus, menyusul sebuah tindakan keras tentara yang dipicu oleh serangan gerilyawan Rohingya di negara bagian Rakhine, Myanmar barat laut.

Tindak kekerasan di Rakhine telah menewaskan sedikitnya 400 orang, sebagian besar dari mereka adalah gerilyawan Rohingya, menurut pemerintah Myanmar, yang menyebabkan eksodus Rohingya ke negara tetangga Bangladesh yang tengah berupaya mengatasi arus pengungsi.

Negara-negara berpenduduk mayoritas Muslim seperti Indonesia dan Turki, telah mencoba untuk menekan pemenang Nobel Perdamaian Aung San Suu Kyi untuk mengakhiri krisis, juga menawarkan bantuan kepada Bangladesh untuk menghadapi arus pengungsi yang melintasi perbatasan sepanjang 271 km dengan Myanmar seperti dilansir MailOnline.
INDONESIA'S foreign minister will fly to Bangladesh on Tuesday for talks following her visit to Myanmar where she urged national leader Aung San Suu Kyi to end ongoing violence against the Rohingya Muslim minority there.

Bangladesh's foreign secretary, Shahidul Haque, told Reuters Retno Marsudi will meet Bangladeshi officials in Dhaka.

Nearly 90,000 Rohingya have fled to Bangladesh since Aug. 25, following an army crackdown triggered by attacks by Rohingya insurgents in Buddhist-majority Myanmar's northwestern Rakhine state.

The Rakhine violence has killed at least 400 people, most of them Rohingya insurgents, according to the Myanmar government, leading to the exodus of Rohingya to neighbouring Bangladesh that is struggling to cope with the influx.

Muslim-majority countries such as Indonesia and Turkey, who are trying to pressure Nobel peace prize winner Suu Kyi to end the crisis, are also offering help to Bangladesh deal with the massive inflow of people from across its 271 km (168 mile)long border with Myanmar.