Miras Oplosan Tewaskan Hampir 100 Orang Disorot Dunia
Indonesia Steamrolls Bootleg Booze as Death Toll Nears 100
Editor : Ismail Gani
Translator : Novita Cahyadi

PUBLISHED: Sabtu, 14 April 2018 , 20:51:00 WIB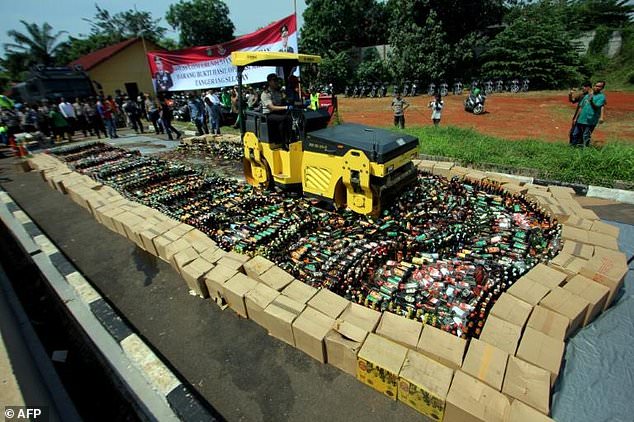 Foto: AFP/MailOnline
PEMUSNAHAN ribuan botol minuman keras oleh polisi pada Jumat menjadi puncak dari upaya mengatasi peredaran minuman keras oplosan yang menjadi penyebab tewasnya hampir 100 orang dalam beberapa pekan terakhir di Indonesia.

Polres Tangerang melakukan tindak pemusnahan minuman keras oplosan dengan alat berat untuk menggilas 6 ribuan botol yang ditaruh di atas terpal kuning hasil razia polisi setempat, langkah tersebut diikuti upaya mengungkap siapa produsen dan pengedar minuman mematikan yang telah menelan banyak korban jiwa.

Indonesia yang dikenal sebagai negara berpenduduk Islam terbesar di dunia melarang penjualan alkohol di sebagian besar toko-toko dan toko-toko kecil di luar wilayah Bali pada 2015, meskipun begitu masih tersedia di supermarket, bar dan hotel.

Namun, pajak yang tinggi membuat alkohol mahal, hal itu mendorong pekerja dengan bayaran rendah sering beralih ke minuman keras buatan sendiri yang murah dan kadang-kadang mematikan.

Hingga Jumat, pihak berwenang mengatakan setidaknya 97 orang telah meninggal di seluruh Indonesia sejak akhir Maret karena meminum minuman keras ilegal.

Sekitar 160 lainnya di rumah sakit dan sebagian besar masih dalam kondisi kritis.

Setidaknya 17 orang telah ditangkap atau disebut sebagai tersangka karena menjual dan mendistribusikan miras oplosan, kata polisi.

"Salah satu tersangka sendiri meninggal di rumah sakit karena dia juga mengonsumsi minuman keras bajakan," kata Kabid Humas Polda Jabar, AKBP Trunoyudo Wisnu Andiko kepada AFP.

Hasil uji laboratorium menyebutkan bahwa miras oplosan mengandung metanol beracun - suatu bentuk alkohol yang digunakan dalam antibeku dan pelarut - yang ditemukan di tubuh korban tewas.

Beberapa tersangka mengaku mencampur alkohol murni dengan Coca-Cola, minuman energi, sirup obat batuk dan bahkan obat nyamuk.

Serangkaian kematian membuat Bandung, kota besar di timur Jakarta, dan daerah sekitarnya menyatakan keadaan darurat Selasa.

Minuman keras oplosan biasanya dijual secara ilegal oleh pedagang kaki lima, yang terkadang membuat sendiri campuran miras oplosan.

Namun polisi mengatakan mereka percaya ada distributor besar di balik penjualan alkohol beracun yang memicu kematian massal belum lama ini.

Mereka yang dinyatakan bersalah memasok minuman yang mereka tahu berbahaya dapat menghadapi hukuman penjara seumur hidup, kata Kadiv Humas Polri, Irjen Setyo Wasisto.

Pada 2016, 36 orang tewas sia-sia di Jawa Tengah setelah menenggak miras oplosan seperti dilansir MailOnline.
THOUSANDS of booze bottles were destroyed by Indonesian police on Friday in a dramatic show as they crack down on bootleg alcohol blamed for killing close to 100 people in recent weeks.

Authorities in Tangerang, on the outskirts of the capital Jakarta, drove a yellow steamroller over a carpet of some 6,000 bottles, while others raided vendors in a bid to stop the worst string of homebrew deaths in years.

The world´s most populous Muslim majority country banned the sale of alcohol in most convenience stores and small shops outside holiday hotspot Bali in 2015, although it is still widely available in supermarkets, bars and hotels.

High taxes make alcohol expensive, however, so low-paid workers often turn to cheap and sometimes deadly homemade booze instead.

As of Friday, authorities said at least 97 people have died nationwide since late March from drinking illegal spirits.

Some 160 others are in hospital with many still in critical condition.

At least 17 people have been arrested or named as suspects for selling and distributing bootleg alcohol, police said.

"One of the suspects himself died in hospital because he also consumed bootleg alcohol," local police spokesman Trunoyudo Wisnu Andiko told AFP.

Lab tests have turned up toxic levels of methanol -- a form of alcohol used in antifreeze and solvents -- in victims´ systems.

Some of the suspects confessed to mixing pure alcohol with Coca-Cola, energy drinks, cough syrup and even mosquito repellent.

The string of deaths prompted Bandung, a major city east of Jakarta, and its surrounding area to declare a state of emergency Tuesday.

Bootleg booze is usually sold under the table by street vendors, who sometimes make the toxic concoction themselves.

But police said they believe there are big distributors behind the sale of toxic alcohol implicated in the recent deaths.

Those found guilty of supplying beverages they knew to be dangerous could face a maximum life sentence, national police spokesman Setyo Wasisto said.

In 2016, 36 people died in Central Java after drinking locally bought homebrew.