Museum Ikan Paus Dibangun Pemprov DKI di Pulau Tidung Kecil
Jakarta Provincial Govt Build Whale Museum in Tidung Kecil Island
Reporter : Roni Said
Editor : Cahyani Harzi
Translator : Dhelia Gani

PUBLISHED: Selasa, 23 Desember 2014 , 20:05:22 WIB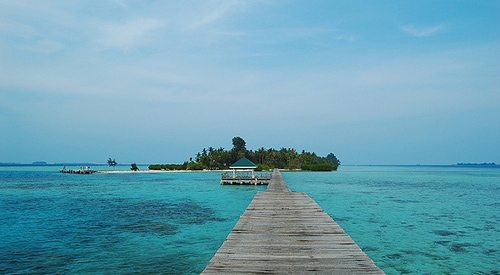 Pulau Tidung Kecil (Foto: duniaoutbound.com)
Jakarta (B2B) - Untuk menarik minat wisatawan lokal maupun mancanegara berkunjung ke Pulau Seribu, Pemerintah Kabupaten Administrasi Kepulauan Seribu membangun Museum Ikan Paus yang terdampar di Pulau Tidung Kecil, Kelurahan Pulau Tidung, Kecamatan Kepulauan Seribu Selatan.

Kepala Seksi Pertanian dan Kehutanan, Sudin Kelautan dan Pertanian Kepulauan Seribu, Solihin, mengatakan, Pemerintah Kabupaten Administrasi Kepulauan Seribu bertekad menjalankan program agrowisata di sekitar kepulauan tersebut. Pulau Tidung Kecil memiliki luas 17 hektare. Namun saat ini baru sekitar 2,5 hektare yang dimanfaatkan menjadi kawasan agrowisata.

Selain membangun Museum Ikan Paus, Pemkab Kepulauan Seribu juga tengah membangun jalan inspeksi dan jogging track sepanjang 800 meter, mengembangkan biogas dari kotoran sapi, membangun tanggul sepanjang 80 meter, serta gapura Selamat Datang di pintu masuk Pulau Tidung Kecil. "Pembangunan lima proyek itu menelan anggaran sekitar Rp 4,9 miliar," ujar Solihin.

Dikatakan Solihin, tanggul yang dibangun tepat di pintu masuk pulau akan diisi budidaya ikan hias jenis haceri dan kerapu. Nantinya, para pengunjung dapat memberi makan atau menyentuh ikan-ikan yang ada dalam tanggul.

"Seluruh proyek pembangunan tersebut ditargetkan selesai akhir tahun ini," katanya.

Menurut Solihin, saat ini tengah dikaji penyerahan pengelolaan aset lahan seluas 6 hektare di Pulau Tidung Kecil dari Pemkab Kepulauan Seribu ke Sudin Kelautan dan Pertanian Kepulauan Seribu.

Dengan perluasan lahan wisata, direncanakan status agrowisata Pulau Tidung Kecil akan ditingkatkan menjadi kawasan ekowisata. "Saat ini tengah dikaji. Ke depan pulau ini akan dijadikan kawasan ekowisata," ungkapnya.
Jakarta (B2B) - The Jakarta Provincial Government`s Seribu Island administration built a Whale Museum in Tidung Kecil Island, Tidung Island Urban Village, Seribu Selatan Island sub district. It aims to attract domestic and foreign tourists. This is because, in 2012, a sperma whale in a diameter of 6x12 meters was found stranded at Tidung Kecil Island waters. They then decided to make an hangar as whale bone storage.

Head of Agriculture and Forestry Section, Seribu Islands Marine and Agriculture Sub-Department, Solihin disclosed Seribu Islands Administration was determined to run the agro-tourism program in Tidung Kecil Island. Its island has a width of 17 hectares, but now about 2.5 hectares used as agro-tourism area.

Besides whale museum, the government is also building road inspection and jogging track as long as 800 meters, developing biogas from cattle manure, building a levee as long as 80 meters, as well as welcome gate in such island. "The construction itself has spent Rp 4.9 billion," he told, Monday (12/22).

He uttered that such levee that built right at the island entrance would be equipped with cultivation of ornamental fish type haceri and grouper. By so, the visitors can feed or touch the fish.

"The entire project is targeted to finish by the end of this year," he stated.

In addition to agro-tourism area, he added, his side is currently studying submission of asset management area as wide as six hectares in Tidung Kecil Island from Seribu Islands Regency to Seribu Islands Marine and Agriculture Sub-Department.

With the expansion of the tourist land, the status of agro-tourism planned to be upgraded into ecotourism area. "It is still being studied. In future, the island will be used as ecotourism," he said.