Laba 2018 Rp22,54 Miliar, Jamsyar Salurkan Zakat Rp563 Juta melalui Lembaga ZIS
Indonesian Islamic Credit Guarantee Company Sets Aside Profits for Zakat
Reporter : Gusmiati Waris
Editor : Cahyani Harzi
Translator : Dhelia Gani

PUBLISHED: Kamis, 30 Mei 2019 , 02:10:00 WIB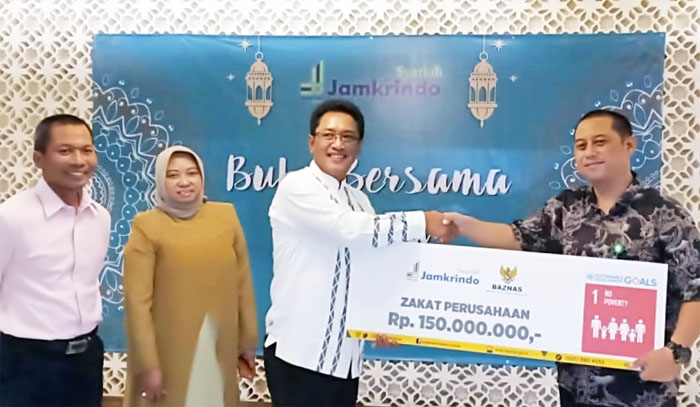 LABA USAHA: Direktur Utama Jamsyar, Gatot Suprabowo [kacamata] menyerahkan zakat perusahaan kepada Baznas didampingi Direktur Direktur Umum dan Kepatuhan Jamkrindo, Sulis Sudomo [hijab] Foto: Humas Jamsyar
Jakarta [B2B] - PT Penjaminan Jamkrindo Syariah [Jamsyar] meraih laba tahun berjalan 2018 sebesar Rp22,54 miliar, nilai penjaminan Rp21,35 triliun maka imbal jasa kafalah [IJK] yang diterima mencapai Rp295,32 miliar, dan target laba tahun berjalan 2019 ditargetkan meningkat 164,59%. Dari laba 2018, Jamsyar menyisihkan Rp563 juta sebagai ´zakat perusahaan 2019´ melalui Badan Zakat Nasional [Baznas] Rp150 juta; Rp92,5 juta melalui Dompet Duafa dan selebihnya disalurkan melalui Rumah Zakat Nasional.
"Jamsyar mempercayakan penyaluran zakat melalui Baznas, Dompet Duafa dam Rumah Zakat Nasional karena pengelolaannya yang profesional. Jamsyar setiap tahun menunaikan zakat perusahaan kepada ketiga lembaga zakat, infaq dan sadaqah atau ZIS yang telah mengantongi izin dari pemerintah," kata Direktur Utama Jamsyar, Gatot Suprabowo di Jakarta [28/5] usai menyerahkan secara simbolis zakat perusahaan kepada perwakilan pengelola ZIS.
Tampak hadir Direktur Umum dan Kepatuhan Perum Jaminan Kredit Indonesia [Jamkrindo] Sulis Sudomo, Direktur Keuangan, SDM dan Umum Jamsyar, Endang Sri Winarni.
"ZIS dari Jamsyar inshaa Allah mendatangkan berkah bagi perusahaan dan pegawainya," kata Gatot Suprabowo kepada pers.
Jamsyar merupakan anak perusahaan dari Jamkrindo yang bergerak di bidang usaha penjaminan berbasis syariah yang bermarkas di Jakarta didukung empat kantor cabang: Medan, Palembang, Bandung, dan Surabaya dan enam kantor unit pelayanan di Banda Aceh, Semarang, Pontianak, Banjarmasin, Makassar, dan Mataram.
Gatot S menambahkan hingga akhir 2018, Jamsyar berhasil membukukan kinerja yang menggembirakan, kinerja penjaminan dan keuangan perusahaan. Dari sisi penjaminan, nilainya mencapai IDR21,35 triliun, dan atas penjaminan tersebut, IJK yang diterima oleh Jamsyar sebesar Rp295,32 miliar.
Untuk laba tahun berjalan 2018 mencapai Rp22,54 miliar, maka laba tahun berjalan 2019 ditargetkan meningkat 164,59% dibandingkan 2018. Realisasi hingga akhir April 2019 juga menunjukkan trend prositif berkat langkah strategis berupa inovasi produk penjaminan, penambahan jaringan layanan, optimalisasi IT untuk proses bisnis dan kegiatan pendukung di perusahaan, serta penguatan kualitas dan kuantitas SDM dan penyempurnaan sistem manajemen human capital untuk meningkatkan motivasi dan produktivitas karyawan.
Jakarta [B2B] - Indonesian Islamic Credit Guarantee Company [Jamsyar] makes profit for 2018 of IDR22,54 billion, the guarantee value reached IDR21.35 trillion, the compensation service received by company reached IDR295.32 billion, and 2019 profit is targeted to increase 164.59%. From 2018 profit, Jamsyar set aside IDR563 million as ´2019 corporate zakat´ through National Zakat Agency [Baznas]; Dompet Dhuafa and the National Zakat House.
"The Jamsyar entrusted the distribution of zakat through Baznas, Dompet Duafa and National Zakat Houses because of their professional management, because their had permission of Indonesian government," said President Director Jamsyar, Gatot Suprabowo here on Tuesday [May 28].
"Zakat, infaq and shadaqah of Jamsyar God willing will bring blessings to the company and its employees," Suprabowo told the press.
The Jamsyar is a subsidiary of Jamkrindo, a sharia-based guarantee company based in Jakarta supported by four branch offices: Medan, Palembang, Bandung and Surabaya and six service unit offices in Banda Aceh, Semarang, Pontianak, Banjarmasin, Makassar and Mataram.
Suprabowo said that by the end of 2018, Jamsyar had achieved positive performance, guarantee performance and company finance.