KLB Campak di Asmat Resmi Dicabut Bupati Elisa Kambu
Indonesia Declares Deadly Papua Measles Outbreak over
Editor : Ismail Gani
Translator : Novita Cahyadi

PUBLISHED: Selasa, 06 Februari 2018 , 21:04:00 WIB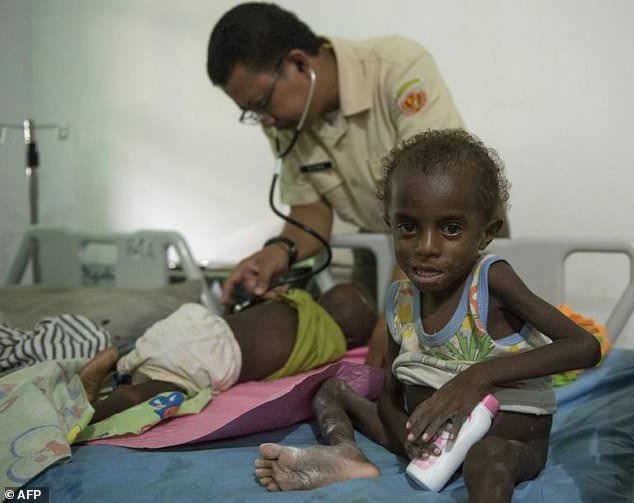 Foto: AFP/MailOnline
WABAH CAMPAK dan malnutrisi mematikan yang menewaskan puluhan anak di Papua Barat dinyatakan sudah dapat diatasi, kata pihak berwenang di Papua.

Angka resmi menunjukkan total 72 anak meninggal dunia sementara ratusan lainnya masih dirawat akibat wabah ´luar biasa´, yang menyerang beberapa komunitas terisolir di Kabupaten Asmat di Papua antara September 2017 hingga 4 Februari.

Tidak ada kasus campak baru yang diidentifikasi setelah penempatan tim militer dan medis ke wilayah tersebut bulan lalu.

"Status kejadian campak yang luar biasa telah dicabut dan sudah selesai," kata Bupati Asmat Elisa Kambu dalam sebuah surat resmi yang diteken pada Senin (5/2).

Tidak ada angka yang diberikan untuk jumlah anak yang sakit tapi angka resmi sebelumnya mengatakan angka tersebut mencapai 800 orang.

Pernyataan tersebut menandai terjadinya de-eskalasi krisis kesehatan yang pertama kali dipublikasikan pada pertengahan Januari yang menyoroti kurangnya perawatan medis dan layanan dasar lainnya di proinsi paling timur tersebut.

Laporan sebelumnya menyebutkan lebih dari 24 anak-anak dan orang dewasa lainnya meninggal di sebuah komunitas terpencil, namun kematian mereka terjadi lebih awal daripada pengumuman pemerintah seperti dikutip AFP yang dilansir MailOnline.
A DEADLY measles-and-malnutrition outbreak that killed scores of children in Indonesia´s remote Papua province is over, authorities said.

Official figures showed a total of 72 children died while hundreds more were sickened as a result of the "extraordinary" outbreak, which hit several isolated communities in Papua´s Asmat district between September 2017 and February 4, local officials said.

No new measles cases had been identified following the deployment of military and medical teams to the region last month.

"The extraordinary status of the measles event has been revoked and is over," Asmat district chief Elisa Kambu said in a letter dated Monday.

No figures were given for the number of children sickened but earlier official figures said the number topped 800.

The statement marks a de-escalation of a health crisis first made public in mid-January that highlighted a severe lack of medical care and other basic services in a far-flung island region.

Earlier reports suggested more than two dozen other children and adults had died in a remote community, but their deaths came earlier than the outbreak´s official date range.