Anis - Sandi Dilantik Pimpin DKI, FPI Tuntut Jakarta Terapkan `Gaya Hidup Islami`
Jakarta Governor Sworn in amid Calls from Hardliners for `Islamic Lifestyle`
Editor : Ismail Gani
Translator : Novita Cahyadi

PUBLISHED: Senin, 16 Oktober 2017 , 21:16:00 WIB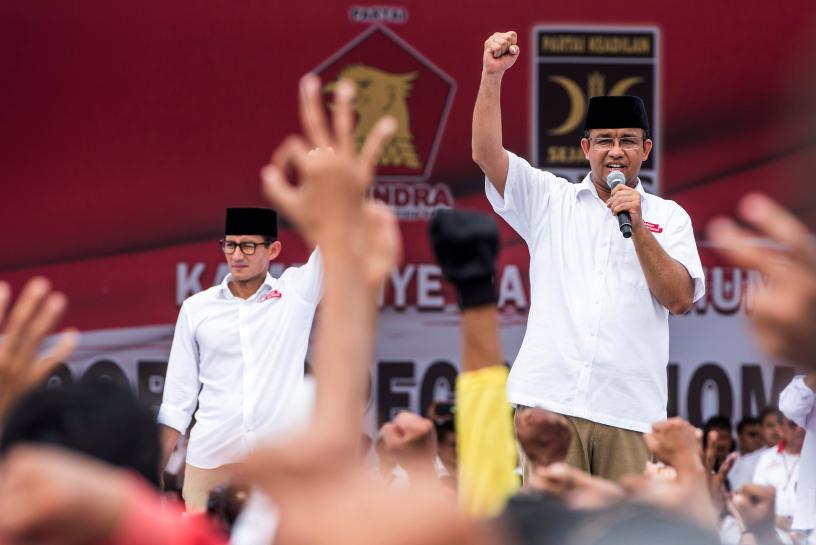 Anis Baswedan dan Sandiaga Uno saat kampanye Pilkada DKI 2017 (Foto: Reuters)
PRESIDEN RI Joko Widodo melantik mantan menteri pendidikan di kabinetnya menjadi Gubernur DKI Jakarta pada Senin, empat bulan setelah Pilkada yang menguji toleransi beragama dan etnis di negara berpenduduk mayoritas Muslim terbesar di dunia.

Anis Baswedan dilantik sebagai gubernur setelah suasana kampanye dan pemungutan suara yang nyaris membuat warga Jakarta terkoyak lantaran isu agama dan etnis dijadikan tema kampanye.

Anis Baswedan dikritik setelah memenangkan Pilkada pada April dengan dukungan kelompok-kelompok Islam yang berjuang keras selama berbulan-bulan menjatuhkan lawannya dan mantan gubernur Basuki Tjahaja Purnama - seorang Kristen Tionghoa - yang didakwa menistakan agama.

"Kami akan memastikan bahwa gubernur Jakarta akan menjadi gubernur kita semua, dari mereka yang memilih kita dan mereka yang tidak memilih kami," kata Anis Baswedan kepada wartawan, mengenakan gubernur setelah dilantik Presiden di Istana Negara.

Ormas Islam seperti Front Pembela Islam (FPI) berharap agar Baswedan akan menerapkan "gaya hidup Islami" di kota berpenduduk lebih dari 10 juta orang.

Novel Bamukmin, pimpinan FPI di Jakarta, mengatakan bahwa pihaknya akan "mendesak" Anis Baswedan dan Sandiaga Uno Baswedan untuk secara bertahap menutup diskotik dan klub malam di Jakarta yang terkenal dengan kehidupan malam yang bebas dan dia sebut sebagai "tidak bermoral dan ... bukan budaya Islam."

Dia mengatakan kepada Reuters bahwa FPI dan kelompok Islam akan memulai dengan menyerukan pelarangan perayaan Hari Tahun Baru di Jakarta, yang mendorong ribuan warga Jakarta berduyun-duyun turun ke jalan, konser musik, dan pertunjukan teater tradisional yang didanai oleh pemerintah kota.

Seorang juru bicara Baswedan tidak segera bersedia memberikan komentar.

Sandiaga Uno, wakil Baswedan, sebelumnya mengatakan bahwa pihaknya akan mempertimbangkan untuk mendirikan tempat hiburan yang "terinspirasi oleh syariah" atau syariah yang serupa dengan yang ada di Abu Dhabi atau Dubai.

Indonesia secara resmi dalam konstitusinya mengusungkeragaman agama, meski kembali menerapkan demokrasi dua dekade lalu setelah berakhirnya pemerintahan otoriter Soeharto memungkinkan kelompok garis keras berkembang.

Sementara agama merupakan faktor penting dalam Pilkada, sebagian besar warga Jakarta juga prihatin dengan isu-isu seperti kemacetan lalu lintas kronis dan banjir.

"Harapannya adalah agar Jakarta maju terus sehingga lebih bersih dan orang miskin mendapat pertolongan," kata Wisnu, kurir berusia 42 tahun.

"Saya fikir Anies-Sandi perlu membalas budi kepada kelompok-kelompok Islam tersebut dengan cara apa pun," katanya, merujuk pada gubernur baru dan wakilnya.

FPI memimpin demonstrasi massa menjelang pemilihan untuk mendesak para pemilih memilih kandidat Muslim ketimbang Ahok. Setelah diadili dan kalah dalam Pilkada putaran kedua, Ahok dijatuhi hukuman penjara dua tahun sejak Mei lalu sebagai vonis penjara yang secara internasional disebut sebagai tidak adil.

Anis Baswedan kerap tampil di depan publik dengan para pemimpin demonstrasi dan FPI namun menyanggah tudingan bahwa dia simpati kepada kelompok Islam untuk mendapatkan dukungan.

Anis dan Sandiaga didukung oleh partai oposisi utama Gerindra, yang sekarang telah menguasai ibukota dari partai penguasa Widodo.

"Jakarta berfungsi sebagai barometer politik nasional," kata politisi Gerindra Arief Poyuono. "Karena itu penting bahwa Gerindra telah mengambil alih kendali Jakarta ... untuk bisa menang dalam pemilihan umum dan pemilihan presiden pada 2019."

Pilkada Jakarta secara luas dipandang sebagai 'ajang tempur' menjelang pemilihan presiden 2019.

Sosok utama yang mendukung Anis Baswedan adalah pensiunan jenderal Prabowo Subianto yang memimpin partai Gerindra dan diperkirakan akan mencalonkan diri sebagai presiden melawan Joko Widodo pada 2019 seperti dilansir MailOnline.
INDONESIAN President Joko Widodo swore in a former education minister as Jakarta's governor on Monday, months after an election that opened up religious and ethnic divisions in the world's biggest Muslim-majority country.

Anies Baswedan was inaugurated as Indonesia's reputation for religious tolerance comes under scrutiny due to the rising clout of Islamists in a nation with large Christian, Hindu and Buddhist minorities.

Baswedan faced criticism after winning April's vote with the support of Islamist groups who had agitated for months against his opponent and former governor Basuki Tjahaja Purnama - an ethnic Chinese Christian - whom they accused of blasphemy against Islam.

"We will ensure that the governor of Jakarta will be the governor of us all, of those who voted for us and those who didn't," Baswedan told reporters, wearing a crisp white uniform after a ceremony in the Dutch colonial-style state palace.

Groups like the hardline Islamic Defenders Front (FPI) hope that Baswedan will impose a more "Islamic lifestyle" in the city of more than 10 million people.

Novel Bamukmin, head of FPI's Jakarta chapter, said the group would "push" Baswedan's administration to gradually close down bars and clubs in a city known for a freewheeling nightlife because "it's immoral and...not Islamic culture".

He told Reuters the group would begin by calling for the cancellation of the city's New Year's Eve celebration, which sees thousands of residents flock to street markets, concerts, and traditional theatre performances funded by the city.

A spokesman for Baswedan was not immediately available for comment.

Sandiaga Uno, Baswedan's deputy, has previously said the administration would consider setting up "sharia-inspired" or sharia-compliant entertainment spots similar to those in Abu Dhabi or Dubai.

Indonesia is officially secular and its constitution enshrines religious diversity, though the return to demoocray two decades ago after the end of the autocratic rule of Suharto has allowed hardline groups to flourish.

While religion was an important factor during the election, most Jakarta residents are also concerned with issues such as chronic traffic congestion and regular flooding.

"The hope is for Jakarta to move forward so it's cleaner and the poor receive help," said Wisnu, a 42-year-old courier.

"I don't feel Anies-Sandi need to pay back those (Islamist) groups in any way," he said, referring to the new governor and his deputy.

The FPI led mass rallies in the run-up to the election to urge voters to pick a Muslim candidate over Purnama. After being put on trial and losing the election in the second round, Purnama was sentenced in May to two years in prison in a ruling that was internationally condemned as unjust.

Baswedan made public appearances with the leaders of the rallies and FPI but denied pandering to Islamist groups to win support.

Baswedan and Uno are backed by the main opposition party Gerindra, which has now wrenched control of the capital away from Widodo's ruling party.

"Jakarta serves as a national political barometer," said Gerindra official Arief Poyuono. "Because of that it is important that Gerindra has taken over control of Jakarta...to be able to win in general and presidential elections in 2019."

The battle for the Jakarta governorship was widely seen as a proxy for the 2019 presidential election.

Baswedan's main backer is retired general and Gerindra chief Prabowo Subianto who is widely expected to run for president against Widodo in 2019.