Tiga Tewas di Tiga Provinsi akibat Gempa Tasikmalaya
Toll Rises to Three Dead after Indonesia Quake
Editor : Ismail Gani
Translator : Novita Cahyadi

PUBLISHED: Sabtu, 16 Desember 2017 , 21:35:00 WIB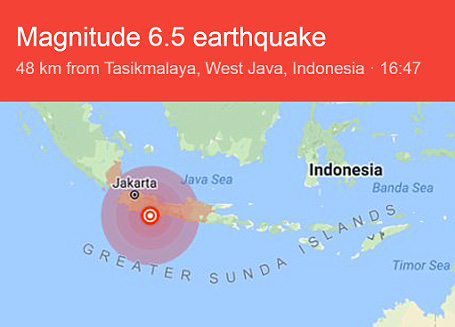 Peta & Data: MailOnline
SEDIKITNYA tiga orang tewas menyusul gempa berkekuatan 6,5 skala Richter di pesisir selatan Jawa, menurut Badan Nasional Penanggulangan Bencana (BNPB).

Gempa tersebut terjadi pada kedalaman 91 kilometer (56 mil) di luar kota pesisir Cipatujah, Kabupaten Tasikmalaya, Provinsi Jawa Barat pada Jumat tengah malam, kata Badan Survei Geologi AS.

Getaran gempa terasa di sebagian Pulau Jawa termasuk di Jakarta, yang berjarak 300 kilometer dari pusat gempa.

Seorang pria berusia 62 tahun di Ciamis dan seorang wanita berusia 80 tahun di kota Pekalongan tewas saat rumah mereka ambruk, kata juru bicara BNPB Sutopo Purwo Nugroho, sementara seorang wanita berusia 34 tahun dari Kota Yogyakarta meninggal setelah terjatuh saat ingin meninggalkan rumahnya.

"Beberapa rumah sakit di beberapa kabupaten juga rusak dan pasien harus dievakuasi," kata Sutopo.

Sebuah rumah sakit di Banyumas mengalami kerusakan pada plafon, dinding retak dan bocor ke jaringan pipa oksigen, memaksa sekitar 70 pasien dipindahkan ke tempat penampungan sementara.

Sedikitnya sembilan ratus rumah juga rusak selain sekolah dan kantor pemerintah di provinsi Jawa Barat dan Jawa Tengah, kata BNPB.

Warga Jakarta Web Warouw, 50, berada di lantai 18 sebuah bangunan di ibukota saat gempa terjadi tepat sebelum tengah malam waktu setempat (1700 GMT).

"Tiba-tiba, kami merasa pusing ... Kami kemudian menyadari bahwa itu adalah gempa dan segera berlarian ke bawah," kata Warouw kepada AFP.

Bantuan didistribusikan dan tenda pengungsi telah disiapkan untuk korban gempa setelah rumah mereka mengalami kerusakan.

BNPB masih mengevaluasi korban dampak bencana dan mendesak masyarakat untuk berhati-hati dan tetap waspada.

Indonesia sering mengalami aktivitas seismik dan gunung berapi karena posisinya berada di 'Cincin Api Pasifik', tempat lempeng tektonik bertabrakan.

Sekitar 170.000 nyawa hilang saat gempa dan tsunami berkekuatan 9,1 SR melanda propinsi Aceh pada Desember 2004, yang juga melanda daerah pesisir di Somalia.

Sebuah gempa melanda Aceh lagi pada Desember 2016, menewaskan lebih dari 100 orang, melukai banyak lainnya dan menyebabkan puluhan ribu orang kehilangan tempat tinggal seperti dilansir MailOnline.
AT LEAST three people have been killed following a strong 6.5-magnitude earthquake on Indonesia's main island of Java, an official said Saturday.

The quake struck at a depth of 91 kilometres (56 miles) just outside the coastal town of Cipatujah on Java island late Friday, the US Geological Survey said.

The tremor was felt across the island including in the capital Jakarta, some 300 kilometres (190 miles) from the epicentre.

A 62-year-old man in Ciamis and an 80-year-old woman in Pekalongan city were killed when the buildings they were in collapsed, national disaster mitigation agency spokesman Sutopo Purwo Nugroho said, while a 34-year-old woman from the city of Yogyakarta died when she fell while running out of her house.

"Several hospitals in several areas have also been damaged and patients had to be evacuated," Nugroho said.

A hospital in Banyumas suffered damage to ceilings, cracked walls and leaks to oxygen pipelines, forcing around 70 patients to be moved to temporary shelters.

At least nine hundred houses were also damaged in addition to schools and government offices across West Java and Central Java provinces, the national disaster mitigation agency said.

Jakarta resident Web Warouw, 50, was on the 18th floor of a building in the capital when the quake struck just before midnight local time (1700 GMT).

"Suddenly, we felt dizzy... We then realised it was a quake and immediately ran downstairs," Warouw told AFP.

Aid is being distributed and temporary tents have been set up for those who have lost their homes.

The agency was still evaluating the impact of the disaster and urged people to be cautious and stay alert.

Indonesia experiences frequent seismic and volcanic activity due to its position on the Pacific "Ring of Fire", where tectonic plates collide.

Some 170,000 lives were lost when a 9.1-magnitude quake and tsunami struck Aceh province in December 2004, which also hit coastal areas as far away as Somalia.

An earthquake struck Aceh again in December 2016, killing more than 100 people, injuring many others and leaving tens of thousands homeless.