Keluarga Kerajaan Malaysia Serukan Mahathir Hadapi Dugaan Hina Etnis Bugis
Malaysian Royals Call for Mahathir to Face Sedition Probe
Editor : Ismail Gani
Translator : Novita Cahyadi

PUBLISHED: Kamis, 02 November 2017 , 21:39:00 WIB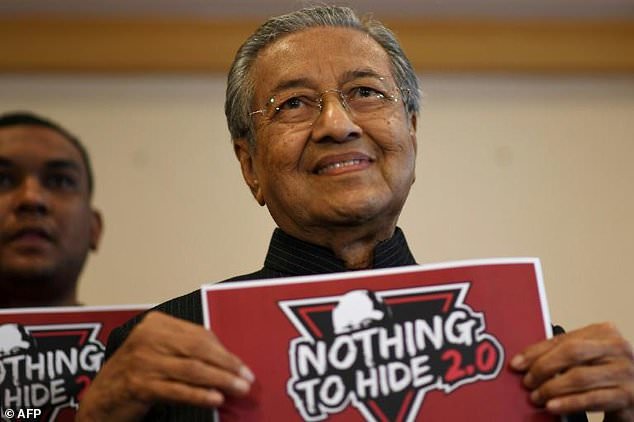 Mantan PM Malaysia Mahathir Mohammad (Foto: AFP/MailOnline)
KELUARGA kerajaan Malaysia yang sangat berpengaruh pada Kamis menelepon mantan perdana menteri Mahathir Mohamad untuk menghadapi investigasi dugaan melakukan penghinaan kelompok etnis yang diklaim sebagai tindakan tidak etis.

Dalam sebuah unjuk rasa bulan lalu melawan skandal keuangan besar-besaran yang melibatkan pemerintah saat ini, Mahathir mengatakan bahwa Perdana Menteri Najib Razak berasal dari keturunan "bajak laut Bugis".

Ketegangan politik meningkat di Malaysia, setelah Mahathir - yang merupakan perdana menteri selama 22 tahun - berusaha untuk menggulingkan Najib pada pemilihan umum yang mendesak dilakukan pada Agustus.

Suku Bugis adalah kelompok etnis pelaut dari Indonesia yang datang ke negara jiran tersebut. Sejumlah besar warga Bugis migrasi ke Malaysia, dan banyak warga di Malaysia mengklaim berasal dari keturunan Bugis.

Pernyataan Mahathir tersebut memicu kemarahan warga Malaysia dari keturunan Bugis dan Mahathir kemudian dilaporkan bersikeras bahwa ucapan tersebut ditujukan kepada Najib, bukan masyarakat.

Sharafuddin Idris Shah - Sultan Selangor, salah satu negara terkaya di Malaysia - bertemu dengan dewan pengurusnya pada Kamis untuk membahas masalah tersebut.

Setelah itu kesultanan mengeluarkan sebuah pernyataan yang mengungkapkan kegusaran atas komentar Mahathir dan menyerukan "penyelidikan dan tindakan hukum berdasarkan UU Pemilu".

"Tuduhan tersebut secara tidak langsung menghina silsilah dan asal mula Kesultanan Selangor yang berasal dari orang Bugis (ras)," kata Hanafisah Jais, sekretaris Istana Selangor, dalam sebuah pernyataan.

"Sejarah telah membuktikan bahwa Kesultanan Selangor adalah keturunan Bugis, yang telah berjuang dan membela agama dan perdamaian di kepulauan Melayu."

Polisi tidak bisa segera dihubungi untuk dimintai komentar.

Malaysia memiliki sembilan sultan negara yang tidak memiliki kekuatan formal, menjauhi politik praktis, namun memiliki pengaruh di masyarakat.

Namun keluarga kerajaan yang berusia berabad-abad mendapat penghormatan besar sebagai simbol warisan dan wali Islam dari Islam di negara ini.

Demokrasi parlementer, Malaysia memiliki sistem unik di mana sultan-sultan tersebut berfungsi sebagai seremonial sembilan sultan dari 13 negara bagian, dengan salah satu dari mereka ditunjuk sebagai figur raja setiap lima tahun seperti dikutip AFP yang dilansir MailOnline.
A POWERFUL Malaysian royal family called Thursday for former prime minster Mahathir Mohamad to face a sedition probe for allegedly insulting an ethnic group from which they claim descent.

During a rally last month against a massive financial scandal embroiling the current government, Mahathir had said Prime Minister Najib Razak was descended from "Bugis pirates".

Political tensions are rising in Malaysia, with Mahathir -- who was premier for 22 years -- seeking to oust Najib at elections that must be called by August.

The Bugis are a seafaring ethnic group that come neighbouring Indonesia. Large numbers migrated to Malaysia, and many in the country claim Bugis ancestry.

The comments sparked anger among Malaysians with Bugis ancestry and Mahathir later reportedly insisted that the remarks were directed at Najib, not the community.

Sharafuddin Idris Shah -- the Sultan of Selangor, one of Malaysia's wealthiest states -- met with his ruling council Thursday over the issue.

Afterwards the sultanate issued a statement expressing anger at Mahathir's comments and calling for an "investigation and legal action under the Sedition Act".

"The accusation is indirectly insulting the genealogy and origins of the Selangor Sultanate who come from the Bugis (race)," Hanafisah Jais, Selangor Royal Court secretary, said in a statement.

"History has proven that the Selangor Sultanate are Bugis descendants, who have fought and defended religion and peace in the Malay archipelago."

The police could not immediately be reached for comment.

Malaysia has nine state sultans who have no formal power, rarely dabble in politics, and whose proclamations are not binding.

But the centuries-old royal families are accorded great respect as symbols of Malaysia's heritage and guardians of the Islamic faith in the country.

A parliamentary democracy, Malaysia has a unique system in which the sultans serve as the ceremonial heads of nine of the country's 13 states, with one of them appointed the nation's figurehead king every five years.