Kapal Tanker Malaysia Dibajak dan Ditarik ke Perairan Indonesia
Malaysian Oil Tanker is Hijacked and Sailed into Indonesian Waters
Editor : Ismail Gani
Translator : Novita Cahyadi

PUBLISHED: Rabu, 17 Agustus 2016 , 21:43:17 WIB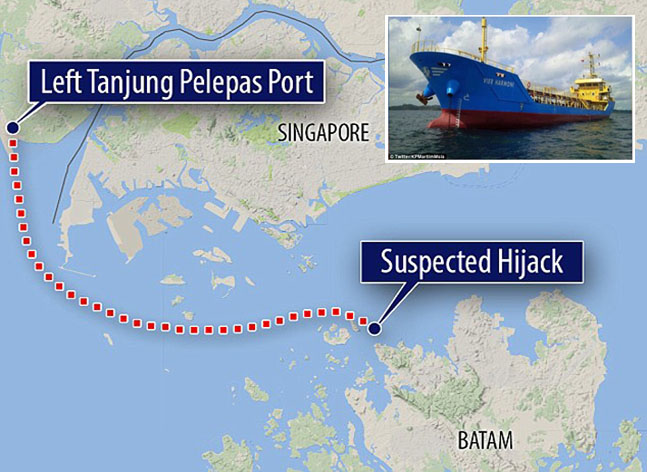 Peta lokasi pembajakan antara perairan Malaysia dan Indonesia, kapal tanker Malaysia MT Vier Harmoni (inset) Foto & Peta: MailOnline
KAPAL tanker minyak Malaysia yang mengangkut solar senilai US$400.000 telah dibajak dan berlayar ke perairan Indonesia.

Kapal tanker MT Vier Harmoni mengangkut 240.000 galon bahan bakar ketika diserbu perompak setelah meninggalkan perairan Indonesia tepatnya di kawasan Batam, dekat dengan Singapura.

Kepala Badan Penegakan Hukum Maritim Malaysia, Ahmad Puzi Kahar menegaskan pembajakan itu terjadi akibat 'masalah internal'.

Dia menulis di Twitter: "Kami berhubungan dengan rekan-rekan kami di Indonesia pagi ini untuk memulai sebuah operasi gabungan."

Vier Abdul Jamal, chief executive dari pemilik kapal Vierlines Asia Group, mengatakan kapal yang berbendera Indonesia itu didukung 10 anak buah kapal (ABK) dari Indonesia dan saat ini disewa oleh perusahaan lain.

Perusahaan penyewa kapal dan syahbandar pelabuhan di mana kapal itu memuat solar kehilangan kontak dengan Vier Harmoni pada Selasa malam dan perangkat pelacakan tidak aktif, katanya.

Kapal, yang dipimpin seorang kapten yang berpengalaman, bisa saja dibajak, ditenggelamkan atau mengalami masalah mesin, tambahnya.

Komando Armada RI Kawasan Barat (Koarmabar) dan penjaga pantai mengaku bahwa mereka telah diberitahu oleh Malaysia tentang insiden tersebut dan sedang mencari kapal tanker.

Mereka mengatakan bahwa sejauh ini tidak ada indikasi kapal tanker itu masuk Batam.

Badan maritim Malaysia mengatakan perintah pencarian telah dilakukan untuk mencari tanker sejak Rabu dini hari.

Dilaporkan tanker meninggalkan Pelabuhan Tanjung Pelepas di negara bagian Johor selatan Malaysia dan diduga dibajak pada Selasa malam.

Kapal Vier Harmoni dengan panjang 53 meter dibuat pada 2014, menurut database kapal.

Indonesia telah mengalami serangkaian penculikan terhadap pelaut tahun ini oleh militan Abu Sayyaf yang berbasis di Filipina selatan.

Seluruh insiden, yang terjadi di lepas pantai Kalimantan yang berbatasan dengan Indonesia, Malaysia dan Filipina, melibatkan militan yang naik ke kapal dan menuntut uang tebusan, seperti dilansir MailOnline.
MALAYSIAN oil tanker carrying $400,000 worth of diesel has been hijacked and sailed into Indonesian waters.

The MT Vier Harmoni had 240,000 gallons of fuel on board when it was overran and led to waters off the Indonesian island of Batam, close to Singapore.

The Malaysian Maritime Enforcement Agency chief Ahmad Puzi Kahar confirmed the hijacking saying it was caused by 'internal problems'.

He wrote on Twitter: 'We got in touch with our Indonesian counterparts this morning to launch a joint operation.'

Vier Abdul Jamal, chief executive of the ship's owner Vierlines Asia Group, said the Indonesian-flagged vessel has 10 Indonesian crew on board and is currently chartered by another company.

The charterer and the harbour master where the vessel was loaded lost contact with Vier Harmoni on Tuesday evening and its tracking device is not active, he said.

The vessel, which has an experienced captain, could be hijacked, sunk or suffering engine problems, he added.

Indonesia's western naval command and its coastguard said they had been notified by Malaysia about the incident and are searching for the tanker.

They said that so far there was no indication the tanker had entered Batam.

The Malaysian maritime agency said it activated its search for the tanker early Wednesday.

It said the tanker left from Tanjung Pelepas port in Malaysia's southern Johor state and was suspected to have been hijacked on Tuesday evening.

The 53-metre (175 foot) long Vier Harmoni was built in 2014, according to ship databases.

Indonesia has suffered a series of kidnappings of its seamen this year by Abu Sayyaf militants based in the southern Philippines.

Those incidents, which occurred off Borneo in waters that border Indonesia, Malaysia and the Philippines, involved the militants abandoning the vessels and demanding ransoms for the kidnapped men.