Kalijodo Dibongkar Senin Pagi, Alat Berat Sudah Disiagakan Pemprov DKI
Heavy Equipment Standy to Close Down of Jakarta`s Red Light District in Kalijodo
Reporter : Roni Said
Editor : Cahyani Harzi
Translator : Dhelia Gani

PUBLISHED: Minggu, 28 Februari 2016 , 21:50:47 WIB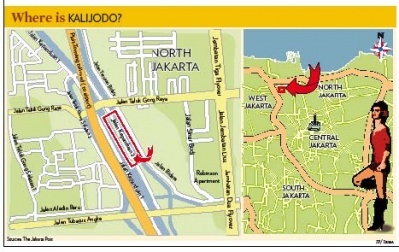 Foto: twitter.com
Jakarta (B2B) - Pemerintah Provinsi DKI Jakarta memastikan proses pembongkaran Kawasan Kalijodo akan dilakukan 29 Februari, dan alat berat untuk proses pembongkaran sudah siap dilokasi.

Kepala Dinas Tata Air DKI Jakarta, Teguh Hendrawan mengatakan saat ini enam eskavator dan dua unit kendaraan amfibi sudah disiapkan dilokasi untuk kegiatan penertiban.

"Kita sudah siap untuk pelaksanaan pembongkaran pada 29 Februari," kata Teguh di Jakarta belum lama ini.
Sementara Kepala Badan Kesatuan Bangsa dan Politik DKI Jakarta, Ratiyono mengatakan, sejumlah tokoh masyarakat di Kalijodo sepakat dengan tindak penertiban.

"Kami sudah komunikasikan langkah pembongkaran ini dengan warga," kata Ratiyono.

Sampai saat ini warga di Kalijodo sudah mulai membongkar bangunan rumah mereka, bahkan sebagian besar warga sudah hengkang ke rumah susun yang telah disiapkan oleh Pemprov DKI Jakarta.
Jakarta (B2B) - Demolishment process to close down one of the capital´s most notorious red-light districts, called Kalijodo will be done on on February 29, and heavy equipments are already standby on location, according to senior official at the Jakarta provincial government.

Jakarta Head Office of Water Management, Teguh Hendrawan said six excavators and two amphibians have standby for demolishment.

"We are ready for February 29," he said here recently.

Meanwhile, Ratiyono, Jakarta National and Political Unity Office (Kesbangpol) Head, admitted that local figures in Kalijodo also agree for Kalijodo arrangement.

"Communication with them is maintained well," he stated.

At this moment, Kalijodo residents have already demolished their building. Some of them were also relocated to flats.