Penumpang Malindo Air dari Bali ke Brisbane Jengkel setelah Maskapai Tinggalkan Bagasi Mereka di Ngurah Rai
Dozens of Malindo Air Passengers from Bali Land in Brisbane to Find the Airline Left All of Their luggage Behind
Editor : Ismail Gani
Translator : Novita Cahyadi

PUBLISHED: Senin, 17 Juli 2017 , 02:20:00 WIB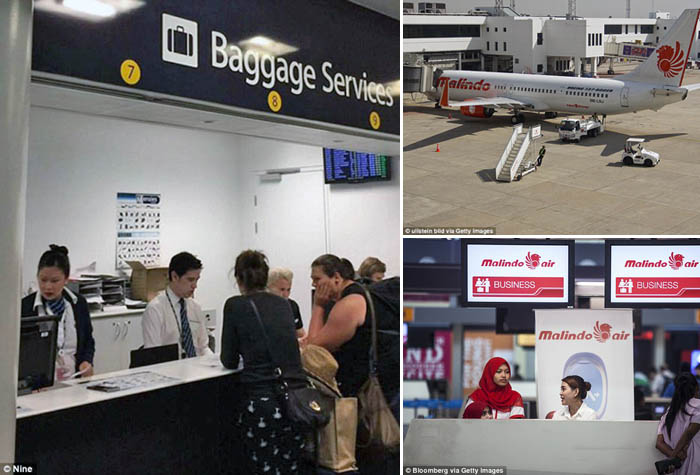 Para penumpang yang jengkel dibiarkan tanpa informasi tentang dimana barang bawaan mereka (kiri), pesawat Malindo Air dan staf maskapai (kanan) Foto2: MailOnline
SEBUAH penerbangan dari Bali ke Brisbane berubah menjadi mimpi buruk pada Minggu pagi ketika 63 penumpang menemukan barang bawaan mereka tidak terangkut pesawat.

Ketidaknyamanan itu berawal saat ketiga toilet di kabin pesawat harus diperbaiki sementara penumpang harus menunggu dengan jengkel di landasan pesawat.

Teknisi kemudian harus mengatasi kendala ´perbedaan berat,´ dan akibatnya pesawat harus menunda jadwal keberangkatan hingga dua jam.

Setibanya di Brisbane, 63 penumpang yang jengkel mendapati tas dan koper mereka tidak terangkut oleh pesawat yang mengudara selama lima jam menuju Australia, seperti dilaporkan Nine News.

Amit Chacko dan Ashleigh Perry yang sedang dalam perjalanan pulang setelah pernikahan mereka di Bali tampak sangat terkejut dan kecewa dengan pelayanan buruk tersebut.

"Kami melihat sekitar 14 orang mengambil barang bawaan mereka, dan cuma itu saja, korsel itu berhenti," kata Chacko.

"Mereka juga mencoba untuk membujuk istri saya kembali ke Indonesia untuk mencari gaun pengantin dia. Untungnya, dia menolak.´

Para penumpang yang jengkel dibiarkan tanpa informasi tentang dimana barang bawaan mereka.

Kondisi menjengkelkan kian diperburuk, setelah pilot dan para pramugari terlihat meninggalkan bandara dengan membawa semua tas mereka.

"Saya tidak bisa tidur dan makanannya menjijikkan. Dan kita semua hanya melongo setelah melihat pilot dan awak kabin meninggalkan bandara sambil menenteng tas mereka!´ Kata Perry.

Malindo Air telah dihubungi untuk memberikan komentar, dan tidak jelas apakah tas yang hilang tersebut dibongkar karena masalah berat yang menyebabkan penundaan tersebut seperti dilansir MailOnline.
A FLIGHT from Bali to Brisbane turned into a nightmare early on Sunday when 63 passengers discovered their luggage had vanished.

The ordeal started when all three of the aircraft´s toilets needed to be fixed while passengers sat helpless on the tarmac.

Technicians then had to work on a ´weight discrepancy,´ and the plane took off two hours late.

On arrival in Brisbane 63 furious travellers found their bags had not been on the five hour flight, Nine News reported.

Amit Chacko and Ashleigh Perry were on the way back from their Bali wedding and were left shocked and upset by the experience.

´We saw about 14 people pick up their luggage, then that´s it, the carousel stopped,´ said Mr Chacko.

´They had tried to make my wife Ashleigh check in her wedding dress back in Indonesia too. Luckily, she refused.´

The unlucky passengers were left stranded with no idea where their possessions were.

To make matters worse for the frustrated flyers, airline staff were seen leaving the airport with all of their bags.

´I´d had no sleep and food was disgusting. And we all just see the pilots and staff leaving with theirs bags ok!´ Mrs Perry said.

Malindo Air has been contacted for comment, and it is unclear whether the missing bags were unloaded due to the weight problem which caused the delay.